USBF programme explores man from Tyrone who helped win American West
---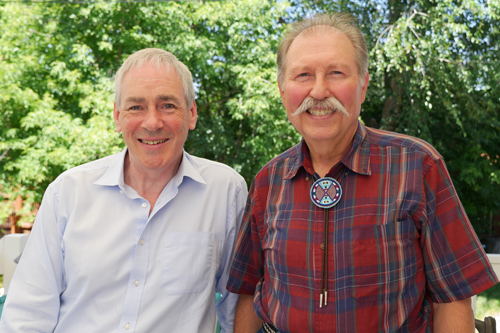 Date Posted: February 15, 2018
Robert Campbell, Mountain Man, a new programme for BBC Two Northern Ireland, tells the story of a penniless teenager from Tyrone who would become one of the richest men in America. The programme, which received funding support from Northern Ireland Screen's Ulster-Scots Broadcast Fund, airs on BBC Two Northern Ireland on Sunday 18 February at 10pm.
As part of the programme, Robert Campbell's great, great, great, great nephew, former Northern Ireland politician Alan McFarland, goes in search of his ancestor and reveals an intriguing story of bravery, exploration, survival and love. Campell was infamously one of the first Ulster-Scots pioneers to tame the Wild West and the man who gave Mark Twain his first job as a Mississippi riverboat pilot.
He spent his first 10 years in America in the Rocky Mountain fur trade – one of the first to venture into largely uncharted territory. He would spend the next 40 years building a business empire around commerce, banking, property and riverboats, becoming a leading citizen in St. Louis.
Alan re-traces Campbell's epic journey from his Presbyterian roots in County Tyrone to the Wild West where the 'Mountain Man' had to survive scorching summers and arctic winters. Facing starvation, he and his men were forced to eat their mules as well as coming under attack from Native Americans. Alan even gets a first-hand taste of what Robert's life must have been like with the help of a 21st century mountain man.
Alan also visits Robert's former home, now the Campbell House Museum, to explore the passionate relationship between Robert and the woman who eventually became his wife. He reveals a tragic family story, and discovers what how the Campbell fortune would eventually return to Ulster.
Robert Campbell, Mountain Man, is a Third Street Studios production for BBC Northern Ireland in conjunction with support from Northern Ireland Screen's Ulster-Scots Broadcast Fund.