Ups & Downs, Monday 22 April, BBC One Northern Ireland at 9pm
---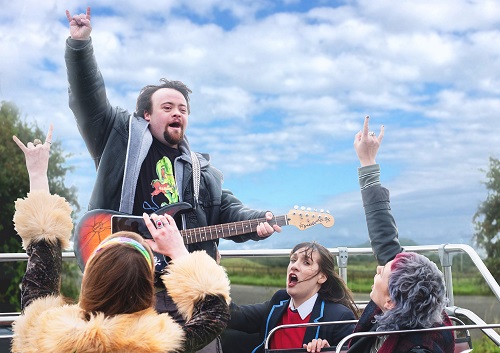 Date Posted: April 19, 2019
Ups & Downs, one of two stand-alone dramas, made as part of BBC Northern Ireland's pilot New Perspectives initiative, is to be shown on BBC One Northern Ireland, Monday 22 April at 9pm.
Filmed at locations across Belfast and surrounding areas, the one-hour drama is written and directed by Newry-born Eoin Cleland (Incoming Call), and stars Susan Lynch (Ready Player One, Waking Ned, Killing Eve) as the mother to Conal, a 22-year-old son with Down's syndrome, played by newcomer James Martin, and 18-year-old daughter Gemma, played by Rosie Barry (Pablo). Ups & Downs is produced for BBC Northern Ireland by Big Fish Films, with support from Northern Ireland Screen.
The two siblings head off on an entertaining road trip to Belfast to attend a highly anticipated gig without their mother's permission. Keith McErlean (Vikings, Black '47) also stars as Fergus.
New Perspectives is aimed at finding and developing new drama writing, production and acting talent.
James Martin says: "Making this film has been good fun, good craic and there's some good music too. Nothing holds me back when it comes to drama and acting, and my character in the film just wants to get his voice heard and that's important."
Rosie Barry, who plays Gemma, says: "I had the time of my life filming with James and the rest of the cast and crew. You have those moments where you have to pinch yourself and ask yourself – is this really happening? It's such a heart-warming story and it means a lot to me to get the chance to act in this part, as Eoin has created a great and challenging role."
Eoin Cleland, writer and director, adds: "I was tired of people with special needs in films being one of two things – a wonderful angel who exists only to give hugs and dispense accidental wisdom, or a terrible burden who is out of focus in the background as Mum cries counting pennies in the living room. My older sister has Down's syndrome, so I know it's not like that. They're just like everyone else's sibling. You love them, but they wind you up. Growing up, they're like everyone else in your family, you're annoyed they ate the last of the good cereal, broke your toys, want to watch rubbish TV, get let off with murder by your parents.
"I wanted to see someone with learning difficulties on screen who was an actual human being, and write them like I would any other character. Conal has his own goals, his own story, but he also has his own flaws. He's impatient, selfish, impulsive, rude, manipulative and a massive liar. He's also ambitious, funny, joyful, caring and brave."
Available on BBC iPlayer for six months