Ulaidh Faoi Thalamh explores the depths of Ulster
---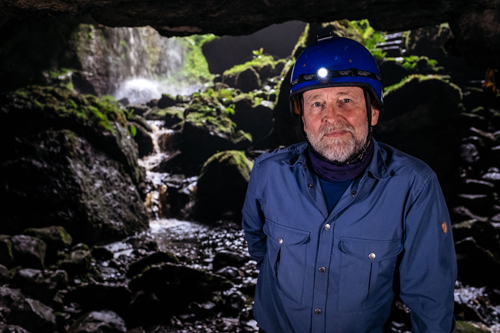 Date Posted: January 17, 2018
In this new BBC Gaeilge series, Cormac Ó hÁdhmaill takes us on an adventure underground as he explores the hidden spaces under our feet. The three-part series received funding support from Northern Ireland Screen's Irish Language Broadcast Fund.
Beneath the landscape of Ulster lies a network of subterranean spaces; from ancient souterrains, crypts and caves, to abandoned railway tunnels and nuclear bunkers, full of myth, intrigue and stories.
In each episode, Cormac travels across Ulster discovering the varying uses and purposes of underground spaces, and reveals how they have developed through time, from mystical caves in Fermanagh, to strategic WWII forts in Donegal and Belfast's murky underground sewers.
The series begins on January 22 on BBC Two Northern Ireland at 10pm.
In episode one, Cormac starts his journey by exploring ancient underground locations, including Fermanagh's Pollnagollum cave, an Iron-Age souterrain near Larne and caves in Co Antrim which were once used as dwellings.
He also visits Dunluce Castle and its underground cave that could accommodate an army and travels by boat to Rathlin Island where he visits 'Bruce's Cave'.
Legend has it that after losing a battle and being banished from Scotland in 1306, King Robert I of Scotland (popularly known as Robert the Bruce) fled by boat and took shelter in a cave on Rathlin Island, before returning to Scotland to fight to regain his throne.
In the second episode, Cormac investigates how industry has shaped our underground structures as he examines an abandoned hydroelectric dam tunnel; walks the River Farset tunnel underneath Belfast, and discovers the story behind a forgotten railway tunnel near Newry.
In the final episode of the series, he examines how underground structures have long been a source of shelter and refuge in times of warfare and strife, as he reveals the stories behind a desolate coastal fort, a church crypt that sheltered people during the Belfast Blitz, and an abandoned nuclear bunker.
Said Cormac: "I have spent my life out in the open air, in wide open spaces. There is no silence and darkness like that found underground, and the sensory deprivation is extraordinary."
Ulaidh Faoi Thalamh is made by DoubleBand Films for BBC Gaeilge, with funding from Northern Ireland Screen's Irish Language Broadcast Fund.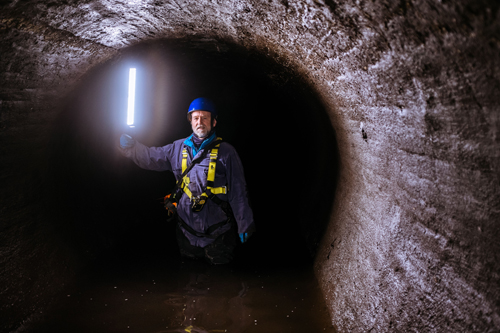 Duibheagáin Uladh á scrúdú ag Ulaidh Faoi Thalamh     
Sa tsraith nua seo de chuid BBC Gaeilge, rachaidh muid ar eachtra faoin talamh i gcuideachta Chormaic Uí Ádhmaill agus é ag fiosrú na spásanna ceilte atá faoinár gcosa. Fuair an tsraith trí chlár seo maoiniú ó Chiste Craoltóireachta Gaeilge Scáileán Thuaisceart Éireann.
Faoi thírdhreach Chúige Uladh tá líonra de spásanna faoi thalamh: uaimheanna ársa talún, luscaí agus pluaiseanna, tolláin na sean-iarnród – áiteanna atá lán de mhiotais, de mhistéir agus de scéalta.
I ngach eagrán, taistealaíonn Cormac ar fud Chúige Uladh le húsáidí agus feidhmeanna éagsúla na spásanna faoin talamh a fhiosrú, agus nochtann sé an dóigh ar fhorbair siad thar am: pluaiseanna misteacha i bhFear Manach, dúnfoirt i nDún na nGall a raibh tábhacht straitéiseach acu sa Dara Cogadh Domhanda agus séaraigh smúitiúla Bhéal Feirste.
Tosaíonn an tsraith ar 22 Eanáir ar BBC Two Northern Ireland ar 10 i.n.
I gclár a haon, cuireann Cormac tús lena aistear agus é ag déanamh taiscéalaíochta i suíomhanna ársa faoin talamh, lena n-áirítear Pluais Pholl na gColm i bhFear Manach, uaimh thalún ón Iarannaois in aice le Latharna agus pluaiseanna i gCo Aontroma a mbaintí úsáid astu mar áiteanna cónaithe lá den tsaol.
Chomh maith leis sin, tugann sé cuairt ar Chaisleán Dhún Libhse agus a phluais faoin talamh a dtiocfadh le harm iomlán dul i bhfolach inti agus taistealaíonn sé i mbád go hOileán Reachlainne, mar a dtugann sé cuairt ar 'Phluais an Bhrúsaigh'.
De réir an tseanscéil, i ndiaidh don Rí Roibeard 1 na hAlban (nó Roibeard Brús mar a thugtar air) cath a chailleadh, cuireadh as Albain ar deoraíocht é in 1306. Theith sé i mbád agus fuair sé foscadh i bpluais ar Oileán Reachlainne, roimh fhilleadh ar Albain le troid lena ríocht a fháil ar ais.
Sa dara clár, fiosraíonn Cormac an dóigh ar mhúnlaigh an tionsclaíocht na struchtúir atá faoin talamh. Amharcann sé ar thollán tréigthe i ndamba hidrileictreach; siúlann sé i dtollán Abhainn na Feirste faoi Bhéal Feirste, agus cluineann sé an scéal atá taobh thiar de thollán dearmadta iarnróid in aice leis an Iúr.
Sa chlár deiridh den tsraith, fiosraíonn sé an dóigh ar baineadh úsáid as struchtúir faoin talamh le fada an lá le foscadh agus tearmann a chur ar fáil le linn cogaíochta agus coimhlintí, agus é ag nochtadh na scéalta a bhaineann le dúnfort tréigthe ar an chósta, lusca faoi theach pobail a bhfuair daoine tearmann ann le linn Blitz Bhéal Feirste, agus buncar núicléach nach bhfuil in úsáid a thuilleadh.
Arsa Cormac: "Tá mo shaol caite agam amuigh faoin aer, i spásanna móra fairsinge. Níl aon tost agus dorchadas ann atá inchurtha leis an chineál atá le fáil faoin talamh, agus is suntasach go deo an díth chéadfach atá ann."
Ba é DoubleBand Films a rinne Ulaidh Faoi Thalamh do BBC Gaeilge, le maoiniú ó Chiste Craoltóireachta Gaeilge Scáileán Thuaisceart Éireann.