Turas Bóthair 2, Thursday 6th September at 8.00pm on TG4
---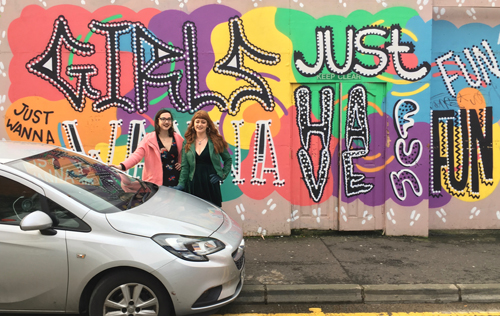 Date Posted: September 3, 2018
Turas Bóthair, the show that reveals what people really talk about in their cars, is back for a second series on Thursday 6th September at 8.00 pm on TG4.
The six-part series was produced with funding support from Northern Ireland Screen's Irish Language Broadcast Fund.
Once again dozens of cars across Ireland are rigged with small cameras, allowing viewers to eavesdrop on real conversations as they happen. Expect moments of joy and sadness; comedy and tragedy; love and loss; friendship and romance as drivers and passengers share their personal stories. The topics of conversation covered include views on love, relationships, sex, technology, drugs, illness, organ donation, the GAA, aliens, ghosts, women's rights and much, much more.
Among the characters featured are housemates Aoife and Méabh in Belfast, na Gaeil Óga football players Dáithí and Eoin from Dublin, sisters Eilín and Maureen in Kerry, schoolfriends Muiris and Gabriel from the Kingdom, and Donegal school teachers Sally and Bríd.
The series, which was produced by Waddell Media, provides hugely revealing insights into the Irish psyche and a unique slice of life normally hidden behind closed doors.
Turas Bóthair was filmed on location in Counties Dublin, Cork, Kerry, Galway, Donegal, Antrim and Down.
---
Turas Bóthair 2, Déardaoin 6 Meán Fómhair ag 8.00i.n. ar TG4.
Beidh Turas Bóthair ar ais don dara sraith ar Déardaoin 6ú Meán Fómhair ag 8i.n. ar TG4. Nochtar dúinn sa chlár seo cad é go díreach a bhíonn mar ábhar cainte ag daoine agus iad ag taisteal thart ina gcuid carranna.
Is le tacaíocht ó Chiste Craoltóireachta Gaeilge Scáileán Thuaisceart Éireann a rinneadh an léiriú den tsraith sé chlár seo.
Tá ceamaraí beaga curtha ar ais arís i gcarranna ar fud na hÉireann sa dóigh go dtig linn cúléisteacht leis na comhráite a bhíonn ag dul ar aghaidh idir tiománaithe agus a gcuid paisinéirí. Tá lúcháir agus brón ann, greann agus tragóid, grá agus briseadh croí, cairdeas agus rómánsaíocht, aiféaltas agus machnamh, éadóchas agus dóchas. Cluinfimid scéalta pearsanta agus gheobhaimid amach cad é an dearcadh atá ag muintir na gcarranna ar réimse leathan d'ábhar: an grá, caidrimh, gnéas, teicneolaíocht, drugaí, tinneas, deonú orgán, an Cumann Lúthchleas Gael, eachtardhomhandaigh, taibhsí, cearta na mban agus cuid mhór eile.
Beimid ag cúléisteacht le hAoife agus Méabh, comrádaithe tí i mBéal Feirste, agus le Dáithí agus Eoin, imreoirí peile leis na Gaeil Óga. Cuirfimid aithne ar Eilín agus Maureen, deirfiúracha i gCiarraí, agus ar Mhuiris agus Gabriel arb as an Ríocht fosta iad agus a chuir aithne ar a chéile agus iad ar scoil. Beidh cluas le héisteacht againn le Sally agus Bríd, múinteoirí scoile i nDún na nGall, chomh maith.
Tugann an tsraith seo léargas iontach suimiúil ar fad dúinn ar aigne mhuintir na hÉireann agus ar ghné uathúil den tsaol nach nochtar dúinn de ghnáth.
Rinneadh Turas Bóthair a scannánú i gcontaetha éagsúla – Dún na nGall, Baile Átha Cliath, Corcaigh, Ciarraí, Gaillimh, Aontroim agus an Dún.