True North: Cherrie, Me and HIV to air on BBC One NI
---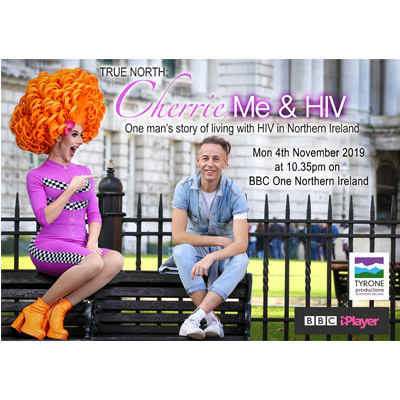 Date Posted: October 31, 2019
Actor Matthew Cavan was diagnosed HIV positive 10 years ago.  The diagnosis changed his life and had a huge impact on those closest to him.
In a new documentary which was produced by Tyrone Productions for BBC One Northern Ireland, with assistance from Northern Ireland Screen, Matthew talks about his experience living with HIV and the struggles he has endured with hurtful abuse and negativity.
We hear how much has changed since the AIDS epidemic first came to the public's attention in the 1980s and how close scientists are to finding a cure, if at all.
In a hugely personal journey, Matthew returns to his family home in County Antrim.  In a poignant discussion he explores with his parents how his sexuality and diagnosis impacted on them and their strong religious faith and how their unconditional love for him prevails.
As Matthew challenges myths about HIV, he meets people who are helping prevent further cases of the condition.  He talks to those who understand the stigma around HIV and how damaging it can be. During the documentary he talks to Wendy Austin. The veteran BBC broadcaster reveals how she coped with the loss of her beloved brother David.
Later, Matthew talks to the doctors who treat his condition and finds out more about how with the right medical help and support, men and women with HIV can expect to live a normal, healthy, happy life.
During the documentary Matthew introduces his colourful drag alter-ego – the irrepressible Cherrie Ontop, who brings sparkle and fun into Matthew's life and helps him cope with the pressure of living with HIV.  Viewers get a front row seat at Cherrie's weekly cabaret performance, as Matthew tentatively reveals his HIV status to the audience.
True North: Cherrie, Me and HIV airs on BBC One Northern Ireland on Monday 4th November at 10.35pm