Factual Fast Track launches in Northern Ireland
---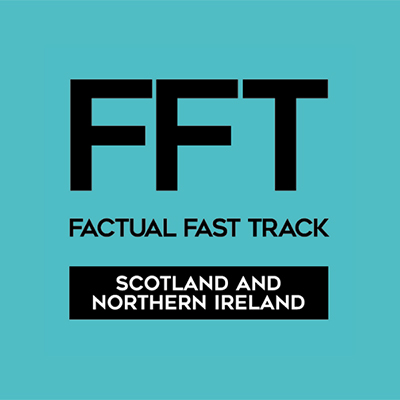 Date Posted: September 1, 2021
Following the success of Factual Fast Track Wales, BBC, Channel 4, Northern Ireland Screen and Screen Scotland are launching Factual Fast Track Scotland and Northern Ireland in September 2021.
The year-long development programme will be delivered by Glasgow-based training organisation TRC and is designed to accelerate the careers of Scotland and Northern Ireland's most talented and creative factual producers.
Successful candidates will benefit from top-flight industry training, paid production placements, commissioner and production mentors, exclusive access to commissioners, insight into commissioning processes and priorities as well as one to one support.
Factual Fast Track was originally developed to boost the careers and opportunities of the next generation of factual creative leaders across the UK. The scheme was launched in Wales by the BBC, Channel 4 and S4C leading to six producers being placed on the UK's top factual productions.
Applications for Factual Fast Track Scotland and Northern Ireland will open on Wednesday 1st September via the TRC website. The deadline for applications is Wednesday 29th September.
Margaret Scott and Claire Scally, TRC's Joint Managing Directors said: "We are delighted to be bringing Factual Fast Track to Scotland and Northern Ireland. We look forward to delivering such an exciting programme and supporting the development of key roles for the industry in Scotland and Northern Ireland."
Patrick Holland, Director of Factual, Arts & Classical Music BBC Content said: "The BBC is delighted to back brilliant Factual talent right across the UK, to help us meet our ambitions for great British content rooted in the lives of our audiences. This will give the brightest and best producers a chance to work on stand out shows and raise the bar for the programmes we can commission from Scotland and Northern Ireland."
Rhodri Talfan Davies, BBC Director of Nations said: "It is great to see Factual Fast Track expand across the UK. It has proved really successful in Wales – allowing candidates to get opportunities they wouldn't otherwise have had – and strengthen production know-how in the Nation. Brilliant that Northern Ireland and Scotland are getting the same opportunity."
Jo Street, Head of Daytime and Features, and Head of Hub, Glasgow, Channel 4 commented that: "Nurturing talent in the nations and regions is a huge priority for Channel 4 and the broadcast industry. Factual Fast Track has already made a real difference in terms of bringing on talent in other parts of the UK, so I'm thrilled at the prospect of it having the same impact in Scotland and Northern Ireland."
Richard Williams, Chief Executive, Northern Ireland Screen commented that: "We are delighted to support Factual Fast Track Scotland and Northern Ireland. With so many close connections across the two regions, we look forward to boosting the careers of the next generation of talented producers to bring the next level of factual content to the sector."
Dani Carlaw, Head of Unscripted at Screen Scotland commented that: "Factual Fast Track is a very welcome addition to our strategic development of Scotland's senior creatives. Through close nurturing of Series Producers and Executive Producers, the programme encourages the continued expansion of top-level productions from Scotland, increasing the range of our factual offering, and its potential for screen sector growth. We look forward to further building the next generation of factual creative leaders."