4Skills & NFTS Location Management Taster Day
---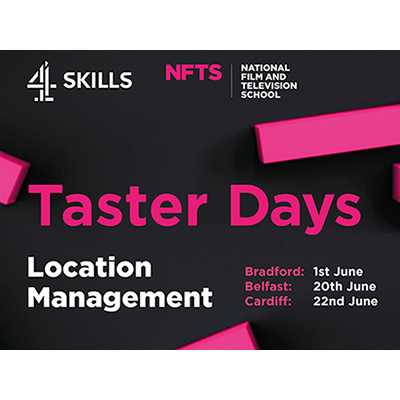 Date Posted: May 20, 2022
Join Supervising Location Manager, Lloret MacKenna Dunn, to find out about the dynamic role of Film & TV Locations Management and what training is available to help you work in the department at 4Skills and National Film and Television School Taster Day in Belfast.
The Locations Department is a key part of the film production team and involves finding ideal locations for the shoot, negotiating fees, terms and conditions as well as managing locations during the production and filming periods. It also works closely with directors, producers, cinematographers, assistant directors and designers to provide all the information and support necessary for a successful location shoot.
Across the series of free nationwide taster days, Lloret will be joined by a guest speaker also working in Locations locally.
Location Management Taster Day Locations:
Bradford – Wednesday 1st June 2022: Book Here
Belfast – Monday 20th June 2022: Book Here
Cardiff – Wednesday 22nd June 2022: Book Here
All venues for these taster days are centrally located and details of the locations will be provided to you on confirmation of your place.
Once you have submitted your booking you will be informed as to whether you have secured a place on your chosen taster day location. Due to extremely high demand, 4Skills cannot guarantee that all applications will be successful. If you are not successful in securing a place, we will place you on a waiting list and you will be informed if a place becomes available.