Sam Henry Songs Of The People, Sunday 21 April, BBC Two NI
---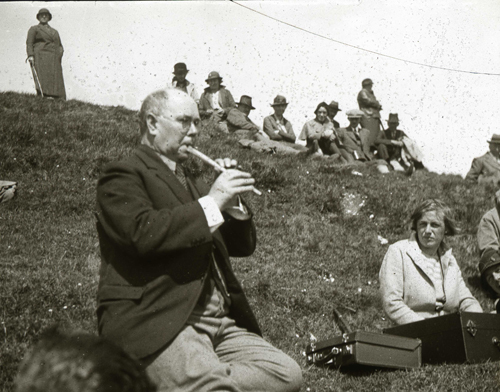 Date Posted: April 19, 2019
A new series for BBC Northern Ireland explores the unique story of Sam Henry and his monumental music collection – Songs of the People – that is often referred to as an 'Ulster jewel' and a century later, remains hugely important to folk artists around the world.
Starting on BBC Two NI on Sunday 21 April at 10pm, Sam Henry Songs Of The People is a two-part series – comprised of a documentary and concert – looking at the man behind the music and how his passion for preserving the past produced a diverse collection of more than 800 songs that is unique to Ulster and recognised internationally.
Sam Henry Songs Of The People has been supported by Northern Ireland screen, through the Ulster-Scots and Irish Language Broadcast Funds.
Born in Coleraine in 1878, Sam was a noted public speaker, folklorist, photographer, local historian and genealogist.  He began collecting songs and taking photographs while working as a customs and pensions officer. Travelling around small farms and villages, he carried a fiddle and played music to put people at ease, recognising there was a wealth of stories and songs to be shared.
In this revealing documentary, folklorists, archivists and contemporary music collectors, examine how Sam's pioneering approach – in an official capacity and later when song collecting – placed him at the heart of rural communities and inspired his greatest work.
Sam appreciated the diverse cultural heritage of local communities and their traditions, and looked for an outlet to share the huge collection of material he had gathered; between 1923 and 1939 he wrote a column for the Northern Constitution publishing the continuing series Songs of the People.
In his own words, Sam said the aim was to "search out, conserve, and make known the treasures of the songs of the people" and he collection spanned both Ulster-Scots and Irish traditions.
The second programme in this two-part series, to be broadcast on BBC Two NI on Sunday 28 April, is a special concert celebrating Sam Henry's vast and diverse song collection with performances from folk artists including Andy Irvine, Cup O' Joe, Pauline Scanlon and Scottish folk singer Hannah Rarity.
Songs of the People captured everyday life in the early 20th century and gives us a fascinating insight into the past, reflecting both the Ulster-Scots and Irish traditions that made the north west, where Sam Henry lived, so unique.
Sam Henry Songs Of The People is a Sonas Productions and Below The Radar TV co-production made for BBC Northern Ireland, starting on Sunday 21 April at 10pm on BBC Two Northern Ireland.