Pure O: Thinking the Unthinkable on YouTube now
---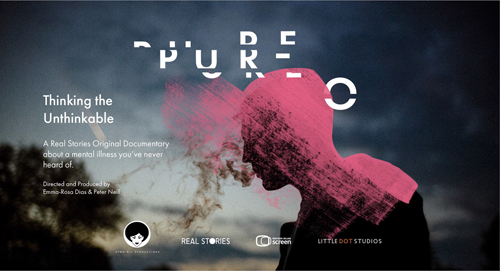 Date Posted: June 11, 2018
Pure O: Thinking the Unthinkable examines the mental health condition known as Pure O, an extreme and rare form of OCD. The 14-minute production, an Afro-Mic production for Little Dot Studios, is currently available to view on YouTube.
The piece, which was directed and produced by Emma-Rosa Dias and Peter Neill, also received development funding from Northern Ireland Screen.
OCD (Obsessive–Compulsive Disorder) is more commonly associated with stereotypes of hand washing, hoarding and private rituals. However, very few know about the rarer and under-reported form known as 'Pure O'.
Pure O sufferers are tormented by unwanted thoughts. Their heads are constantly filled with intrusive images of violence, rape and abuse to the extent that they begin to believe they really are murderers, rapists or even paedophiles. With such disturbing symptoms it is often difficult for people to come out and talk about it.
Pure O: Thinking the Unthinkable brings this largely hidden mental condition into the light with the help of four courageous Pure O sufferers who explain frankly their experiences, fears and hopes.
Watch Pure O: Thinking the Unthinkable on the Real Stories YouTube channel here.