The Northman wins Film Production Team of the Year at the Production Guild of Great Britain Awards
---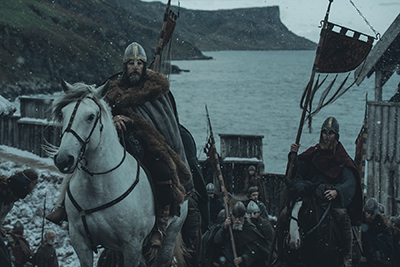 Date Posted: March 25, 2022
The Production Guild of Great Britain (PGGB) will celebrate the winners of the 2022 PGGB Awards in association with Warner Bros. Studios Leavesden tomorrow night, as the UK industry gathers to recognise remarkable achievements made by Production Guild members working in film or television drama within the production office, accounting, locations, assistant directing, post-production and VFX. Six awards will be presented at the glittering ceremony hosted by comedian and TV presenter Patrick Kielty at The Grove in Hertfordshire.
Northern Ireland Screen is delighted to see The Northman crew pick up the Film Production Team of the Year Award. Filmed in Northern Ireland, with funding from Northern Ireland Screen, The Northman is the latest film from visionary director Robert Eggers. The action-filled epic follows a young Viking prince on his quest to avenge his father's murder. With an all-star cast that includes Alexander Skarsgård, Nicole Kidman, Claes Bang, Anya Taylor-Joy, Ethan Hawke, Björk, and Willem Dafoe.
PGGB members Mark Huffam (Producer), Peter Eardley (Financial Controller), Naomi Liston (Supervising Location Manager) Darren Chesney (Production Manager), Nikki Chamberlain (UK Production Accountant), Tom Boardman (Payroll Accountant), Barry McGonigle (Assistant Accountant) and Jakub Malar (Assistant Accountant) will collect the award for their exceptional work on the action movie set in 10th Century Iceland.
When the UK entered lockdown just days before The Northman's principal photography was due to start in March 2020, director Robert Eggers and crew quarantined in Belfast rethinking production practises and schedules, devising innovative solutions to Covid-safety challenges, and navigating arrangements with a multi-national cast that included Alexander Skarsgård, Nicole Kidman, Claes Bang, Anya Taylor-Joy, Ethan Hawke, Björk and Willem Dafoe. With overseas locations off the table due to travel restrictions, the team set out to recreate the Scandinavian look and feel of the film in Northern Ireland, rethinking locations and set building and prepping everything from costumes and props to horse-training and armory-safety during shutdown. The three month shoot finally began in August 2020 at Belfast Harbour Studios and on location at Torr Head (County Antrim) where a full Viking village was built. The Northman will be released in the UK on 15 April UK and in the US on 22 April 22 via Universal Pictures UK.
Jury Chair, Producer & Executive Producer Callum McDougal (1917, Spectre) says: "The Northman was the first major feature to shoot in Northern Ireland during COVID-19. It was an absolute trailblazer, sending a sign across the world that we could continue to work safely in this country and deliver film successfully. The team really went above and beyond, showing an exceptional degree of resilience and ingenuity whilst remaining true to the original concept of the movie."
Lyndsay Duthie, PGGB CEO says: "As British content continues to be in demand, we are delighted to be able to celebrate the achievements of our world class production talent at our prestigious awards ceremony. The winners are all trailblazers and we are so proud of each and every one of them."