NI filmmaker selected for WFTV's Mentoring Scheme
---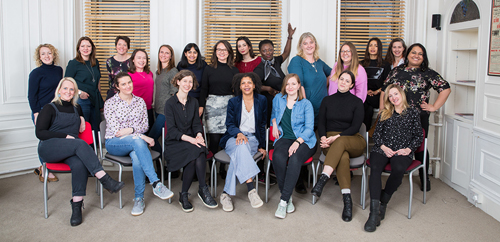 Date Posted: March 28, 2019
Northern Ireland writer and director Lynne Davison is one of twenty women selected for the 2019 Women in Film and Television (WFTV) Mentoring Scheme. The scheme has set new industry standards for its uniquely effective approach to training.
This year, the scheme has attracted many of the country's leading TV and film experts to mentor the candidates, including Jay Hunt, Creative Director, Europe, Worldwide Video, Apple; Peter Fincham, Co-CEO, Expectation Entertainment; Sarah Gavron, film director and Danny Cohen, President, Access Entertainment, to name but a few.
In an intensely competitive process, just twenty women have been selected from hundreds of applicants for this mid-career scheme and they have come from every conceivable area of the industry from OB multi-camera operating to directing, producing, script editing and comedy writing. Each WFTV candidate is paired with a highly experienced mentor and will undergo a comprehensive six-month programme of training. The scheme is financed with the help of a number of generous partners, UKTV are already confirmed as a sponsor and other sponsorship arrangements are currently being finalised.
Heading up the scheme is WFTV's mentoring producer Tracy Forsyth who is also a Creative Mentor at Channel 4 Indie Growth Fund, an executive coach and ex-BBC exec, and she plans to draw on all her previous skills and background to help the WFTV mentees break through the glass ceiling to reach their full potential. Taking over the scheme from Nicola Lees, who had run it for eight years, Tracy says: "I want to build on all the incredible work that Nicola has done, taking the very best of the scheme and stretching it even further to help our mentees realise there is truly no limit to their ambitions or what they can achieve. There is no scheme like this anywhere else in the industry that combines both peer-to-peer training and mentoring from industry leaders to help women develop their careers to their full potential."
WFTV Chair Liz Tucker added: "And we only have to look at the career paths of previous mentees to know our scheme really works. Over 160 women have now taken part in the scheme and previous mentees have landed jobs at Amazon, Universal Pictures, Studio Hamburg UK, BBC Studios and Barcroft Productions, to name just a few. Our scheme genuinely changes lives and careers."
More information about the careers of each of the mentees can be found here.