Mná Spóirt: Croí is Anam on BBC Two NI and TG4
---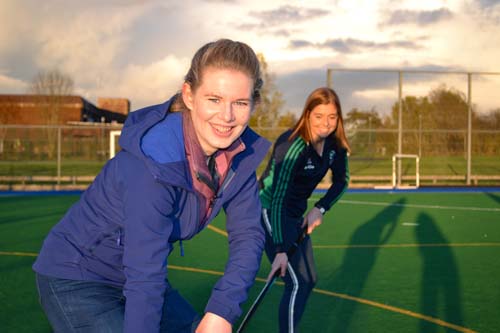 Date Posted: April 11, 2019
Aoife Ní Chaiside is a camogie superstar. The All-Ireland winning former captain of her club, Slaughtneil, and county and provincial champion is also a fervent ambassador of women's sports.
In a new three-part BBC Gaeilge series, Aoife explores the trials and triumphs of women in sport, meets female high-achievers, ventures out into the sporting world beyond her beloved Gaelic games, and looks at what the future holds for Irish sportswomen.
Shot while she was on her way to winning her third consecutive All-Ireland club camogie championship, Mná Spóirt: Croí is Anam (Women in Sport: Heart and Soul) was made for BBC Northern Ireland and TG4 by DoubleBand Films with funding from Northern Ireland Screen's Irish Language Broadcast Fund. The series begins on BBC Two Northern Ireland on Monday 15 April at 10pm and TG4 on Thursday 18 April at 9.30pm.
As well as focusing on sport itself – Mná Spóirt: Croí is Anam, also examines how sport can uplift women and provide emotional, physical and psychological sustenance, and how sport can bring women together in an increasingly isolated world.
In episode one, Aoife treads familiar ground, looking at team sports, and endeavours to find out more about the values at the heart of teams – trust, respect and friendship.
She speaks to Katie Mullan, captain of the Irish Hockey team that won silver at the Hockey World Cup in 2018, about the friends she has made through the game.
She also meets Rena Buckley, ladies' football and camogie All-Star who has won a record 18 All-Ireland medals.
There has always been gender inequality in sport in terms of support, financial assistance and media interest, and also in episode one, Aoife sits down with the founders of the 20×20 initiative to hear about its objectives to raise the profile of women's sport in Ireland.
In programme two, she embarks on a mission to understand what motivates individual sportswomen, who train and compete without the safety net of the team that she is accustomed to.
She meets sprinter, Patience Jumbo Gula, discus thrower, Niamh McCarthy, and world champion handballer, Aisling Reilly, and discusses the big issues – disability, image and racism in sport.
The final episode celebrates sport for life, and the benefits of sport and fitness for women.
At a challenge match as part of Slaughtneil's All-Ireland preparation, Aoife chats to Kilkenny manager Ann Downey about why so few women have followed in her footsteps and become managers and officials in sport.
She visits Irish rugby star Eimear Considine's school, where Eimear's goal is to encourage her young pupils' love of PE, in an effort to prevent them from dropping out of sport.
The fearless Aoife then sets herself a new challenge, to try out MMA, with champion Leah McCourt.
---
Mná Spóirt: Croí is Anam ar BBC Two NI agus TG4
Is sár-réalta camógaíochta í Aoife Ní Chaiside. Is iarchaptaen Shleacht Néill í, club a bhain craobh Uile-Éireann lena linn, is curadh contae agus cúige í, agus chomh maith leis sin, is ambasadóir díograiseach í ar son spórt na mban.
Sa tsraith nua trí chlár seo, beidh Aoife ag fiosrú chora casta agus bhuanna na mban sa spórt. Cuirfidh sí aithne ar mhná a bhfuil an-dul chun cinn iontu, agus beidh sí ag dul amach i saol an spóirt, i bhfad níos faide ná na cluichí Gaelacha is ansa lena croí, agus amharcfaidh sí ar a bhfuil i ndán do mhná spóirt na hÉireann.
Rinneadh na cláir agus Aoife ar a mbealach chun craobh camógaíochta Uile-Éireann na gclubanna a bhaint den tríú huair. Ba é DoubleBand Films a rinne Mná Spóirt: Croí is Anam (Women in Sport: Heart and Soul) do BBC NI agus TG4, le maoiniú ó Chiste Craoltóireachta Gaeilge Scáileán Thuaisceart Éireann. Tosnóidh an tsraith ar BBC 2 Dé Luain 15ú Aibreán ag 10i.n. agus ar TG4 Déardaoin 18ú Aibreán ag 9.30i.n.
Chomh maith le díriú ar an spórt féin, beidh an clár Mná Spóirt: Croí is Anam, ag fiosrú an dóigh a dtig leis an spórt tógáil croí a thabhairt do mhná agus iad a chothú go mothúchánach, go fisiceach agus go síceolaíoch, agus an dóigh a dtig leis an spórt na mná a thabhairt le chéile i saol ina mbíonn daoine ag éirí níos scoite óna chéile i rith an ama.
I gclár a haon, beidh Aoife ar a compord, ag amharc ar spóirt foirne, agus déanfaidh sí iarracht níos mó a fháil amach faoi na luachanna atá i gcroílár na bhfoirne – muinín, meas agus cairdeas.
Labhróidh sí le Katie Mullan, captaen ar fhoireann Hacaí na hÉireann, a bhain bonn airgid ag Corn an Domhain sa Hacaí sa bhliain 2018, faoi na cairdis atá déanta aici mar gheall ar an chluiche.
Chomh maith leis sin, buailfidh sí le Rena Buckley, scothimreoir pheil na mban agus camógaíochta a bhfuil ocht gcinn déag de bhoinn Uile-Éireann bainte aici, níos mó ná duine ar bith eile.
Bhí míchothromaíocht idir na hinscní i gcúrsaí spóirt i gcónaí ó thaobh tacaíochta, cuidiú airgeadais agus spéis na meán de, agus sa chéad chlár seo, beidh Aoife ag suí síos fosta le bunaitheoirí an tionscadail 20×20 le cluinstin faoi na cuspóirí atá aige próifíl spórt na mban a ardú in Éirinn.
I gclár a dó, tabharfaidh sí faoi mhisean le tuiscint a fháil ar na rudaí a spreagann mná spóirt aonair, mná a bhíonn ag traenáil agus ag dul san iomaíocht gan 'líontán sábhála' na foirne a bhfuil sise cleachta léi.
Cuirfidh sí aithne ar Patience Jumbo Gula, ráibeálaí, ar Niamh McCarthy, caiteoir teisce, agus ar Aisling Reilly, curadh domhanda sa liathróid láimhe, leis na ceisteanna móra a phlé – míchumas, íomhá agus ciníochas sa spórt.
Sa chlár deiridh, déanfar ceiliúradh ar an spórt don tsaol, agus ar thairbhe an spóirt agus na haclaíochta do mhná.
Ag cluiche dúshláin mar chuid d'ullmhúchán Shleacht Néill don fheachtas Uile-Éireann, beidh Aoife ag caint le hAnn Downey, bainisteoir Chill Chainnigh, faoin fháth a bhfuil a laghad sin ban ag déanamh mar a rinne sise, ag glacadh le róil mar bhainisteoirí agus mar oifigigh sa spórt.
Tabharfaidh sí cuairt ar scoil Eimear Considine, réalta rugbaí na hÉireann, mar a bhfuil sé mar aidhm ag Eimear a ndaltaí óga a spreagadh le dúil a bheith acu sa chorpoideachas, le hiarracht a dhéanamh cosc a chur orthu éirí as an spórt.
Is duine cróga í Aoife, gan amhras, agus cuireann sí dúshlán nua roimpi féin, mar atá, triail a bhaint as ealaíona comhraic measctha le Leah McCourt, curadh sa spórt sin.