Mná na nGlinntí on Sunday 17 June on BBC Two NI
---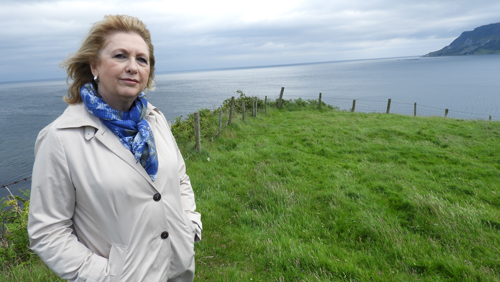 Date Posted: June 12, 2018
Former Irish President, Mary McAleese reveals how a group of female unionist aristocrats became key figures in the revival of the Irish language and culture in Ulster, at the turn of the 20th century. In Mná na nGlinntí (broadcast in Irish with English subtitles on Sunday 17 June at 10pm on BBC Two Northern Ireland), Mrs McAleese travels to Co Antrim and discovers how and why the women became four of the most influential figures in preserving Ulster Irish.
The programme was produced by Imagine Media Productions for BBC Northern Ireland with support from Northern Ireland Screen's Irish Language Broadcast Fund.
At that turbulent time in history, it was unusual for members of the upper classes and the aristocracy to show any interest in the Irish language. However, Rose Young, Ada McNeill, Margaret Dobbs and Margaret Hutton learned Irish from native speakers in the Glens of Antrim in the late 19th century, when it was still spoken as a first language by a considerable number of local people.
All four women believed that regardless of whether you were Protestant and unionist, or Catholic and nationalist, the Irish language belonged to everyone and they set about developing a pluralist, cross-community approach to reviving and promoting it.
Produced by Imagine Media for BBC Gaeilge, Mná na nGlinntí reflects on how the women crossed political, religious and class barriers to promote Irish language and culture in Co Antrim and beyond.
Contemporaries and friends of Roger Casement, Patrick Pearse, and Éamon de Valera, the influence of these pioneering Ulsterwomen on the early 20th century Gaelic revival has never been properly acknowledged.
The programme asks why they are less well known than many of their male counterparts and argues that their achievements deserve greater public acclaim.
"These four women made a huge contribution to the cause of the Irish language, its culture and people," says Mrs McAleese in the programme.
"Their vision of the language as the birthright of all, regardless of origin, is as inspiring today as it was when they started their work more than a century ago. They are an example for us all."
Executive producer for Imagine Media, Sheila Friel said: "In Mná na nGlinntí, we see how these 'Big House' women subverted traditional gender and cultural stereotypes and embraced an open-minded, progressive and tolerant approach in a divided society, becoming bridge-builders and cultural pathfinders well ahead of their time."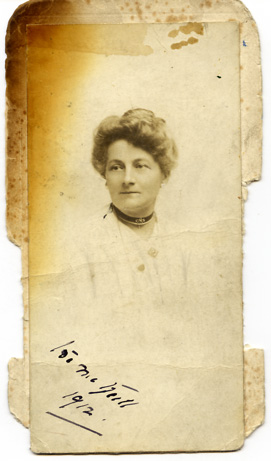 Ada McNeill
Mná na nGlinntí, Dé Domhnaigh 17 Meitheamh ag 10 i.n. ar BBC Two NI
Nochtann IarUachtarán na hÉireann, Máire Mhic Giolla Íosa, an dóigh ar éirigh grúpa den uasaicme Aontachtacht ina ndaoine mór le rá in athbheochan na Gaeilge agus chultúr na nGael i gCúige Uladh i dtús an 20ú haois. In Mná na nGlinntí (a chraolfar i nGaeilge le fotheidil Bhéarla Dé Domhnaigh 17 Meitheamh ag 10i.n. ar BBC Two NI), beidh an Bhean Uasal Mhic Giolla Íosa ag taisteal go Co. Aontroma, mar a bhfoghlaimeoidh sí an dóigh agus an fáth ar tharla sé go raibh na mná seo – ar de shliocht bhunaíocht Chúige Uladh iad – ar cheathrar de na daoine ba mhó tionchar maidir le Gaeilge Chúige Uladh a chaomhnú.
Is léiriú de chuid Imagine Media é Mná na nGlinntí do BBC Gaeilge le tacaíocht ó Chiste Craoltóireachta Gaeilge Scáileán Thuaisceart Éireann.
Tréimhse chorraithe a bhí ann i stair na tíre, agus ag an am sin, rud neamhghnách a bhí ann do bhaill den uasaicme agus den chinsealacht spéis ar bith a léiriú sa Ghaeilge. Agus sin ráite, d'fhoghlaim Rose Young, Ada McNeill, Margaret Dobbs agus Margaret Hutton Gaeilge ó chainteoirí dúchais i nGlinntí Aontroma i ndeireadh an 19ú haois, nuair a bhí an teanga fós á labhairt ag cuid mhór daoine sa cheantar.
Chreid na mná seo uilig gur le gach duine an Ghaeilge, Protastúnach agus aontachtach, Caitliceach agus náisiúnach, agus chuaigh siad i mbun oibre le cur chuige iolraíoch, trasphobail a fhorbairt maidir leis an teanga a athbheochan agus a chur chun cinn.
Is é Imagine Media a léirigh Mná na nGlinntí do BBC Gaeilge. Sa chlár seo, léirítear an dóigh ar thrasnaigh na mná seo teorainneacha polaitiúla, creidimh agus aicme leis an Ghaeilge agus cultúr na nGael a chur chun cinn i gContae Aontroma agus ar fud na tíre.
Níor tugadh aitheantas ceart don tionchar a bhí ag na mná ceannródaíocha seo ó Chúige Uladh ar athbheochan na Gaeilge i dtús an 20ú haois riamh, mná a bhí beo sa tréimhse chéanna le Ruairí Mac Easmainn, le Pádraig Mac Piarais agus le hÉamon de Valera agus a bhí cairdiúil leo fosta.
Sa chlár seo, cuirtear an cheist: cén fáth nach bhfuil siad chomh clúiteach le cuid mhór de na fir a bhí ag dul don obair chéanna, agus áitítear go bhfuil clú níos mó tuillte acu i measc an phobail as na héachtaí a rinne siad.
"Is iontach go deo an méid a rinne an ceathrar ban seo ar son chúis na Gaeilge, an chultúir agus a phobail," arsa an Bhean Uasal Mhic Giolla Íosa sa chlár.
"An aisling a bhí acu den teanga mar oidhreacht gach duine, beag beann ar a mbunús, tá an aisling sin chomh hinspioráideach inniu agus a bhí nuair a thosaigh siad ar a gcuid oibre corradh le céad bliain ó shin. Is eiseamláir iad do gach aon duine againn."
Arsa Sheila Friel, léiritheoir feidhmiúcháin le Imagine Media: "In Mná na nGlinntí, tchíonn muid an dóigh ar chuir na mná seo de chuid an 'Tí Mhóir' na steiréitíopaí traidisiúnta inscne agus cultúir de dhroim seoil, agus an dóigh ar chuir siad fáilte roimh chur chuige leathanaigeanta, forásach agus caoinfhulangach i sochaí neamhaontaithe, daoine a thóg droichid agus a bhí ina dtionscnóirí cultúrtha i bhfad sula raibh a leithéid á phlé."