Local Female Game Developer Wins Prestigious Award
---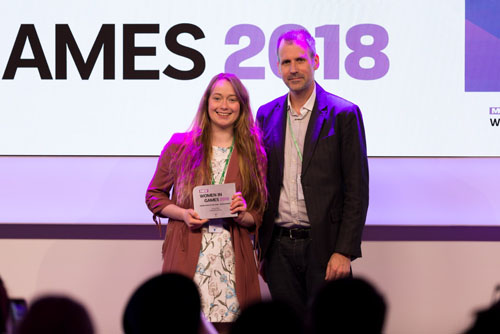 Date Posted: May 21, 2018
A gaming entrepreneur from Belfast has been presented with a prestigious gaming award in London. Vicky Potts, 26, from Belfast scooped the Rising Star of the Year – Development Award earlier this month at the MCV Women in Games Awards held at London's Facebook HQ.
Hailed as a "fantastic showcase" by Games London, the MCV Women in Games Awards, which is now in its third year, is considered to be the leading awards ceremony in the UK that celebrates and rewards excellence among female professionals within the gaming industry.
Vicky, who is a Director of Whitepot Studios, is the first ever woman from Northern Ireland to win the award, and was nominated alongside women from noteworthy companies such as Ubisoft Reflections, Rare Ltd, Warner Bros Games, and Activision.
From making websites at just 11 years of age, Vicky has come a long way, graduating from Queen's University, Belfast, in 2015 with a Masters in Computer Science, before setting up her second company at just 26.
Speaking about her achievement, Vicky said: "The gaming industry is still very male-dominated – both in the development arena and in the online communities.
"It became clear to me that promoting representation of women in technology, and other STEM-related fields, is incredibly important, especially for girls growing up today who are the engineers, scientists, and game developers of the future. That's why I am thrilled as a developer, and company founder, to win this award."
The Whitepot Studios Co-Founder, Adam Whiteside, who also attended the awards, added: "All of the award nominees across all categories are great role models for the future of the gaming industry. Vicky has worked so hard, and I am exceptionally proud of her for winning this award, especially when up against such cornerstone industry names.
"The MCV Women in Games Awards were a refreshing inverse of standard gaming industry events, which are unfortunately still very male-dominated, but we hope in future years that this will change."
Mark Morris, President of the award sponsor, Splash Damage, a video game developer that specialises in multiplayer first-person shooter video games said: "At Splash Damage, we're challenging stereotypes every step of the way, and sponsoring the Rising Star of the Year Award is a source of pride as we continue to promote equality in the industry."
Whitepot Studios is a Belfast-based games development company founded in 2015. Their first release, Tubocity, was an Android and iOS sci-fi endless runner, which has been downloaded in over 35 countries and won NI Game of the Year 2017. They are currently working on an online multiplayer Murder Mystery PC game, which is supported by Northern Ireland Screen through the Assembler Programme.
For more information on Whitepot Studios, click here.
A full MCV Women In Games Winner's List can be found here.