Turas Bóthair, Thursday 4th May, TG4 at 9.30pm
---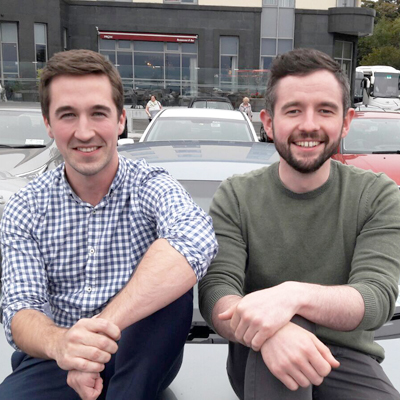 Date Posted: April 12, 2017
A new Irish Language programme, Turas Bóthair, is set to offer viewers an insight into the everyday conversations which take place in various car journeys across Ireland. The 6-part series, which received funding from Northern Ireland Screen's Irish Language Broadcast Fund, will air on Thursday 4th May at 9.30pm on TG4.
Turas Bóthair, a Waddell Media production, features a variety of engaging drivers and passengers who reveal details of their personal lives throughout the course of the series. Across the six episodes, which are also repeated every Monday night from 8th May at 11.30pm, we meet friends Maria and Ciarán from Dublin; Bairbre and Katie from Conamara; Daithí and Criostóir from Co. Mayo and Aoife and Méabh from Belfast.
The series was filmed on location in Counties Donegal, Dublin, Cork, Kerry, Galway and Antrim.
---
Turas Bóthair, Déardaoin 4 Bealtaine, TG4 ar 9.30i.n.
Tabharfaidh sraith nua, Turas Bóthair, léargas ar an ghnáthchomhrá laethúil a bhíonn ar siúl i dturais chairr éagsúla ar fud na hÉireann. Craolfar an tsraith sé chlár, sraith a fuair maoiniú ón Chiste Craoltóireachta Gaeilge, Scáileán Thuaisceart Éireann Déardaoin 4 Bealtaine ar 9.30i.n. ar TG4.
In Turas Bóthair, léiriúchán de chuid Waddell Media, gheofar réimse de thiománaithe agus de phaisinéirí inspéise agus iad ag tabhairt eolais dúinn ar a saol pearsanta le linn na sraithe. I rith na sé chlár, sraith a athchraolfar gach oíche Luain ó 8 Bealtaine ar 11.30i.n., castar orainn na cairde Maria agus Ciarán as Baile Átha Cliath; Bairbre agus Katie as Conamara; Daithí agus Criostóir as Co. Mhaigh Eo agus Aoife agus Méabh as Béal Feirste.
Rinneadh scannánú ar an tsraith ar an láthair i gContae Dhún na nGall, Baile Átha Cliath, Corcaigh, Ciarraí, Gaillimh agus Aontroim.