Turas Bóthair is back with a brand new series on TG4
---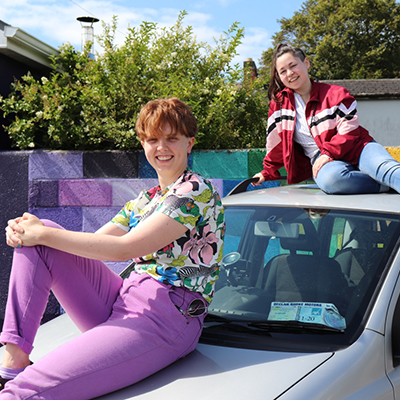 Date Posted: April 8, 2021
Turas Bóthair is back with some familiar and new faces! The Irish Language Broadcast series that exposes real life topical conversations filmed through rigged cameras inside cars will air on Thursday 15th April at 8pm on TG4.
Produced by Waddell Media, the six-part series puts its finger on the pulse of the Irish psyche giving us a unique slice of life normally hidden behind closed doors. As well as an array of engaging drivers and their passengers, it features moments of joy and sadness, comedy and tragedy, love and loss, friendship and romance, regret and reflection, despair and hope.
The drivers and passengers share their personal stories and views on love, relationships, sex, drag queens, drugs, illness, death, scams, Greta Thunberg and the environment, childhood obesity, WW3, 2020 and the first lockdown.
Amongst the characters we meet University students Sorcha & Seoirshín, school friends Caoimhín and Niall, sisters Nóra & Úna, taxi driver Grace with a number of different customers, and the chuckle brothers Muiris and Gabriel!
Turas Bóthair was filmed on location in Counties Donegal, Mayo, Kerry, Galway, Waterford, Derry and Antrim.
---
Tá Turas Bóthair ar ais ar TG4 le sraith úrnua
Tá Turas Bóthair ar ais don ceathrú sraith! Nochtar dúinn sa chlár seo cad é go díreach a bhíonn mar ábhar cainte ag daoine agus iad ag taisteal thart ina gcuid carranna. Beidh an tsraith seo atá maoinithe ag an Chiste Craoltóireachta Gaeilge le feiceáil Déardaoin 15ú Aibréan ag 8.i.n. ar TG4.
Sa tsraith sé chuid seo atá léirithe ag Waddell Media tá ceamaraí beaga curtha ar ais i gcarranna ar fud na hÉireann sa dóigh go dtig linn cúléisteacht leis na comhráite a bhíonn ag dul ar aghaidh idir tiománaithe agus a gcuid paisinéirí. Tá lúcháir agus brón ann, coiméide agus tragóid, grá agus briseadh croí, cairdeas agus rómánsaíocht, aiféaltas agus machnamh, éadóchas agus dóchas.
Cluinfimid scéalta pearsanta agus gheobhaimid amach cad é an dearcadh atá ag an mhuintir sna carranna ar réimse leathan ábhar: an grá, caidrimh, gnéas, teicneolaíocht, drugaí, tinneas, drag queens, Scams, An timpeallacht agus Greta Thunberg, An tríú cogadh domhanda, murtall i measc leanaí agus cuid mhór eile.
Beimid ag cúléisteacht le Sorcha & Seoirshín, Mic léinn ollscoile i nGaillimh, agus le Caoimhín agus Niall, seán chairde i Co. Mhaigh Eo. Cuirfimid aithne ar Nóra agus Úna, deirfiúracha i gContae na Gaillimhe, agus ar Mhuiris agus Gabriel arb as an Ríocht iad agus a chuir aithne ar a chéile agus iad ar scoil.
Rinneadh Turas Bóthair a scannánú i gcontaetha éagsúla – Dún na nGall, Maigh Eo, Port Láirge, Ciarraí, Gaillimh, Aontroim agus Doire.