New issue based ILBF series Croí na Ceiste le Caoimhe airs on BBC NI
---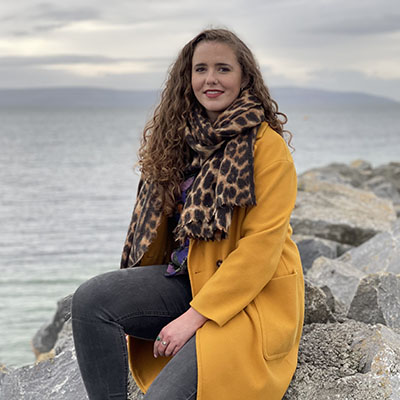 Date Posted: May 3, 2022
Broadcaster and journalist Caoimhe Ní Chathail fronts a new Irish Language Broadcast Fund series Croí na Ceiste le Caoimhe to investigate the growing issues affecting young people today. The four-part series made for BBC Gaeilge by Waddell Media begins on Monday 9th May at 10pm on BBC Two Northern Ireland.
Each week, Caoimhe tackles a question central to young peoples' lives by inviting members of her generation to discuss and share their experiences. Over four episodes she talks to young people to get their thoughts on a range of major issues in their lives from religion and the environment to sex education and body image.
In the first episode, Caoimhe asks how important religion and spirituality is to young people growing up today. Religion in Northern Ireland can have many connotations and links to our sometimes dark history but do young people still find a place for faith in their lives?
Caoimhe meets with young people of different faiths, beliefs and opinions all over the island of Ireland including a County Down student who was brought up as an atheist and a devout Catholic who is proud of her faith.
She delves into ancient Irish religious practices travelling to the sacred Hill of Uisneach in County Westmeath to take part in a fire ceremony and attends a dinner party in Belfast to celebrate 'Diwali', the Hindu Festival of Light. Caoimhe visits Sam Ó Fearraigh in Donegal to discuss his recent conversion to Judaism and asks if and how it has changed him. After her journey, will Caoimhe be any more enlightened as to the role religion plays in the lives of her generation?
In episode two, Caoimhe investigates peoples' experience of Sex Education. Where does their knowledge and understanding come from? Are they learning in school, from parents, from peers or online? Caoimhe visits universities to find out how they are informing their students about sex.
In episode three, Caoimhe asks whether social media is changing how we feel about our bodies. She goes behind the camera with model Shade Fairley from Belfast, meets magazine editor, Megan Roantree and challenges four young women to take a break from social media to test whether the platforms are negatively impacting how they feel about their bodies.
In the final episode of the series, the focus is on the environment and the eco-anxiety in young people, that could stem from worries about climate change and the future of the planet.
All four episodes in the series are available to watch on BBC iPlayer from Monday 9th May.
---
Tá Caoimhe Ní Chathail, láithreoir agus iriseoir, i mbun sraith úr de chuid an Chiste Craoltóireachta Gaeilge, Croí na Ceiste le Caoimhe, agus í ag déanamh iniúchadh ar na ceisteanna móra atá ag dó na geirbe ag daoine óga an lae inniu. Tosaíonn an tsraith cheithre chuid seo atá déanta do BBC Gaeilge ag Waddell Media Dé Luain 9ú Bealtaine ag 10i.n. ar BBC 2 Thuaisceart Éireann.
Gach seachtain, pléann Caoimhe le hábhar amháin atá lárnach i saol na ndaoine óga agus deis tugtha aici do lucht a linne a gcuid taithí féin a roinnt le dul go croí na ceiste. Sna ceithre chlár, labhraíonn sí le daoine óga chun tuairimí s'acu a fháil ar réimse ceisteanna ina saolta féin, ó reiligiún agus timpeallacht go hoideachas gnéis, agus íomhá colainne.
Pléann céad chlár na sraithe lena thábhachtaí is atá reiligiún agus an spioradáltacht do dhaoine óga atá ag fás aníos sa lá atá inniu ann. Thig le fochiall áirithe bheith ag an reiligiún anseo i dTuaisceart Éireann agus é sníomhaithe le stair na háite a bhí duairc go leor, corruair, ach an bhfuil ról go fóill ag an chreideamh i saol na ndaoine óga seo?
Buaileann Caoimhe le daoine óga fud fad an oileáin le creidimh agus tuairimí éagsúla s'acu a fhiosrú. Ina measc, mac léinn as Contae an Dúin a tógadh mar aindiachaí agus Caitliceach cráifeach atá bródúil as a creideamh.
Bíonn sí tumtha i nósanna págánacha na nGael ar chnoc Uisnigh i gContae na hIarmhí ag searmanas tine agus bíonn sí i gcroí na féile 'Diwali', féile Hiondúch na Soilse i mBéal Feirste. Tugann sí cuairt ar Sam Ó Fearraigh i nDún na nGall le labhairt faoina aistear féin chuig an Ghiúdachas le fáil amach cad é mar atá a shaol i ndiaidh athrú. I ndiaidh a turais, an mbuailfidh splanc inspioráide Caoimhe faoin ról atá ag an reiligiún ar na saolta seo?
Sa dara clár fiosraíonn Caoimhe an taithí atá ag daoine ar an oideachas gnéis. Cá háit as a dtagann ár gcuid eolais agus tuigbheála air? An bhfuil muid ag foghlaim ar scoil, ó thuismitheoirí, ónár gcairde nó ar líne? Téann Caoimhe chuig ollscoileanna timpeall na tíre le fáil amach faoina bealaí a gcuireann siad oideachas ar a lucht léinn faoin ghnéas.
Sa tríú clár, fiosraíonn Caoimhe cé acu an bhfuil na meáin shóisialta ag athrú an dóigh a mothaíonn muid faoinár gcolainn. Téann sí ar chúl an cheamara leis an mhainicín Shade Fairley ó Bhéal Feirste, buaileann sí leis an eagarthóir irise Megan Roantree, agus tugann sí dúshlán do cheathrar ban óg briseadh a thógáil óna meáin shóisialta go bhfeice siad cad é mar atá na hardáin éagsúla ag cur isteach ar an íomhá colainne atá acu.
Díríonn clár deireanach na sráithe ar an timpeallacht agus an imní atá ar dhaoine óga a eascraíonn as an athrú aeráide agus ó thodhchaí an phláinéid.
Tá ceithre eipeasóid na sraithe ar fáil ar an BBC iPlayer ó Luan an 9ú Bealtaine.