Nazi sa Ghaeltacht documentary to air on BBC Two NI
---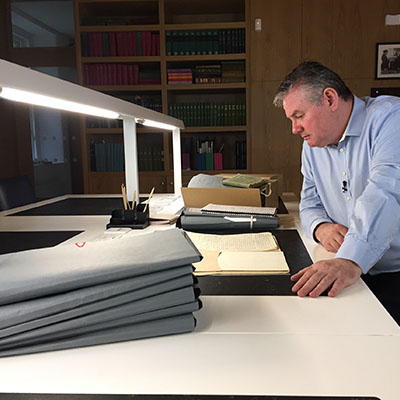 Date Posted: July 17, 2020
In Nazi sa Ghaeltacht, on Sunday 26th July on BBC Two Northern Ireland at 10pm, Kevin Magee investigates what Mühlhausen, a Nazi party member and German linguist, was really doing in the Donegal Gaeltacht in 1937 in the run up to the Second World War.
In the one-hour documentary, made for BBC Gaeilge by Macha Media, with support from Northern Ireland Screen's Irish Language Broadcast Fund, Kevin follows Mühlhausen's journey – ostensibly in the Gaeltacht to collect folklore but secretly gathering information which would be exploited by the Third Reich.
This is the untold story of a Nazi professor; rumoured to have been a spy, the small village of Teileann in the Donegal Gaeltacht and its location as part of an apparent blueprint for a possible invasion of Ireland.
And while it might sound like a fictional tale of wartime intrigue, in a new documentary, veteran BBC correspondent Kevin Magee uncovers the double life of Irish language scholar Dr Ludwig Mühlhausen.
Professor Mühlhausen perfected his knowledge of the Irish language in the tiny Irish speaking hamlet of Teileann and used it to broadcast German propaganda into Ireland during World War Two. In a remarkable journey Kevin traces the professor's footsteps back to Berlin and reveals the shocking truth about the German scholar who became the Gaelic Lord Haw Haw and a decorated SS officer.
Kevin had heard stories of a Nazi spy who operated in Teileann in South Donegal ever since he himself started visiting the area over 40 years ago. Like Kevin, Mühlhausen had also gone there to perfect his Irish but the locals were always suspicious of the German's real reasons for visiting. Mühlhausen made no secret of the fact he was a committed Nazi and openly expressed his despair at how the locals weren't enterprising, lacked German efficiency and didn't exploit the land and sea around them as he thought they should.
Kevin said: "I wanted to find out if the story of the Nazi in the Gaeltacht was true, so I began investigating, talking to locals, asking questions and examining a whole variety of sources. Piece by piece I was able to pull this remarkable story together. When I began my journey, I had no idea I would discover just how committed Mühlhausen was to the entire Nazi project. The plot reads like a World War Two thriller, except this story is for real.
"One of the first things he did in Teileann after he'd found somewhere to stay was hang a large picture of Hitler on his bedroom wall. He took photographs everywhere he went and measured the depth of Teileann Bay by dropping lead weights into the tide. Locals later speculated he was scouting the place out as a potential landing site for Nazi U-boats."
Two years after his visit, the same local people who had facilitated his stay in Teileann, were amazed to hear him broadcasting Nazi propaganda in Irish from a radio station in Berlin, urging the Irish to keep their neutrality and reminding them of atrocities the English had carried out in Ireland.
He begins his journey at the Slieve League cliffs in Donegal, travels to the Military Archives in Dublin where he uncovers a secret file the Irish intelligence service compiled on Mühlhausen during the war. From there the trail takes him to Berlin where he uncovers previously unseen documents that reveal the German's efforts to shape a Nazi plan for Ireland. The deeper Kevin gets into the investigation, the more extraordinary and sinister the story becomes.
Even at the end, with the Nazis defeated and Mühlhausen in a prisoner of war camp, he made one last desperate plea for help.
Nazi sa Ghaeltacht is on Sunday 26th July on BBC Two Northern Ireland at 10pm.
---
I Nazi sa Ghaeltacht, Dé Domhnaigh an 26 Iúil ar BBC a Dó Thuaisceart Éireann ar a 10 i.n., fiosraíonn Caoimhín an méid a bhí ar bun i ndáiríre ag Mühlhausen, ar ball é den Pháirtí Naitsíoch, i nGaeltacht Thír Chonaill roimh thús an Dara Cogadh Domhanda.
Sa chlár faisnéise uair an chloig seo, a léirigh Macha Media do BBC Gaeilge le tacaíocht ó Chiste Craoltóireachta Gaeilge Scáileán Thuaisceart Éireann, leanann Caoimhín aistear Mühlhausen, a bhí sa Ghaeltacht le seanchas a bhailiú ach a bhailigh eolas ann go rúnda ar bhain an Tríú Reich leas as le linn an chogaidh.
Seo scéal nár insíodh riamh faoi ollamh Naitsíoch ar dúradh gur spiaire é, faoi bhaile beag ar a dtugtar Teileann i nGaeltacht Thír Chonaill agus faoina áit i bplean chun ionradh a dhéanamh ar Éirinn.
Cé gur cosúil an scéal seo le ficsean bunaithe ar aimsir an chogaidh, sa chlár faisnéise úr seo, nochtann an t-iriseoir aitheanta Caoimhín Mag Aoidh dhá shaol an scoláire Gaeilge An Dr Ludwig Mühlhausen.
Thug an t-Ollamh Mühlhausen a chuid Ghaeilge chun foirfeachta i dTeileann agus bhí sé le tarraingt ar an Ghaeilge sin chun bolscaireacht a chraoladh ón Ghearmáin go hÉirinn le linn an Dara Cogadh Domhanda. Leanann Caoimhín coiscéimeanna an ollaimh go Beirlín, áit a nochtann sé an fhírinne scáfar faoin scoláire Gearmánach a bhí mar Lord Haw Haw na Gaeilge agus a bhí ina oifigeach de chuid an SS ar bronnadh gradaim air.
Chuala Caoimhín ráflaí faoi spiaire Naitsíoch a bhí ag obair i dTeileann i nDeisceart Thír Chonaill ó thosaigh sé féin ag caitheamh ama sa cheantar breis agus dhá scór bliain ó shin. Dála Chaoimhín, bhí Mühlhausen ansin le feabhas a chur ar a chuid Gaeilge féin ach bhí muintir na háite i gcónaí in amhras faoi na fáthanna a raibh an Gearmánach ann. Níor cheil Mühlhausen go raibh sé ina Nazi tiomanta agus labhair sé go hoscailte faoin dímheas a bhí aige ar an easpa fiontraíochta sa phobal, ar neamhfheidhmiúlacht na nÉireannach i gcomparáid leis na Gearmánaigh agus ar a gcuid nósanna mí-éifeachtacha talmhaíochta agus iascaireachta, dar leis.
Arsa Caoimhín, "Bhí mé ag iarraidh a fháil amach an raibh fírinne ar bith sna ráflaí seo faoin Nazi sa Ghaeltacht, mar sin thosaigh mé ag fiosrú, ag labhairt le muintir na háite, ag cur ceisteanna agus ag iniúchadh foinsí éagsúla. De réir a chéile bhí mé ábalta an scéal iomlán a nochtadh. Nuair a thosaigh mé ar mo thuras níor shíl mé go bhfaighinn amach go raibh Mühlhausen chomh tiomanta agus a bhí don Naitsíochas. Tá an plota seo mar a bheadh scéinséir mistéire faoin Dara Cogadh Domhanda ann, ach is scéal fíor atá ann!
"Ceann de na chéad rudaí a rinne sé nuair a bhí sé socraithe i dTeileann ná pictiúr mór de Hilter a chur in airde sa seomra leaba s'aige. Ghlac sé grianghraif ar fud an cheantair agus d'úsáid sé tromán luaidhe le doimhneacht Chuan Theilinn a thomhas. Rith sé le muintir na háite ina dhiaidh sin gurbh fhéidir go raibh sé ag iarraidh a fháil amach an mbeadh an áit oiriúnach d'fhomhuireáin a theacht isteach."
Dhá bhliain i dhiaidh a chuairte bhí iontas ar na daoine céanna é a chluinstin ar chraoltaí raidió ó Bheirlín, ag spalpadh bolscaireacht Naitsíoch i nGaeilge, ag cur ina luí orthu a neodracht i leith an chogaidh a choinneáil agus ag cur ainghníomhartha na Breataine in Éirinn i gcuimhne dóibh.
Cuireann sé tús lena thuras ar aillte Shliabh Liag i dTír Chonaill sula dtaistealaíonn sé go dtí an Chartlann Mhíleata i mBaile Átha Cliath, áit a n-aimsíonn sé comhad rúnda ar Mühlhausen a chuir seirbhís faisnéise na hÉireann i gceann a chéile le linn an chogaidh. Ansin leanann sé Mühlhausen go Beirlín áit a nochtann sé cáipéisí nach bhfacthas roimhe a léiríonn saothar an Ghearmánaigh i múnlú phlean na Naitsithe d'Éirinn. Dá dhoimhne a théann Caoimhín isteach sa scéal is amhlaidh is iontaí agus is scanrúla a éiríonn sé.
Fiú sa deireadh, nuair a bhí na Naitsithe cloíte agus Mühlhausen ina luí i gcampa géibhinn, thug sé baothiarraidh amháin eile ar chuidiú a fháil.
Craolfar Nazi sa Ghaeltacht Dé Domhnaigh an 26 Iúil ar BBC a Dó Thuaisceart Éireann ar 10 i.n.