I Lár An Aonaigh return to BBC Two NI
---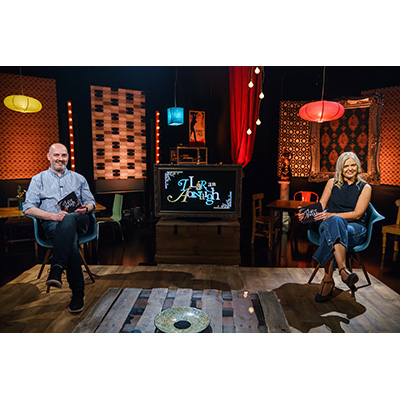 Date Posted: November 5, 2020
The Irish language magazine series, I Lár an Aonaigh, is back with a new series starting on BBC Two Northern Ireland on Monday 9th November at 10pm. The series is made for BBC Gaeilge by Below The Radar TV with support from Northern Ireland Screen's Irish Language Broadcast Fund.
Over six weeks, presenters Máire Bhreathnach and Dáithí Ó Muirí are joined by Lynette Fay, Conall Ó Máirtín and Seán Ó Baoill for a mix of stories, chat and some great musical performances.
The six-part series will include a variety of special guests including actor and TV presenter Gráinne Bleasdale, writer Myra Zepf, poet Seán Ó Muireagáin, actor Eoghan Ó Dubhghaill, former Wexford hurling captain Diarmuid Lyng, presenter Irial Ó Ceallaigh and climate ambassador Ailbhe Ní Riain.
Once again there will be a great mix of music, from traditional and pop, to indie and rap. There will be performances from the eclectic trio Wyvern Lingo, Donegal singer-songwriter Megan Nic Ruairí, Kildare rappers Tebi Rex, Belfast's own Alice LA, trad-folk duo, Jack Warnock and Moya Sweeney and traditional singer Ciara McCrickard from County Down.
Series Producer Máire Bhreathnach said: "In these challenging times we are particularly delighted to be back with another series of I Lár an Aonaigh. We have some great musicians and guests again this year and a wide range of features which include looking at the impact of Covid-19 on our autistic children and exploring the 20×20 campaign, aimed at creating a cultural shift in our perception of women in sport, and lots more."
Additional cover tracks recorded by each of the artists will be available to watch online at bbc.co.uk/gaeilge or via the BBC Gaeilge Facebook page.
---
Cuirfear tús le sraith úr den irischlár Gaeilge, I Lár an Aonaigh, ar BBC Two Northern Ireland Dé Luain, 9 Samhain ar 10 i.n.. Is léiriú de chuid Below The Radar é I Lár an Aonaigh a rinneadh do BBC Gaeilge, le maoiniú ó Chiste Craoltóireachta Gaeilge Scáileán Thuaisceart Éireann.
Is iad Máire Bhreathnach agus Dáithí Ó Muirí láithreoirí na sraithe, agus beidh Lynette Fay, Conall Ó Máirtín agus Seán Ó Baoill ina gcuideachta arís eile le meascán scéalta, seanchais agus ceoltóirí den scoth.
Sa tsraith sé seachtaine seo beidh réimse aíonna speisialta sa tsraith, lena n-áirítear Gráinne Bleasdale, láithreoir teilifíse, Myra Zepf, scríbhneoir, Seán Ó Muireagáin, file, Eoghan Ó Dubhghaill, aisteoir, Diarmuid Lyng, iar-chaptaen fhoireann iomána Loch Garman, Irial Ó Ceallaigh, láithreoir, agus Ailbhe Ní Riain, ambasadóir aeráide.
Mar a bhí i ngach sraith eile, beidh meascán iontach ceoil ann: ceol traidisiúnta agus popcheol, ceol indie agus anamcheol. Cluinfidh muid ón tríréad eicléictiúil Wyvern Lingo, an t-amhránaí agus cumadóir amhrán ó Thír Chonaill Megan Nic Ruairí, grúpa rapcheol as Cill Dara Tebi Rex, Alice LA as Béal Feirste, díséad traidisiúnta Jack Warnock agus Moya Sweeney agus amhránaí traidisiúnta as Contae an Dúin Ciara McCrickard.
Arsa Máire Bhreathnach, léiritheoir na sraithe: "Tá muid iontach sásta a bheith arais le sraith eile de chuid I Lár an Aonaigh, go háirithe sa tréimhse áisteach seo ina bhfuil muid. Tá ceoltóirí agus aíonna iontacha againn arís i mbliana chomh maith le réimse leathan de scéalta suimiúla, mar shampla an tionchar atá ag srianta Covid-19 ar pháistí a bhfuil uathachas orthu, nó 20×20, feachtas atá dírithe ar an dearcadh atá againn ar mhná i saol an spóirt a athrú ó bhonn.
Beidh rianta breise le gach ceoltóir agus banna ar fáil ar líne ar bbc.co.uk/gaeilge nó ar leathanach Facebook BBC Gaeilge.