Irish Language Broadcast Fund announces funding decisions for 2018
---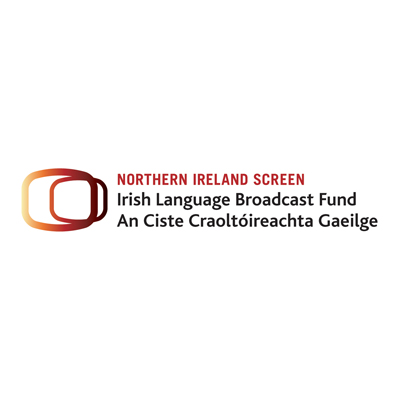 Date Posted: October 17, 2018
Northern Ireland Screen's Irish Language Broadcast Fund (ILBF) is delighted to announce its latest funding decisions for 2018. Funding was awarded across a wide genre of TV and online content with a total of 15 projects receiving funding.
The aims of the ILBF are to promote the production and broadcast of quality Irish language content for an audience in Northern Ireland and beyond and to help grow the Irish language production sector in Northern Ireland.
The Gaeltacht has been a right of passage experience for generations of people. Over a three-week period, the drama of a Gaeltacht summer college unfolds in #AnGhaeltacht, a factual series from DoubleBand Films. The three part series tracks a diverse group of characters as busloads of teenagers from Newry, Belfast and Derry descend on the quiet coastal hamlet of Machaire Rabhartaigh. DoubleBand has also received funding for Doineann a dark, feature length thriller which sees a wily, retired female Garda inspector investigate a murder on a beautiful, sleepy island off the north-west coast of Ireland. This is the first feature drama funded in our new initiative with TG4 and BBC.
Imagine Media was awarded funding for Cluiche an Gheimhridh which looks at the enduring pastime of card-playing in Ulster. Some play for the cúpla punt, whilst others take part in fundraising or charity events, but regardless of the reason, card-playing remains a particularly unique form of social gathering.
Paper Owl Films has received funding for Ár mBia, Ár Slí a web series for RTEJr in which eager domestic gods and goddesses conjure up their favourite dishes in kitchens all over Ireland.
Daithí Mac Gabhann is two years old and is on the heart transplant waiting list Macha Media's Croí Briste follows his journey and highlights the important issue of organ donation as his parents await news of a new heart for their beloved son. Macha Media has also received funding for Laochra Thar Lear a documentary about former Irish Olympic heroes, looking back at the very first Irish Olympians and their remarkable stories and achievements. The documentary will coincide with the 2020 Tokyo Olympics.
Below the Radar has been awarded funding for Turas an Bháis which will look at the way we deal with death in contemporary Ireland through the eyes of terminally ill, retired manager of Club Chonradh na Gaeilge, Seosamh Ó Conchúir and his family. Below the Radar's discussion series An Focal Scoir will also return for a third series, providing in-depth debate and analysis of various stimulating and controversial issues.
Also returning for a third series is Waddell Media's Turas Bóthair, a series which will take a fly-on-the-wall look at the daily commute of various car loads of humorous, opinionated commuters, all with their own stories to be told as they begin their journey to work.
Raidió Fáilte has secured funding for its broadcast training scheme, a scheme which offers a strong foundation for those who wish to work in the media sector and provides an opportunity for them to add to their experience in the production sector.
---
CINNTÍ MAOINITHE IS DÉANAÍ DE CHUID AN CHISTE CRAOLTÓIREACHTA GAEILGE FÓGARTHA DO 2018
Is mian leis an Chiste Craoltóireachta Gaeilge (CCG), Scáileán Thuaisceart Éireann a chinntí maoinithe is déanaí do 2018 a fhógairt. Bronnadh maoiniú ar 15 thionscadal ar fad ina bhfuil éagsúlacht bhreá seánraí teilifíse agus ábhar ar líne.
Is é a chuireann an CCG roimhe, maoiniú a chur ar fáil le hábhar Gaeilge ar ardchaighdeán a léiriú agus a chraoladh do lucht féachana i dTuaisceart na hÉireann agus níos faide i gcéin agus lena chinntiú go gcuirfear fás faoin earnáil léiriúcháin Ghaeilge i dTuaisceart na hÉireann.
Tá na glúintí de dhaoine ann anois agus taithí acu ar an Ghaeltacht. Thar tréimse trí seachtaine feicfidh muid an dráma uilig a titeann amach i gColáiste Samhraidh Gaeltachta in #AnGhaeltacht, sraith a bhéas á léiriú ag DoubleBand Films don BBC. Leanfaidh an tsraith trí chlár carachtair éagsúla agus na busanna lán de dhéagóirí ó Bhéal Feirste, ó Dhoire agus ó Iúir Cinn Trá agus iad ag taisteal go Machaire Rabhartaigh, ceantar ciúin suite ar chósta Dhún na nGall. Tá maoiniú faighte ag DoubleBand Films fosta i gcomhair Doineann, scannán fada ina bhfeicfidh muid iar-chigire de chuid an Gárda Síochána ag déanamh iniúchadh ar dhúnmharú ar oileán galánta, suaimhneach ar chósta iarthuaisceart na hÉireann. Is é seo an chéad scannán fada a bhfuil maoinithe sa phairtnéireacht a fógraíodh in aonacht leis an BBC agus TG4.
Bronnadh maoiniú ar Imagine Media le clár a dhéanamh faoi imirt cártaí mar chaitheamh aimsire i gCúige Uladh. Leanfaidh Cluiche an Gheimhridh na daoine a imríonn don chúpla punt agus iad siúd a imríonn chun airgead a thiomsú nó i gcomhair ócáidí catharnachta.
Déanfaidh Paper Owl Films sraith ar líne do RTÉJr darbh ainm Ár mBia, Ár Slí. Sa tsraith seo feicfidh muid daoine óga le dúil mór acu sa chócaireacht ag ullmhú na miasa ab fhearr leo i gcistineacha ar fud fad na hÉireann.
Is buachaill óg dhá bhliain d'aois é Daithí Mac Gabhann agus tá sé ag fanacht ar thrasphlandú croí. Leanfaidh Croí Briste, clár a bhéas léirithe ag Macha Media, don BBC aistear Dhaithí agus díreoidh sé isteach ar dheonú orgán agus tuismitheoirí Daithí ag fanacht ar an nuacht go bhfuil croí ar fáil dá mhac dílis. Tá maoiniú faighte ag Macha Media fosta i gcomhair Laochra Thar Lear, do TG4, clár faisnéise faoi laochra na gCluichí Oilimpeacha san am a chuaigh thart. Amharcfaidh sé ar na céad daoine ó Éirinn a ghlac páirt sna Cluichí Oilimpeacha eachtraí agus éachtaí s'acu.
Caithfidh Turas an Bháis súil ar an dóigh a dtéann muid i ngleic leis an bhás in Éirinn sa lá atá inniu ann. Tá an bás i ndán do Sheosamh Ó Conchúir, iar-bhainisteoir Club Chonradh na Gaeilge, agus is tríd súile s'aige agus súile chlann s'aige a dhéanfar iniúchadh ar an ábhar seo. Is Below the Radar a bhéas á léiriú agus is iad fosta a bhéas ag léiriú an tríú sraith de An Focal Scoir, sraith díospóireachta ina ndéantar mionchíoradh ar cheisteanna suimiúla conspóideacha atá i mbéal an phobail.
Ag filleadh don tríú sraith chomh maith, tá Turas Bóthair de chuid Waddell Media do TG4 ina leanfar roinnt daoine éagsúla agus iad i gcarranna lena chéile ag tabhairt faoina dturas laethúil chun na hoibre. Beidh an clár breac le greann agus tuairimí agus a scéal féin le hinsint ag gach duine acu.
Chomh maith leis seo, is amhlaidh a d'éirigh le Raidió Fáilte maoiniú a fháil dá scéim traenála craoltóireachta, rud a thugann bonn iontach traenála dóibh siúd ar mian leo a bheith ag obair in earnáil na meán i gcoitinne agus tugtar deis dóibh cur lena réimse taithí san earnáil léiriúcháin.