Hammond: Duais an Dorais (A Parting Gift), Sunday 26th August at 10pm on BBC Two Northern Ireland and Wednesday 29th August at 9.30pm on TG4
---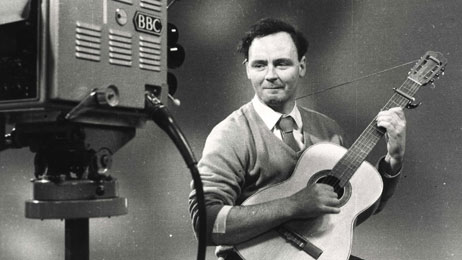 Date Posted: August 20, 2018
Made to mark the 10th anniversary of his death, Hammond: Duais an Dorais examines through contributions from friends, family, former colleagues, and archive footage of, and from, the man himself, the life, the creative talent and continuous legacy of David Hammond.
The programme has been produced as part of the inaugural Amharc documentary initiative by DoubleBand Films for BBC Northern Ireland and TG4 with support from Northern Ireland Screen's Irish Language Broadcast Fund. Presented by Hammond's close friend, composer and musician Neil Martin, Hammond: Duais an Dorais broadcasts on Sunday 26th August on BBC Two Northern Ireland at 10pm and Wednesday 29th August on TG4 at 9.30pm.
The programme traces Davey's professional life from his background in education, through his career at BBC Northern Ireland (where he managed to transform his shy friend Seamus Heaney into an excellent broadcaster), to his mentoring and nurturing of up-and-coming talent, and of course his musicianship.
There are nostalgic and heartwarming stories and clips from his television work including, The Magic Fiddle, the award-winning Dusty Bluebells and Sarah Makem.
Other contributors, including writers Glenn Patterson and Brian Keenan, artist Neil Shawcross, broadcasters John Kelly from RTÉ and BBC Northern Ireland's Marie-Louise Muir and musician Dónal Lunny (who recalls a raucous hospital visit involving whiskey and cigars) all combine to give viewers a sense of Hammond's warm and witty personality.
Sarah Makem's great-granddaughter Stephanie and Seamus Heaney's son Mick recall Hammond's empathy and wonderful ability to engage people. And contributions from Davey's family, accompanied by archive footage, photography and memories of their holiday home in Donegal (often featuring regular visitors, the Heaneys) reveal how their remote cottage became a place of fun, music and refuge for anyone who came knocking.
As well as an inspiring body of work and wonderful memories, Neil Martin tells how on visiting his friend for the last time, Davey gave him four special books containing hundreds of traditional songs collected by Sam Henry in early 20th century Ulster.
"It's an invaluable archive of local songs that Davey had preserved in the knowledge that it would be preserved in generations to come," says Neil.
"Davey left many things to many people throughout his life, but this was his parting gift to me."
Hammond: Duais an Dorais is a timely reappraisal of David Hammond's television and radio output, and why it remains relevant for a new generation of musicians, broadcasters and audiences.
In the words of Seamus Heaney: "He was a great Ulsterman and a great Irishman, a man of rare energy, one of the transformers in Irish life. He was a courageous romantic, a heroic democrat, free of sectarianism and free of ideology."
---
Hammond: Duais an Dorais, Dé Domhnaigh 26 Lúnasa, 10i.n. BBC2 Thuaisceart Éireann agus Dé Céadaoin 29 Lúnasa, 9.30i.n. TG4.
Rinneadh Hammond: Duais an Dorais le cothrom 10 mbliana  ó bhás Hammond a chinneadh. Le hagallaimh le cairde, lena theaghlach, le hiar-chomhghleacaithe, agus le scannáin ón chartlann, idir scannáin a rinne sé féin agus scannáin a rinneadh de, fiosróidh an clár seo tallann cruthaitheach agus tionchar leanúnach David Hammond.
Léiríodh Hammond: Duais an Dorais mar chuid de thionscadal tionscnaimh scannán faisnéise AMHARC. DoubleBand Films a léirigh é do BBC Thuaisceart Éireann agus TG4 le tacaíocht ó Chiste Craoltóireachta Gaeilge Scáileán Thuaisceart Éireann. Is é a dhlúthchara Neil Martin, cumadóir ceoil agus ceoltóir, a chuirfidh an clár i láthair agus beidh se ar siúl Dé Domhnaigh 26 Lúnasa ar BBC2 Thuaisceart Éireann ag 10i.n agus Dé Céadaoin 29 Lúnasa ar TG4 ag 9.30i.n.
Rianóidh sé saol gairmiúil Davey óna chúlra san oideachas, tríd an obair a rinne sé le BBC Thuaisceart Éireann (mar ar éirigh leis craoltóir den scoth a dhéanamh dá chara cotúil Seamus Heaney), an dóigh ar mhúnlaigh agus ar chothaigh sé tallann úr, agus ar ndóigh, a chumas ceoil.
Tá scéalta ann a chuireann cumha orainn, scéalta a thógann ár gcroí, agus gearrthóga as a shaothair don teilifís, lena n-áirítear The Magic Fiddle, Dusty Bluebells (clár a bhain duaiseanna) agus Sarah Makem.
Ar na daoine eile a labhraíonn ar an chlár, tá na scríbhneoirí Glenn Patterson agus Brian Keenan, an t-ealaíontóir Neil Shawcross, na craoltóirí John Kelly ó RTÉ agus Marie-Louise Muir ó BBC TÉ agus an ceoltóir Dónal Lunny (a insíonn scéal faoi chuairt challánach ar an otharlann a raibh baint ag uisce beatha agus todóga leis), agus cuirtear na scéalta seo uilig le chéile le blas a thabhairt don lucht féachana de phearsantacht láchdeisbhéalach Hammond.
Beidh Stephanie Makem, arbh í Sarah Makem a sin-seanmháthair, agus mac Seamus Heaney, Mick, ag insint dúinn faoin chomhbhá iontach a bhí ag Davey le daoine, agus an cumas iontach a bhí aige caidreamh a bhunú leo. Agus beidh teaghlach Davey ag labhairt fosta, maraon le scannáin ó na cartlanna, grianghraif agus cuimhní cinn ar an teach saoire a bhí acu i dTír Chonaill (a mbíodh muintir Heaney, cuairteoirí rialta ann go minic), agus léiríonn siad gur ionad grinn, ceoil agus tearmainn a bhí ann do dhuine ar bith a thagadh an bealach le cnagadh ar an doras.
Chomh maith leis an bhailiúchán saothar a rinne sé, ar foinse mhór inspioráide é, agus na cuimhní iontacha a d'fhág sé ina dhiaidh, insíonn Neil Martin faoin chuairt deiridh a thug sé ar a chara, nuair a bhronn Davey ceithre leabhar speisialta air ina raibh na céadta amhrán traidisiúnta a bhailigh Sam Henry go luath sa 20ú haois i gCúige Uladh.
"Is cartlann shárluachmhar í d'amhráin áitiúla a bhí coinnithe ag Davey agus é cinnte go gcaomhnófaí iad sna glúnta amach anseo," arsa Neil.
"Bhronn Davey a lán rudaí ar a lán daoine lena bheo, ach ba é seo duais an dorais a bhronn sé ormsa."
Is athbhreithniú tráthúil é Hammond: Duais an Dorais ar na cláir a rinne David Hammond don teilifís agus don raidió agus míníonn sé an fáth a bhfuil siad go fóill ábhartha do ghlúin úr de cheoltóirí, de chraoltóirí agus den lucht féachana.
Mar a dúirt Seamus Heaney: "Ultach mór agus Éireannach mór a bhí ann, fear a raibh fuinneamh neamhchoitianta aige, duine de na daoine a d'athraigh rudaí i saol na hÉireann. Rómánsaí misniúil, daonlathaí laochta, a bhí saor ón tseicteachas agus saor ón idé-eolaíocht."