Northern Ireland Screen 2021 year in review
---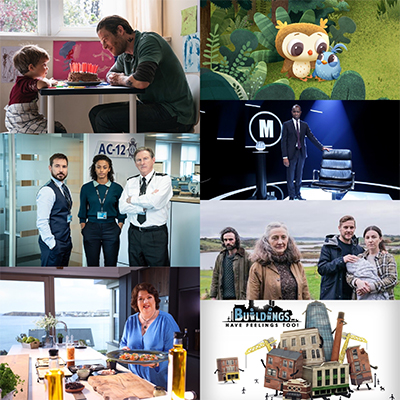 Date Posted: December 20, 2021
2021 proved to be another great year for Northern Ireland Screen with many successes across film, TV, animation, games and interactive content. Despite the challenges brought about by the ongoing pandemic we were still able to attract major US studios with Netflix and Paramount bringing projects here for the first time. Productions continued to work safely alongside Covid to boost our economy and provide employment and training opportunities for hundreds of local people, while content made in Northern Ireland beamed out on big and small screens all across the globe. With 2022 already looking busy, we have much to look forward to.
Richard Williams, Chief Executive of Northern Ireland Screen, said: "As we look back on 2021, I am extremely proud of what the screen industry has accomplished both on and off camera. A variety of content we supported has been selected for some of the most prestigious festivals across the world, picked up much coveted industry awards and set social media alight. We have had two of the biggest TV dramas of the year broadcast; Line of Duty and Bloodlands. There was a great sense of excitement as a whole host of A-list stars were spotted across the country as they filmed at various locations. It was a privilege to co-host the Irish premiere of Kenneth Branagh's Belfast in Belfast, with Belfast Film Festival. With the film already leading the way in the Golden Globes and hotly tipped for the Oscars, 2022 is sure to get off to a great start. The north coast will take a leading role in Robert Eggers' The Northman when it is released in cinemas in April. On the small screen Erin, Claire, Michelle, Orla and the wee English fella will return to our screens in what will undoubtedly be an emotional farewell for Lisa McGee's Derry Girls. At Northern Ireland Screen we are very grateful for the strong and continuing support that we receive from the Department for the Economy and the Department for Communities, without which none of this would be possible."
The year got off to an excellent start with a whole host of content made in Northern Ireland hitting the small screen. The third series of crime drama Marcella starring Emmy award-winning Anna Friel as an undercover detective in Belfast captivated ITV viewers.
Sunday nights at 9pm on BBC One were dominated by Northern Ireland content with Bloodlands, starring James Nesbitt, becoming the biggest new BBC drama launch since June 2020 with an average 8.2 million viewers. In Northern Ireland, the premiere episode had a 52% consolidated audience share, making it the highest BBC drama to launch locally on record. Following this success, the BBC ordered a second series from local writer Chris Brandon, Bloodlands series 2 will film in early 2022. Brannick passed the baton to AC-12 who were back on our screens as Line of Duty returned for its sixth series. BBC scored another ratings record with 12.8 million viewers tuning in for the final episode to find out the identity of the mysterious H. Line of Duty won the Returning Drama and Special Recognition Awards at this year's National TV Awards.
Filmed on location in Northern Ireland comedy series Frank of Ireland starring Brian and Domhnall Gleeson went out on Channel 4 in April. The Windermere Children, a powerful drama based on a true story in 1945 when hundreds of child survivors of the concentration camps were taken to the Lake District to recuperate, was nominated for the Single Drama Award at the BAFTA TV Awards and also for Best Single Drama at the Broadcast Awards. Three Families aired on BBC One in May, the two-part drama told the compelling real stories of the families behind the campaign to reform Northern Ireland's abortion laws.
More recently Dalgliesh starring Bertie Carvel as Inspector Adam Dalgliesh aired on Channel 5. The production utilised many locations all across Northern Ireland including Strangford, Armagh, Islandmagee and Ballyclare, amongst others. Northern Ireland directors Andy and Ryan Tohill (The Dig) joined the team behind the camera for this new adaptation of P.D. James' international best-selling and much-loved 'Inspector Dalgliesh Mysteries'.
New local police drama Hope Street is currently airing on BBC One Northern Ireland. The 10-part series, filmed in Donaghadee, is set in the fictional town of Port Devine on the Northern Ireland coast, and focuses on the town's police department and the mysterious arrival of an English Detective Constable. The drama created by local woman Susanne Farrell features a host of Northern Ireland talent both in front of and behind the camera. Hope Street will air all across the UK on BBC Daytime in early 2022 and US viewers will also get to see it when it launches on Britbox.
There is more police drama in the pipeline with BBC commissioning Blue Lights, an original series created by Northern Ireland writer-directors Adam Patterson and Declan Lawn (The Sailsbury Poisonings). Based on extensive research and interviews, and told with a caustic wit, the series was inspired by the experiences of serving police officers in Northern Ireland. Blue Lights will begin filming in early 2022. Rough, a short film about Belfast gangsters passing a death sentence on a dog, also written and directed by Adam and Declan, took home the award for Best Short Film at IFTA. Produced by Gallagher Films the film also won a Silver Dragon for Best Fiction Short at Krakow Film Festival making it eligible to enter the Oscars.
The third and final series of Lisa McGee's Derry Girls is currently filming and is sure to be another huge hit with viewers when it is broadcast on Channel 4 in 2022. Sally Rooney's much anticipated Conversations with Friends which was partly filmed on location in Northern Ireland this year will also be released in 2022. Commissioned by BBC Three in the UK and Hulu in the US the 12-part drama from Element Pictures follows Frances (Alison Oliver), a 21-year-old college student, as she navigates a series of relationships that force her to confront her own vulnerabilities for the first time. Tom Jones, the 'mother of all romcoms' filmed in and around Belfast in autumn 2021. Solly McLeod (The Rising) stars as the hero, Tom, alongside Sophie Wilde (You Don't Know Me) as the heroine, Sophia Western. The four-part television miniseries from Mammoth Screen for ITV and Masterpiece reimagines Henry Fielding's novel, The History of Tom jones, A Foundling and also stars Emmy-winning Hannah Waddingham (Ted Lasso).
2021 was another busy year for our film studios with Belfast Harbour Studios becoming home to Netflix while Titanic Studios was occupied by Paramount Pictures. Many A-list celebrities were spotted enjoying the beautiful Northern Ireland scenery and were sharing it with their followers on social media as filming got underway for The School for Good and Evil and Dungeons & Dragons. Directed by Paul Feig (Bridesmaids), The School for Good and Evil is based on a best-selling series of young adult fantasy novels by Soman Chainani and follows a group of girls and boys who are taken to an institution and trained to become fairy tale-like heroes and villains. The Netflix production stars Kerry Washington, Charlize Theron and Laurence Fishburne. Paramount's Dungeons & Dragons stars Chris Pine, Michelle Rodriguez, Hugh Grant and Regé-Jean Page, and is directed and written by Jonathan Goldstein and John Francis Daley, the film is scheduled for release in March 2023. Both studios are already booked up for much of 2022 with more exciting projects on the way.
The Northman, which filmed at Belfast Harbour Studios at the end of 2020, will be released in cinemas in April 2022. The epic Viking revenge saga set at the turn of the 10th century, directed by Robert Eggers and produced by local man Mark Huffam, stars Nicole Kidman, Alexander Skarsgård, Willem Dafoe, Anya Taylor-Joy, Ethan Hawke, Claes Bang, and Björk.
A number of independent films made in Northern Ireland, many by local writers, directors and producers, were released throughout 2021. Colum Eastwood's Black Medicine, Uberto Pasolini's Nowhere Special and Chris Baugh's Boys from County Hell were all released across four weeks during the summer. Black Medicine is the latest feature film from our New Talent Focus scheme, the thriller set in the heart of the Irish crime underbelly, stars Amybeth McNulty, Orla Brady and Antonia Campbell-Hughes. Nowhere Special stars James Norton who plays thirty-five-year-old window cleaner John, who has dedicated his life to bringing up his son, after the child's mother left them soon after giving birth. John's son is played by Daniel Lamont from Ballymena who made his acting debut at age four in the film. The film was produced by Belfast's Chris Martin (Good Vibrations). Dracula 'origin story' Boys From County Hell from Co. Tyrone writing, producing and directing duo Chris Baugh and Brendan Mullin is rich in Celtic atmosphere, drenched in gore, is wildly funny and splendidly scary.
Wildfire, the debut feature from Newry-native Cathy Brady and starring the late Nika McGuigan, opened in cinemas in September. Wildfire tells the story of "Irish twins" Lauren and Kelly and their life on the fractious Irish border. Cathy picked up the Best Director Film Award at the IFTAs and the Debut Screenwriter Award at the BIFAs.
Ballywalter, from local writer Stacey Gregg filmed at the start of the year. Directed by Prasanna Puwanarajah and starring Patrick Kielty and Seána Kerslake, the film follows a university drop-out living with her mum and making money as an unlicensed minicab driver, who picks up a budding stand-up comic whose marriage has recently broken up. Here Before, also written, and directed, by Stacey screened at SXSW in March, picked up Best Irish Film at the Galway Film Fleadh in July and was incredibly well received by local audiences when it screened recently as part of Belfast Film Festival.
Northern Ireland Screen's Honorary President Sir Kenneth Branagh's brought his Oscar-tipped film Belfast home for its Irish premiere at a star-studded event in the Waterfront Hall in November to open the Belfast Film Festival. The film is a poignant story of love, laughter and loss in one boy's childhood, amid the social and political tumult of the late 1960s. It stars Caitríona Balfe, Judi Dench, Jamie Dornan, Ciarán Hinds and introduces 10-year-old Northern Ireland actor Jude Hill. The film, recently nominated for seven Golden Globes and eleven Critics Choice Awards, opens in cinemas on 21st January.
Our documentary makers continue to produce fascinating films telling important stories of not just local, but global interest. Fired Up Films secured its debut Netflix commission with Myth and Mogul: John Delorean and its BBC Two film, DeLorean: Back from the Future, was shortlisted for Best History Documentary at the prestigious Grierson Awards. Different League: The Derry City Story from State of Grace and Stray Bear Films went out across the UK on BBC Two in the midst of the European Super League fiasco in April. Proving that football really is all about the fans, the documentary charts the extraordinary journey of one community as they found a haven away from the violence and a taste of success like never before.
Erica Starling's Lee Miller – A Life on the Frontline, which follows the story of a model-turned-war reporter, won two BAFTA TV Craft Awards for Editing and Directing. Erica Starling's Alison Millar presented a special screening of Lyra at an emotional event as part of Belfast Film Festival. The documentary about murdered journalist Lyra McKee looks at the career and life of the young writer. In January the 2022 Sundance Film Festival will host the World Premiere of Nothing Compares, directed by Northern Ireland filmmaker Kathryn Ferguson. This bold, multi-layered portrait of iconic musician Sinéad O'Connor, is one of only ten international documentaries selected to be shown as part of the festival's World Cinema Documentary Competition.
Belfast Film Festival, Docs Ireland, Cinemagic and Foyle Film Festival were able to hold more in-person events this year and encouraged audiences back to the cinema.
Northern Ireland's favourite 'Superintendent' reconnected with his roots and travelled across the west and north coasts of Ireland in Afro-Mic Production's Adrian Dunbar's Coastal Ireland which aired on Channel 5 in February. Derry Girls' Siobhán McSweeney, aka Sr Michael, took to her electric bike to explore the lakes, mountains, coastline and forests of Northern Ireland in Waddell Media's Exploring Northern Ireland with Siobhán McSweeney which aired on More4 in August.
Lightning, a new game show from Belfast's Nice One Productions, aired on BBC Two on weekdays during January and February. The electrifyingly fast quiz with thousands of pounds up for grabs was presented by comedian Zoe Lyons. A big hit with viewers, Lightning will be back with a second series soon. Contenders took to the famous black chair under the glare of the spotlight as Mastermind shot its latest series with new host Clive Myrie in Northern Ireland. Still considered as one of TV's toughest challenges the series aired on BBC Two in August.
There's more great light entertainment to come with BBC Three commissioning a host of local shows including The Fast and the Farmer(ish) from Derry~Londonderry based Alleycats. The series provides a glimpse into the lives of young farmers in an entertaining new competitive series which showcases tractor driving talent. The Big Proud Party Agency, also from Alleycats, follows a team of LGBTQ+ professional party agents as they plan some iconic events. Stitch, Please! produced by Waddell Media and hosted by Northern Ireland drag queen Blu Hydrangea will follow two contributors each week, as they compete to create a different outfit inspired by iconic designs from the worlds of fashion, film, television and cosplay. Waddell also secured a commission from BBC Two for The Hotel People, following the hard-working team at Hastings Hotels as they strive to bounce back post lockdown.
There is also plenty for younger audiences as our animation and children's sector continued to create fantastic content for viewers all over the globe. Sixteen South's Odo, a pre-school programme that follows the adventures of an owl, aired on Channel 5's Milkshake! in the UK and on HBO Max in the US and has been nominated for Best Pre-School Programme at the 2022 Broadcast Awards. Paper Owl Films' beautiful series celebrating diversity in nature Ladybird and Bee aired on RTEjr in Irish (Bóín agus Beach) and English. Paper Owl Films picked up Best Writer for Pre-School Animation for its CBeebies series Pablo at the Irish Animation Awards.
Zodiak Kids' Flatmates returned to CBBC for a second series in April. CBBC's Almost Never filmed entirely in Northern Ireland at the start of the year. This third series aired in July and featured up and coming Belfast hip hop artist Jordan Adetunji. Almost Never has been nominated for Best Children's programme at the 2022 Broadcast Awards. Nova Jones, a new mixed-media comedy-adventure series from Belfast's Jam Media aired on CBBC and RTÉ Two. The series orbits around an 18-year-old pop star and her 12-year-old sister and manager as they go on a concert tour throughout the galaxy. Ted's Top Ten from Zodiak Kids aired on CITV from the beginning of December. The comedy follows an unsuccessful YouTuber who is battling the challenges of a new stepfamily, a new school and his own poor decisions, as he tackles life's problems one top ten list at a time. Mimi's World from London-based Adastra Development and Belfast's Alt Animation is currently in production, the mixed media pre-school soap for Channel 5's Milkshake celebrates everyday feelings.
Northern Ireland's games and interactive sector continues to put its stamp on the international market. Out of Tune Games launched its first ever game, Crooks Like Us, a chaotic online multiplayer game, where players get to steal everything they see. Belfast's Blackstaff Games released Buildings Have Feelings Too!, a unique city-management puzzle game. Whitepot Studios published Stargazing, a game for puzzlers who enjoy endless challenges, chill seekers who enjoy zen experiences, and astro fanatics who have an interest in horoscopes.
Derry~Londonderry based Hypixel Studios launched its "Mon' Home" initiative in an attempt to lure ex-pats living and working in the games industry abroad to come back home with an attractive relocation package. Turkish mobile game studio, Hungri Games, announced a recruitment drive for opening a new studio in Belfast.
Our Digital Film Archive is constantly updated and expanding with hundreds of hours of moving image titles, spanning from 1987 to the present day. The archive team facilitates many outreach events sharing topical footage and classic clips taking viewers down memory lane.
Projects across various genres made with the support of our Irish Language Broadcast Fund (ILBF) aired throughout the year. The content ranged from Sonas Productions' Iarnród Enda for RTÉ One, a series about the long-abandoned railway routes of Ireland presented by former Taoiseach Enda Kenny to two series of Big Mountain's Peataí! filmed at Ark Farm in Newtownards, which got its paws into the wonderful world of pets. Documentaries covering a wide range of topics including cosmetic procedures, politics, bees and pollinators, writers, saints and much more were enjoyed by viewers. A thrilling new Irish language feature film Doineann directed by Damian McCann, written by Aislinn Clarke and produced by DoubleBand Films had a gala screening at Belfast Film Festival and will be released in cinemas in early 2022 before airing on TG4 and BBC NI. 'Doineann' the Irish for 'stormy weather', stars Belfast-born actress Bríd Brennan and Love/Hate actor Peter Coonan. Popular magazine series from Below the Radar I Lár an Aonaigh, returned for its 10th series and will broadcast a music special on Monday 27th December at 10pm on BBC Two NI where Máire and Dáithí look back at some of the great Irish artists who featured throughout the years.
Northern Ireland Screen's Ulster-Scots Broadcast Fund (USBF) also continued to support a range of content. In September, Paula McIntyre side-stepped into TV sharing a mouth-watering selection of recipes to serve up to family friends in Clean Slate Productions' Paula McIntyre's Hamely Kitchen. Claire McCollum hosted DoubleBand Films' A Stitch Through Time where four local designers went head-to-head to create fashion pieces that best represented the heritage and influence of the Ulster-Scots pioneers that helped shape the global textiles industry. Afro-Mic Productions' True North: From Tractors to Actors followed Moycraig Young Farmers as they traded the field for the stage and tour a three-act play around Northern Ireland. Below the Radar's Hame returned for a second series showcasing the craft, music, heritage, history and faith of Ulster-Scots. Ulster-Scots Virtual Visits went live in July offerings users a 360-degree virtual tour experience, immersing them in the heritage, culture and history of places in Ulster with an Ulster-Scots connection.
Skills development and training remains high on Northern Ireland Screen's agenda. Throughout 2021 we supported 344 individuals through various initiatives. Crew members had the opportunity to step up to a higher grade across their work on film, TV, animation, games and factual content. Trainees were employed across craft and technical, production, post-production, animation and gaming roles. Undergraduates were placed in gaming roles and graduates in animation and gaming companies. Trainees also took part in various ILBF and USBF trainee schemes. In addition to this, bursaries were awarded to local people working in the industry for continuous professional development. Along with BBC NI we recently opened applications for the sixth cohort of Aim High, an entrant level training programme for aspiring factual and entertainment TV producers. There are 10 places available for an 18-month contract with the opportunity to work on national and international television projects. Applications close on Friday 7th January.
Screen Academies have provided opportunities to young people to gain experience in animation, VFX and gaming. In November, after much Covid-related stopping and starting the academies unveiled their sci-film, Human Error, on the big screen at Belfast's Strand Cinema.