New ILBF series Na Slimmers to air on TG4
---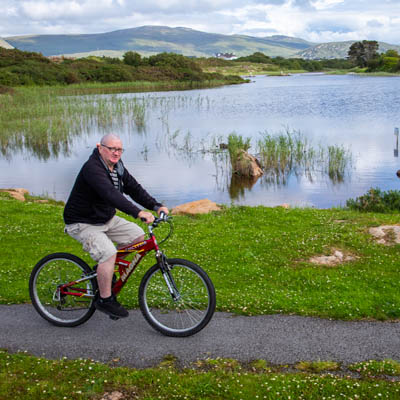 Date Posted: September 8, 2021
Na Slimmers is a new Irish Language Broadcast Fund series that follows men and women on their journey to a healthier lifestyle. Produced by Imagine Media, the four-part series airs on Wednesday 8th September at 8:30pm on TG4.
In Na Slimmers we watch 'slimmers' from the four corners of Ireland of various shapes and sizes who are taking on the challenge of a healthier lifestyle in the hope of beating the bulge. But will anyone manage to stick to their chosen plan and achieve their goals? Filmed over a year and a half, we delve into their home lives as we get to know them and their relationships with food and exercise.
In programme one, we meet the seven slimmers as they begin their weight loss journey. We get into their homes, their minds and their fridges as they face into their new lifestyles choices and their attempts to controlling their weight. We see how each deal with adapting to a healthier lifestyle and the methods they use to achieve their own weight goals.
Programme two is all about a fresh start. The slimmers have been on their health journey for six months and some are finding it easier than others. We see how the news of the country going into lockdown due to Covid-19 has affected the slimmers' weight loss journey.
In programme three we see who is coming out on top and who is having to go back to the starting line.
As the series nears the end, so does the slimmers' weight loss journey. We see how some have had eighteen months of success while others less so.
Na Slimmers begins on Wednesday 8th September at 8:30pm on TG4.
---
Is léiriú é 'Na Slimmers' atá maoinithe ag Ciste Craoltóireachta Gaeilge Scáileáin Thuaisceart Éireann a leanfaidh fir agus mná na tíre agus iad ag iarraidh saol níos folláine a bhaint amach. Is léiriúcháin ceithre pháirt de chuid Imagine Media Productions 'Na Slimmers' agus craolfar an chéad chlár Dé Céadaoin 8ú Meán Fómhair 2021 ag 20.30i.n.
Sa tsraith seo lán de shiamsa agus de ghreann ar leith, leanfaidh muid fir agus mná as na ceithre hairde in Éirinn, daoine nach ionann cruth ná méid dóibh a ghlac leis an dúshlán saol níos folláine a chaitheamh sa tsúil go gcuirfeadh siad stop leis an stomán. Ach an éireoidh le duine ar bith cloí lena gcinneadh agus a sprioc a bhaint amach? Rinneadh an scannánú thar achar bliain go leith. San achar sin, chuaigh muid a thochailt ina saol sa bhaile de réir mar a chuir muid aithne orthu agus eolas ar a gcaidreamh leis an bhia agus leis an aclaíocht.
I gclár a haon, casfar orainn an seachtar slimmers agus iad ag cur tús lena n-aistear caillte meáchain. Rachaidh muid isteach ina saol baile, ina n-intinn agus ina gcuisneoirí agus iad ag tabhairt aghaidh ar a roghanna nua stíle maireachtála, taobh lena n-iarrachtaí a meáchan a fháil faoi smacht. Feicfidh muid an dóigh ar phléigh gach duine acu leis an aistriú chuig stíl mhaireachtála níos folláine agus na modhanna ar bhain siad úsáid astu lena spriocanna meáchain féin an bhaint amach.
Baineann clár a dó le tús úr, le bliain úr eile. Tá na slimmers i ndiaidh a bheith ar a n-aistear sláinte le sé mhí agus tá cuid acu ar fusa leo é ná an mhuintir eile. Feicfidh muid an tionchar a bhí ar aistear caillte meáchain na slimmers nuair a fógraíodh go raibh an tír le dul faoi dhianghlasáil de bharr Covid-19.
I gclár a trí de Na Slimmers, feicfidh muid cé aige a mbeidh an lámh in uachtar agus cé atá le filleadh ar an líne thosaigh.
Agus an tsraith ag teacht chun deiridh feicfidh muid go bhfuil ocht mí dhéag de rath agus de bhua caite ag cuid de na slimmers, agus go bhfuil an mhuintir eile ar ais le hiarraidh eile a thabhairt agus iad ag obair go crua.
Craolfar an chéad chlár Dé Céadaoin 8ú Meán Fómhair 2021 ag 20.30i.n.