I Rith an Bhealaigh
---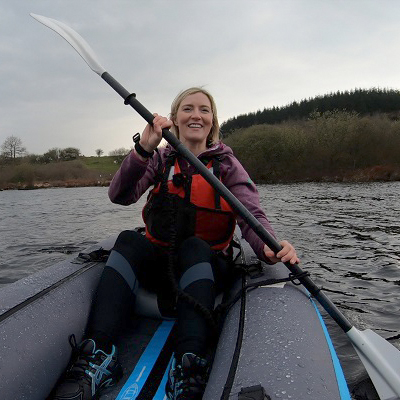 Date Posted: September 24, 2019
A new three-part Irish language series from BBC Gaeilge,  I Rith an Bhealaigh, follows the organisers and the inspirational stories of some of the competitors in this year's Wild Atlantic Adventure Race (WAAR) in County Donegal.
Some of the competitors in this epic race can't start until the Dublin bound flight closes in on Sligo airport. That's because this race includes running on a live runway. This is WAAR!
I Rith an Bhealaigh, produced by Macha Media, with support from Northern Ireland Screen's Irish Language Broadcast Fund, starts on BBC Two Northern Ireland on Monday 30 September at 10pm.
The race was started to raise money for Naomh Mhuire GAA club in the Donegal Gaeltacht. Two hundred people took part in the first year. Last year the organisers had to cap the number of competitors at 600.
It attracts competitors from all backgrounds and abilities and the series follows some of those who have fought their own personal health battles against cancer, depression and paralysis. For others, the motivation and target is just to take part and to finish.
For some of those taking part, WAAR can involve a 10k run, a 42.5k cycle, a 2k hike and a 1k kayak. Competitors have a choice of the full 55km race or the shorter 39km. Those who tackle the full race distance have the chance of doing something few others do – getting to run on Donegal Airport's live runway.
I Rith an Bhealaigh follows the competitors from start to finish – during their training and alongside them during the race until they cross the finish line. The series also gets an insight into how the race is organised from the volunteers who coordinate and manage the event. During the event, the whole community comes together to help and to encourage and cheer on the competitors.
Director Antaine Ó Donnaile from Macha Media said:
"It was a joy to make this series, all the wonderful characters with their compelling stories would inspire you to pull on your own trainers and join them in the spectacular landscape of Donegal."
I Rith an Bhealaigh starts on Monday 30 September on BBC Two Northern Ireland at 10pm and will also be available in the BBC Gaeilge Collection on BBC iPlayer after transmission.
---
Sraith 3 chlár úr Ghaeilge ó BBC Gaeilge ina leanaimid lucht eagraithe agus iomaíochta Rás Eachtrach an Atlantaigh Fhiáin / Wild Atlantic Adventure Race (WAAR) i gContae Dhún na nGall agus ina gcluinimid a scéalta spreagúla.
Cuid de na reathaithe i rás seo na laochra, ní thig leo tosú go dtí go ndruidfidh eitleán Bhaile Átha Cliath ar Aerfort Shligigh. Is cuid den rás seo a bheith ag rith ar rúidbhealach beo. Seo é WAAR!
Tosóidh I Rith an Bhealaigh, arna léiriú ag Macha Media, le tacaíocht an Chiste Craoltóireachta Gaeilge de chuid Northern Ireland Screen, ar BBC Two Northern Ireland Dé Luain 30 Meán Fómhair ar 10pm.
Cuireadh tús leis an rás le hairgead a bhailiú do chlub Naomh Muire CLG i nGaeltacht Thír Chonaill. Dhá chéad duine a ghlac páirt sa chéad bhliain. Anuraidh b'éigean do lucht a eagraithe teorainn 600 a chur leis an líon rannpháirtithe.
Tagann iomaitheoirí as gach cineál cúlra agus cumais agus leanann an tsraith cuid acu sin a bhí agus atá ag streachailt lena bhfadhbanna féin leis an ailse, an dúlagar agus an phairilis. Ag daoine eile, is é an spreagadh agus an sprioc, go díreach páirt a ghlacadh agus ceann scríbe a bhaint amach.
Ag cuid de na rannpháirtithe, is é atá sa WAAR rith 10k, rothaíocht 42.5k, siúl 2k agus bádóireacht 1k. Thig le hiomaitheoirí an rás iomlán 55k a dhéanamh nó aistear beagán níos giorra, 39k, a thabhairt orthu féin. Iad siúd a thugann aghaidh ar an rás iomlán, bíonn seans acu eachtra ar leith a bheith acu – rith ar rúidbhealach beo Aerfort Dhún na nGall.
Leanann I Rith an Bhealaigh na hiomaitheoirí ó thús deireadh – le linn a gcuid traenála agus in éineacht leo le linn an rása go dtí go mbainfidh siad ceann scríbe amach. Tá léargas sa tsraith fosta ar an dóigh a n-eagraíonn agus a mbainistíonn na hoibrithe deonacha an rás. Tugann an rás an pobal iomlán le chéile leis na hiomaitheoirí a spreagadh agus cuidiú a thabhairt dóibh.
Arsa an Stiúrthóir, Antaine Ó Donnaile as Macha Media:
"Bhí lúcháir orm an tsraith seo a chur i dtoll a chéile. Ábhar inspioráide na carachtair iontacha agus a scéalta spreagúla, spéisiúla. Chuirfeadh siad fonn ort do bhróga traenála féin a chur ort agus a bheith ina gcuideachta trí thírdhreach álainn Thír Chonaill ."
Tosaíonn I Rith an Bhealaigh Dé Luain 30 Meán Fómhair ar BBC Two NI ar 10pm agus beidh sé ar fáil fosta i gCnuasach BBC Gaeilge ar BBC iPlayer i ndiaidh a chraolta.