GoT Season 7 filming location: Fair Head
---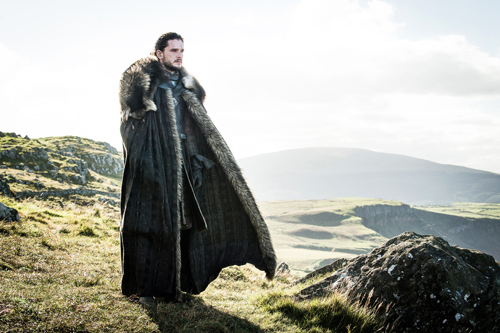 Date Posted: August 1, 2017
Last night's episode of GAME OF THRONES S7, Episode 3 The Queen's Justice, showcased Fair Head on Northern Ireland's north coast.  The bluffs and cliffs of Fair Head were used as the filming location for part of Dragonstone.
We saw Varys unsettled by Melisandre when she told him, that although she was leaving for Volantis, she would return and die in "this strange country" – as would he.
Later on Jon Snow brooded on the cliff top and Tyrion came to ask him how he could help.  At the end of these scenes we even caught a glimpse of Rathlin Island in the background.
Our Twitter activity on these scenes last night has resulted in questions about how to visit Fair Head.
Please know that the locations used are difficult to access.  There is absolutely no vehicular access and although there are walking routes, it is through open land and working farmland; there are cliffs and depending on weather conditions, visibility could be poor, the wind can be strong and you are urged to consider very carefully before you attempt this route.
Walk NI has good, detailed information and advice here:  http://www.walkni.com/walks/22680/fairhead/ and the National Trust offers guided walks.
Please exercise caution and take great care and we would politely remind you that this location includes walking through private farmland.
For further information on GAME OF THRONES filming locations in Northern Ireland, download our free app.  It will be updated with Season 7 info when all episodes have been broadcast.