Game of Thrones Emmy Success
---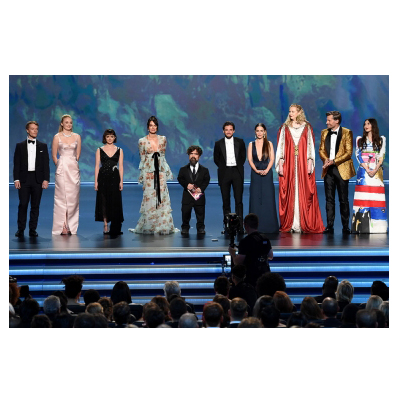 Date Posted: September 23, 2019
The 71st Emmy and Creative Arts Emmy Awards took place at the Microsoft Theater at L.A. LIVE in Los Angeles over the last two weekends and Game of Thrones picked up an impressive 12 awards. Locals Ronan Hill, Simon Kerr, Carla Stronge and Pamela Smyth were among the prestigious list of winners.
Game of Thrones seasons 1-8 received funding from Northern Ireland Screen and filmed at Titanic Studios in Belfast as well as various locations in Northern Ireland.
Belfast based Production Sound Mixers Ronan Hill and Simon Kerr with Cork based Daniel Crowley, picked up a Primetime Emmy for Outstanding Sound Mixing for a Comedy or Drama Series (one hour). It's Simon and Danny's first Emmy win and Ronan's fifth.
Carla Stronge lifted her third Emmy for Outstanding Casting for a Drama Series with Belfast's Pamela Smyth winning her second Emmy for Outstanding Makeup for a Single-Camera Series (non-prosthetic) and Emma O'Loughlin picking up her third Emmy for Outstanding Fantasy/Sci-Fi Costumes.
Outstanding Fantasy/Sci-Fi Costumes
The full list of Game of Thrones wins is below:
OUTSTANDING DRAMA SERIES – Game of Thrones
OUTSTANDING SUPPORTING ACTOR IN A DRAMA SERIES – Peter Dinklage as Tyrion Lannister
OUTSTANDING SOUND MIXING FOR A COMEDY OR DRAMA SERIES (ONE HOUR) – "The Long Night" – Onnalee Blank, Re-recording Mixer | Mathew Waters, CAS, Re-recording Mixer | Simon Kerr, Production Mixer | Danny Crowley, Production Mixer | Ronan Hill, Production Mixer
OUTSTANDING CASTING FOR A DRAMA SERIES – Nina Gold, Casting by | Robert Sterne, Casting by | Carla Stronge, Location Casting
OUTSTANDING MAKEUP FOR A SINGLE-CAMERA SERIES (NON-PROSTHETIC) – "The Long Night" – Jane Walker, Department Head Makeup Artist | KayBilk, Makeup Artist | Marianna Kyriacou, Makeup Artist | Nicola Matthews, Makeup Artist | Pamela Smyth, Makeup Artist
OUTSTANDING SINGLE-CAMERA PICTURE EDITING FOR A DRAMA SERIES – Tim Porter, ACE, Editor – "The Long Night"
OUTSTANDING MUSIC COMPOSITION FOR A SERIES (ORIGINAL DRAMATIC SCORE) – "The Long Night" – Ramin Djawadi, Music by
OUTSTANDING MAIN TITLE DESIGN – Angus Wall, Creative Director | Kirk Shintani, Art Director | Shahana Khan, Lead Compositor | Ian Ruhfass, 3D Lead | Rustam Hasanov, Lead Conceptual Designer
OUTSTANDING STUNT COORDINATION FOR A DRAMA SERIES, LIMITED SERIES OR MOVIE – Rowley Irlam, Stunt Coordinator
OUTSTANDING FANTASY/SCI-FI COSTUMES – "The Bells" – Michele Clapton, Costume Designer | Emma O'Loughlin, Assistant Costume Designer | Kate O'Farrell, Costume Supervisor
OUSTANDING SPECIAL VISUAL EFFECTS – "The Bells" – Joe Bauer, Lead Visiual Effects Supervisor | Steve Kullback, Lead Visual Effects Producer | Adam Chazen, Visial Effects Associate Producer | Sam Conway, Special Effects Supervisor | Mohsen Mousavi, Visual Effects Supervisor | Martin Hill, Visual Effects Supervisor | Ted Rae, Visual Effects Plate Supervisor | Patrick Tiberius Gehlen, Previs Lead | Thomas Schelesny, Visual Effects and Animation Supervisor
OUTSTANDING SOUND EDITING FOR A COMEDY OR DRAMA SERIES (ONE HOUR) – "The Long Night"  – Tim Kimmel, MPSE, Sound supervisor | Tim Hands, Supervising ADR Editor | Paula Fairfield, Sound Designer | Bradley C. Katona, MPSE, Sound Effects Editor | Paul Bercovitvh, Supervising Dialogue Editor | John Matter, Dialogue Editor | David Klotz, Music Editor | Brett Voss, Foley Editor | Jeffrey Wilhoit, Foley Artist | Dylan Tuomy, Willhoit, Foley Artist
The full list of winners and nominees can be found here: https://www.emmys.com