Croí Uladh Le John Toal
---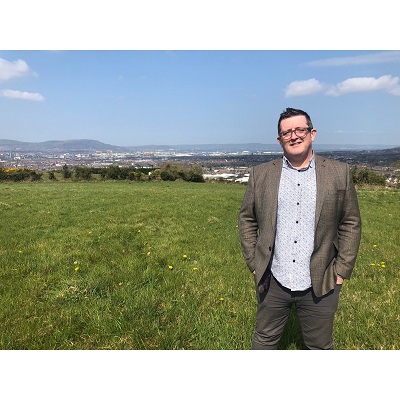 Date Posted: August 23, 2019
Transforming into a superhero, meeting World and European Champions and overcoming obstacles with a top dog are just some of the characters and tasks that broadcaster John Toal encounters as he travels to the heart of Ulster.
Croí Uladh le John Toal is a new four-part Irish language series for BBC Gaeilge that follows John on his journey to the heart of the magical province of Ulster as he seeks out the stories in the hearts of the people who live here.
The series, produced by Big Mountain Productions, with support from Northern Ireland Screen's Irish Language Broadcast Fund, starts on BBC Two Northern Ireland on Monday 2 September at 10pm.
Over the four weeks, the award-winning BBC Radio Ulster presenter and musician, meets a range of engaging and exceptional people across the province – from Carlingford Lough to the hills of Inishowen in County Donegal. John tries out some activities he hasn't attempted before – including Brazilian Jiu Jitsu, winning a medal in a Tug O' War competition, building and rowing a currach and trying his hand at knitting.
During the series, John travels the highways and byways of Ulster, getting better acquainted with the people and uncovering their stories that make them true Ulster natives. He talks to a biker priest and joins hundreds of motorcyclists in the congregation for the annual Biker Mass in Clones, County Monaghan. He tries a spot of weightlifting with a European Champion in Derry and meets the people looking after the bees of Ballymurphy in Belfast.
On his travels, he explores the hidden Gaelic history of east Belfast with expert Gordon McCoy and is taken through the process of Uilleann Pipe making by 'Jaff McCaff' – one of the few pipe makers in Ireland. To wrap up the series, John joins a storytelling session in Armagh and goes in search of the spooky Green Lady of Vicar's Hill in the city.
John said:
"I hate being stuck in an office and am happiest when I'm out on the road. These were all great experiences. The atmosphere in the hall in Clonmany at the Tug o'War competition was like Madison Square Gardens, the sense of calm being out in a currach on Carlingford Lough,  and walking the streets of Belfast dressed as a superhero was something you'd only ever do once. Thank goodness none of my family were in town that day."
Croí Uladh Le John Toal starts on BBC Two Northern Ireland on Monday 2 September at 10pm and will also available in the BBC Gaeilge Collection on BBC iPlayer post-transmission.
---
Déantar sárlaoch de, buaileann sé le Curaidh Eorpacha agus Domhanda agus sáraíonn sé bacainní le madra den scoth. Níl ansin ach cuid de na carachtair a chastar ar an chraoltóir John Toal agus é ag triall ar chroí Uladh.
Is sraith úr ceithre chlár é Croí Uladh le John Toal do BBC Gaeilge a leanann John ar a thuras go croílár chúige draíochta Uladh agus é sa tóir ar na scéalta atá i gcroí na ndaoine atá ina gcónaí abhus.
Big Mountain Productions a léirigh an tsraith, le tacaíocht ó Chiste Craoltóireachta Gaeilge Scáileán Thuaisceart Éireann agus tosaíonn sí ar BBC Two Northern Ireland, Dé Luain 2 Meán Fómhair, ar 10in.
Le linn na gceithre seachtaine, buaileann an láithreoir agus ceoltóir de chuid BBC Raidió Uladh, a bhfuil gradaim buaite aige, le réimse de dhaoine suimiúla, as gach cuid den chúige – ó Loch Cairlinn go cnoic Inis Eoghain i gContae Dhún na nGall. Baineann John triail as roinnt gníomhaíochtaí nach ndeachaigh sé ina mbun riamh roimhe – Jiú Jiotsú Brasaíleach, baineann sé bonn i gcomórtas tharraingt na téide, tógann sé curach, téann sé ag rámhaíocht inti agus baineann sé triail as an chniotáil.
I rith na sraithe, taistealaíonn sé ar fud Uladh, ag cur aithne ar na daoine agus ag éisteacht le scéalta na nUltach dúchasach. Labhraíonn sé le gluaisrothaí de shagart agus tá sé i gcuideachta na gcéadta eile ar Aifreann na nGluaisrothaithe i gCluain Eois, Contae Mhuineacháin. Féachann sé le meáchain a thógáil le curadh Eorpach i nDoire agus castar air beachairí i mBaile Uí Mhurchú i mBéal Feirste.
Agus é ar a chamchuairt, fiosraíonn sé stair cheilte Ghaelach oirthear Bhéal Feirste leis an saineolaí Gordon McCoy agus taispeánann duine den bheagán ceardaithe píbe atá in Éirinn, Jaff McCaff dó gach céim de dhéanamh píb uilleann. Leis an tsraith a thabhairt chun críche, bíonn John páirteach i seisiún scéalaíochta in Ard Mhacha agus é sa tóir ar Bhean Ghlas Thaibhseach Chnoc an Mhinistir.
Arsa John:
"Is breá liom a bheith ar shiúl ón oifig, agus thug Croí Uladh deis dom a bheith amuigh i measc an phobail ag baint triail as rudaí úrnua – rudaí iontacha!
"Chuir an oíche sin i gCluain Maine troid mhór i Madison Square Gardens i gcuimhne dom; in Oirthear Bhéal Feirste d'fhoghlaim mé an chiall a bhí leis an fhocal 'Connswater'. Ach caithfidh mé a rá fosta go raibh mé breá sásta nach raibh mo mhuintir sa chathair nuair a bhí mé ag rith thart gléasta mar 'Captaen Cúramach'!"
Tosaíonn Croí Uladh Le John Toal ar BBC Two Northern Ireland, Dé Luain 2 Meán Fómhair, ar 10in agus beidh sé ar fáil fosta ar Chnuasach BBC Gaeilge ar BBC iPlayer i ndiaidh a chraolta.