Cinemagic Film Festival Set To Illuminate Belfast This Autumn
---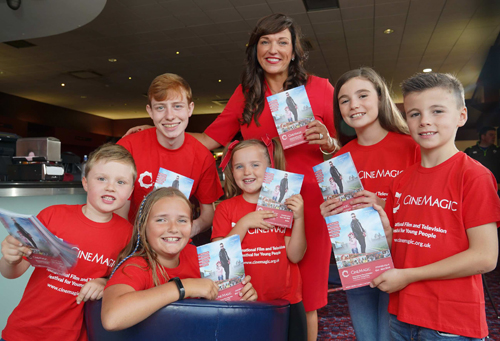 Date Posted: September 13, 2018
The 29th Cinemagic Film and Television Festival for Young People, in association with Hagan Homes, returns to Belfast this October and November 2018, jam-packed with over 200 events and creative opportunities to inspire and motivate young people.
The award-winning Festival, which is the largest film and television festival designed for, and by, young people in the UK and Ireland, boasts an ambitious and exciting programme of film screenings, world cinema, masterclasses with film and television industry professionals, school workshops, Q&As, and young critics panels.
This year's Festival kicks off on the 2nd October with the world premiere of Cinemagic's second feature film, Grace and Goliath, a giant of a movie! It is an epic gem of a family feel-good film that is both hilarious and touching and will make you proud to come from Northern Ireland. As a Hollywood movie star is forced to stay with a Belfast family, his giant ego comes crashing down and a city unites.
With a superb home grown cast and cameos from Ciarán Hinds, Suranne Jones, Sally Lindsay and Bronagh Waugh, Grace and Goliath is set to be the family film of the year! The film has already received fantastic international reviews.
The opening weekend of the Cinemagic Festival will also be marked with a special preview of Smallfoot, the much-anticipated animated adventure from Warner Bros. Pictures.
Discussing this year's programme, Cinemagic's Chief Executive, Joan Burney Keatings MBE, says:
"We are delighted to unveil such an ambitious and exciting programme of film and television events for children, families, teenagers, young filmmakers and school groups. With the support of our valued funders and partners, we are able to present an eclectic range of opportunities to educate, motivate and inspire young people under the age of 25, offering them an invaluable insight into the magic of film, television and digital technologies."
The Cinemagic Festival is funded by Northern Ireland Screen and is supported by the Department for Communities, Belfast City Council and Tourism Northern Ireland.
Richard Williams, CEO, Northern Ireland Screen said: "Northern Ireland Screen is delighted to see the extensive programme of screenings and educational events at the Cinemagic Film Festival in Belfast this year. The Cinemagic Film Festival is a key component in helping young people in Northern Ireland connect with the joy of watching film and with the screen industry. We send our sincerest good wishes to Joan and her team for another successful festival."
To find out more about the Cinemagic Festival 2018 programme check it out here.