Stellify's paw-tastic Celebrity Snoop Dogs airs this Friday on Channel 4
---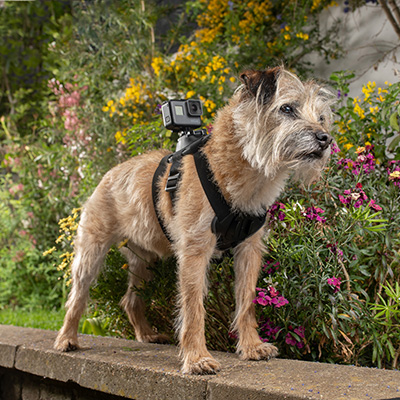 Date Posted: June 22, 2020
Celebrity Snoop Dogs is a celebrity property show like no other – captured by a unique film crew, the celebrities' pampered pooches. The four-part series was produced by Stellify Media for Channel 4 with funding from Northern Ireland Screen and airs on Friday 26th June at 8:30pm.
With commentary from Kevin McCloud, we take a look around famous homeowners' abodes, guided by the dogs who live there. Specially kitted out with mounted cameras attached to a harness, the pooches tour their lavish homes and the secluded gardens their owners normally retreat.
The identities of the celebrities are kept under wraps until the end of each episode as viewers play along to guess who the paw-sible doggy-loving homeowner could be.
In the first episode, we snoop inside the home of an adorable four-year-old Lhasa apso, who enjoys a leisurely life in his owner's beautiful open-plan home, and a good sniff around reveals a very impressive shoe collection. We also go through the door of a beautiful eight-year-old Labrador mix, who enjoys good food and a snoop around the games room in her countryside abode. The question is, who do these well-behaved dogs and their fabulous homes belong to?
Celebrity Snoop Dogs is Stellify Media's first commission for Channel 4 and is produced in Belfast. The executive producers are Kieran Doherty and Matthew Worthy.