Finding new talent and developing skills with BBC Academy's Digital Cities Belfast Week
---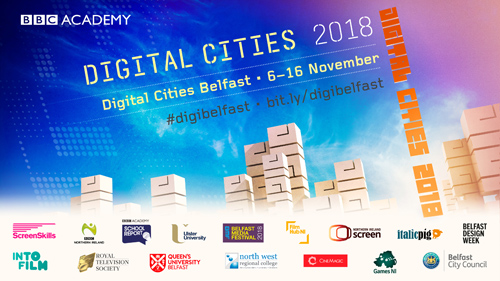 Date Posted: November 1, 2018
BBC Academy's Digital Cities Belfast Week  (#DigiBelfast) returns this autumn from Tuesday 6 November until Friday 16 November with a series of free events and workshops aimed at finding new talent, developing skills and bringing the creative sector together.
Digital Cities Belfast Week is supported by Northern Ireland Screen, The Royal Television Society, Queen's University Belfast, Ulster University, Belfast City Council, North West Regional College, Belfast Media Festival, Cinemagic, Belfast Design Week, Games NI, Screen Skills, BBC School Report, Film Hub NI, Italic Pig and Into Film.
Highlights include a BBC Digital Skills Day focusing on developing short-form and on-demand content skills, the Game of Thrones Art Department team giving young people an insight into production design and events devilling through our rich archive of content and history.  A Digital Cities Londonderry Day will also explore the opportunities around virtual and augmented reality technology.
Joe Godwin, Director, BBC Academy says: "Digital Cities Belfast has a packed programme of events for young people and new entrants wanting to join the creative sector. It is also an opportunity for established talent to develop their digital skills and explore new interactive career avenues such as gaming and virtual reality. A massive thank you to the 16 partners from across the creative sector who have collaborated to make DigiBelfast happen."
Emma Dunseith, Executive Editor, Music, Arts and Learning BBC Northern Ireland said: "Digital Cities Belfast is very much about the education and creative sector working together to develop digital skills in the professional sector but also creating opportunities for new entrants. We are delighted to be working with BBC Academy and their partners in bringing BBC Digital Cities back to Northern Ireland."
The BBC Academy, supported by BBC Northern Ireland, has teamed up 16 different partners from across the creative and educational sector in Northern Ireland to create 10 days of exciting workshops, masterclasses and conference-style events open to anyone working or hoping to work within the creative industries.
Information on how to apply for tickets for BBC Academy's Digital Cities Belfast Week  is available from the BBC Academy at https://www.bbc.co.uk/academy/en/collections/digital-cities-belfast