BFI Film Academy Network Programme delivered by Cinemagic
---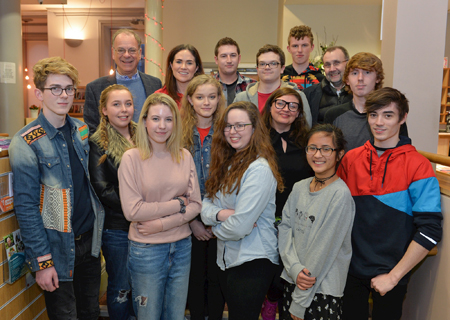 Date Posted: August 1, 2017
Caption: A selection of the 2016/17 participants and mentors from BFI Film Academy Network Programme delivered by Cinemagic
Cinemagic is delighted to announce the delivery of a BFI Film Academy Network Programme for 2017/18 and interested 16- 19 year olds are invited to apply. Over the last 4 years, 20 talented filmmakers per year, from Northern Ireland, were selected from a wide-pool of applicants and awarded places on the initiative. The programme equips young filmmakers, passionate about film, with the knowledge, skills, insight, confidence and practical training to help lay strong foundations for their pursuit of a career in the film industry.
In addition to the industry and skills training and access to top professionals, the participants work in groups to make short films which they will showcase at Cinemagic.  A number of past-participants of the programme have been involved in a series of exciting projects since their involvement and some of the outstanding students were awarded places at the prestigious NFTS & Scottish Residential courses over the last 4 years.
Two past young filmmakers from the programme, Siona Davis and Lori Brown were selected to participate in the prestigious Future Film Skills programme at Pinewood Studios this summer where they secured Trainee Positions on the new Star Wars film. Past-participants from this Academy have also gone on to secure positions on Game of Thrones, BBC, Disney and with Red Bull to name but a few.
Since its launch in 2013, a number of invited guests from the film industry met with the participants to talk about their aspiring careers. Industry professionals who shared their skills and experiences with the young people included producers Mark Huffam (Saving Private Ryan, World War Z), Iain Smith (The A Team, Children of Men), Gareth Ellis – Unwin (Oscar Winner for The King's Speech), Jessica Malik (Zaytoun),Production Managers, Terry Bamber(The Man from U.N.C. L.E, Skyfall), Leon McGeown-Fee (The Lodge, Sesame Tree), actors Suranne Jones (Doctor Foster, Scott & Bailey), Shaun Evans (Endeavour), Conleth Hill (Game of Thrones), screenwriter Ryan Rowe (Charlie's Angels, Disney's Tinker Bell and The Secret of the Wings), directors William Mc Gregor(Poldark, One of Us, Misfits), Tony Mitchell (The Bible, Grace and Goliath), Michael Lennox (Boogaloo and Graham, Patch of Fog, Derry Girls),  filmmakers Terry Loane (Mickey Bo and Me), Brian Henry Martin (The Ulster Covenant), First Assistant Director Darren Fee (The Lodge, Secret Life of Boys), casting director Georgia Simpson, and industry professionals, Alison Crinion, Industry Trust for IP Awareness, Oscar- Winning Make-up artist Christine Blundell (Sherlock Holmes, Legend and Paddington), Video Assist/Playback Operator Lisa Trinder (Game of Thrones),Andrew Tohill (Road) and Ryan Tohill (Game of Thrones) to name but a few.
The 2017/18 BFI Film Academy Network Programme delivered by Cinemagic will offer another impressive range of masterclasses, Cinemagic Juries, on-set film training and access to top industry professionals throughout the course.
Lia Campbell from Newtownards, BFI Film Academy Network Programme past participant said "From being part of the BFI Film Academy delivered by Cinemagic I got the opportunity to take part in the week long BFI Scotland Residential in Edinburgh two years ago.  My self-written and directed short film 'Iridescence' came runner up in Cinemagic's Young Filmmaker 2016. From this I built a successful portfolio to be accepted into IADT Dublin National Film School to study Film Production. In Summer 2017 I was trainee A.D on Cinemagic's feature film, 'Grace and Goliath' and mentored by industry professionals 1st A.D Richard Harris (Skins, The Lost Kingdom) and 2nd A.D Graham Kinniburgh (Game of Thrones, The Frankenstein Chronicles).
Chloe Langton from Antrim, BFI Film Academy Network Programme past participant said "The BFI Film Academy is really where my film education and career began. I was so inspired by the master classes we attended leading up to making our films, especially Gareth Ellis-Unwin (Oscar winning producer of The King's Speech). I really found out through the Academy that I too wanted to become a producer. Since then I have gone on to graduate from Queen's University with a 2:1 in Drama and Film, I have produced several short film and I have worked on Cinemagic's award-winning short film Delicate Things as a production assistant. Overall, the BFI Film Academy really gave me the confidence to pursue a career in film."
Please note that applicants must be available on ALL academy dates:
Saturday 23rd September 10am – 6pm
Saturday 30th September 10am – 6pm
Saturday 7th October 10am – 6pm
Saturday 14th October and Sunday 15th October– Times and Location TBC
Saturday 21st October 10am – 6pm
Sunday 22nd October 10am – 4pm
Monday 30th October 10am – 4pm
Filming 4th and 5th November – Times and Locations TBC
Filming 11th and 12th November – Times and Locations TBC
Thursday 7th December 6pm – 8pm
Saturday 20th January 10am – 5pm
Please note if applicants are attending University during the BFI Film Academy course they are not eligible to apply.
TO APPLY please download and complete the application on the news section of the Cinemagic website or email [email protected] to request one.
Please note the closing date for applications is Noon on 6th September 2017. Shortlisted applicants will be called for interview on 12th and 13th September 2017.