Bad Day for the Cut amongst BIFA 2017 New Talent longlist
---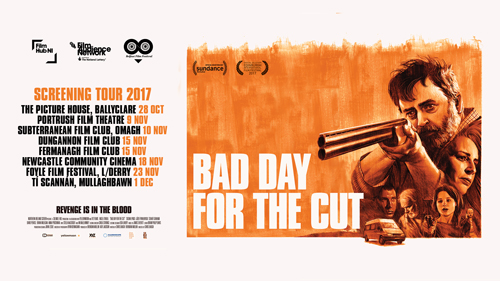 Date Posted: October 24, 2017
It was revealed today that locally produced thriller Bad Day for the Cut has been included in the New Talent longlist at this year's British Independent Film Awards (BIFA). BIFA highlights and rewards the best, most innovative and creative independent filmmaking and filmmakers in the UK.
Released by Kaleidoscope Entertainment, gritty revenge drama Bad Day for the Cut is the debut movie by director/writer Chris Baugh and producer/writer Brendan Mullin, a Tyrone pair who run Six Mile Hill Productions. The feature was developed through Northern Ireland Screen's New Talent Focus Scheme and received lottery funding from The Arts Council of Northern Ireland and the Northern Ireland Screen Fund supported by Invest NI. The film tells the story of a mild-mannered middle-aged Irish farmer, who still lives at home with his mother, who sets off on a mission of revenge when the old lady is murdered.
Bad Day for the Cut has been longlisted across the writing, directing and producing categories including:
The Douglas Hickox Award (Debut Director)
Chris Baugh
Chris Baugh, Brendan Mullin
Breakthrough Producer sponsored by Creativity Media
Brendan Mullin, Katy Jackson
Most Promising Newcomer sponsored by The London EDITION
Nigel O'Neill
BIFA 2017 nominations will be announced by Maisie Williams and Hayley Squires on Wednesday 1 November. The winners will be unveiled at the ceremony on Sunday 10 December at Old Billingsgate, which will mark the 20th anniversary of the awards.
Bad Day for the Cut is currently on tour across Northern Ireland, you can find details of your nearest screening here: https://www.northernirelandscreen.co.uk/news/bad-day-cut-tour-northern-ireland/