Applications open for Gradam Ceoil TG4
---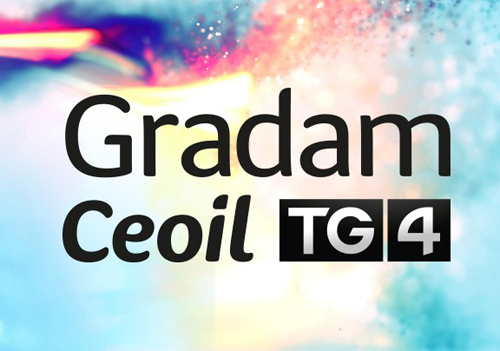 Date Posted: December 20, 2017
Súil ó Thuaidh
This exciting and unique initiative between Red Shoe Multimedia, TG4, Northern Ireland Screen's Irish Language Broadcast Fund and Belfast City Council will offer an opportunity for a couple of new filmmakers to produce two 4 minute documentaries in Irish about the arts and traditional music scene in Belfast. These short films will be directed, filmed and edited by the filmmakers themselves under the supervision of Red Shoe Multimedia, an award winning TV and Film Production Company based in Belfast and An Rinn, Co. Waterford.
• All applicants should be fluent Irish speakers.
• Each applicant must include a proposal for their film (to include a story treatment & notes on visual approach) and links to any of their previous work, if available.
• Applicants will send their proposals to the ILBF where two proposals will then be chosen by ILBF officer Colm Duffin, a representative from TG4 and Gradam Ceoil TG4 producer Maggie Breathnach.
• Filming will take place in January 2018 and the films will be edited in advance of the Gradam Ceoil TG4 weekend in Belfast (2nd – 4th February).
• Applicants must be available at dates set out by Red Shoe Multimedia to film and edit their film.
• Applicants will be required to be available for 3 days in total between the 15th and 20th January:
*1 day pre-production
*1 day filming
* 1 day editing
• Each chosen applicant will form their own production team of 3 personnel – camera, director and sound/editing (chosen by the applicants themselves).
• All basic equipment will be supplied by Red Shoe Multimedia and a complete editing suite will be on offer to the students to complete their projects. Sony FS7 for filming, basic radio mics, lighting etc.
• Each of the two projects will be supervised by acclaimed director of photography Paddy Jordan.
• All applicants must be available on the week of 15th January for filming and editing.
TG4 linear and online schedules will assess the completed films for broadcast. The completed films will be broadcast across all social media in relation to Gradam Ceoil 2018. They films will also feature on Northern Ireland Screen, Belfast City Council and Gradam Ceoil social media channels on the weekend of Gradam Ceoil TG4 and they will be shown in Belfast in advance of the live awards ceremony.
The chosen filmmakers will not be receiving payment for their productions but it is an invaluable opportunity to create a piece of film that will be viewed by a large online audience.
If you are interested, please submit your application to Colm Duffin, ILBF Officer: [email protected]
Deadline for receipt of applications 4th January 2018 at 6.00pm.
Paddy Jordan – Project Supervisor
Paddy Jordan is a Dublin based cinematographer. Working predominantly on documentary, drama and advertising projects, recent work includes commercials for Tourism Ireland, the feature film Akron shot in rural Ohio and a documentary about Robin Walker and modernist architecture. Award winning projects include the Oscar nominated short film Pentecost, the feature film, Stitches starring Ross Noble as well as a documentary on the Japanese American animator Jimmy Murakami. At the 2014 Galway Film Fleadh, Paddy won the Donal Gilligan Award for Best Cinematography for his work on the film Volkswagen Joe.
---
Súil ó Thuaidh
Togra spreagúil ar leith atá san fhiontar seo idir Red Shoe Multimedia, TG4, Ciste Craoltóireachta Gaeilge Scáileán Thuaisceart Éireann agus Comhairle Cathrach Bhéal Feirste. Tabharfaidh an togra deis do chúpla scannánóir úrnua dhá ghearrscannán 4 nóiméad a léiriú i nGaeilge faoi shaol na n-ealaíon agus an cheoil i mBéal Feirste. Is iad na mic léinn iad féin a dhéanfaidh stiúradh, scannánú agus eagarthóireacht ar na scannáin faoi threoir Red Shoe Multimedia, comhlacht léiriúcháin teilifíse agus scannán a bhfuil an iliomad gradam faighte aige agus atá lonnaithe i mBéal Feirste agus sa Rinn, Co. Phort Láirge.
Ba chóir do gach iarrthóir Gaeilge líofa a bheith acu.
Caithfidh gach iarrthóir an méid seo a chur san áireamh ina n-iarratais – cóiriú an scéil, nótaí ar an chur chuige físiúil nó stíl agus an réadú) agus nasc chuig aon obair atá déanta cheana acu, más ann di.
Seolfaidh iarrthóirí a gcuid moltaí/iarrtas chuig an CCG, áit a ndéanfaidh Colm Duffin, oifigeach an CCG, ionadaí ó TG4 agus léiritheoir Ghradam Ceoil TG4 Maggie Breathnach an cinneadh deireanach.
Déanfar an scannánaíocht le linn mhí Eanáir 2018 agus déanfar an eagarthóireacht sula mbeidh deireadh seachtaine Ghradaim Ceoil TG4 ann i mBéal Feirste (2 – 4 Feabhra 2018).
Ní mór d'iarrthóirí a bheith ar fáil ar dhátaí a shocróidh Red Shoe Multimedia chun scannánaíocht agus eagarthóireacht a dhéanamh ar a gcuid scannán.
Caithfidh iarrthóirí a bheith ar fáil ar feadh 3 lá ar an iomlán idir an 15 agus 20 Eanáir.
*Lá amháin réamhléiriúcháin
*Lá amháin scannánaíochta
*Lá amháin eagarthóireachta
Cuirfidh gach iarrthóir a fhoireann léiriúcháin de thriúr le chéile – ceamara, stiúrthóir agus fuaim/eagarthóireacht (a roghnóidh ag na hiarrthóirí iad féin).
Cuirfidh Red Shoe Multimedia an trealamh léiriúcháin bunúsach go léir ar fáil agus beidh áiseanna eagarthóireachta ar fáil do na mic léinn chun na tograí a chríochnú. Sony FS7 don scannánaíocht, micreafóin raidió bhunúsacha, soilsiú srl.
Déanfaidh an stiúrthóir iomráiteach scannánaíochta Paddy Jordan maoirseoireacht ar an dá thionscadal.
Déanfaidh TG4 measúnú ar na scannáin dá sceidil chraolta ar an aer agus ar líne. Beifear ábalta iad a thaispeáint in ionaid eile i mBéal Feirste le linn dheireadh seachtaine na nGradam Ceoil agus ar ardáin shóisialta an CCG, Chomhairle Cathrach Bhéal Feirste agus eile.
Craolfar na scannáin chríochnaithe ar na meáin shóisialta uilig a bhaineann le Gradam Ceoil 2018. Beidh na scannáin le feiceáil, freisin, ar chainéil mheáin shóisialta Scáileán Thuaisceart Éireann agus na nGradam Ceoil le linn dheireadh seachtaine Ghradam Ceoil TG4 agus taispeánfar iad i mBéal Feirste roimh an ócáid bheo féin.
Ní íocfar na léiritheoirí a roghnófar as ucht na léiriúcháin seo a dhéanamh ach is deis fíorluachmhar é píosa scannánaíochta a chruthú a fheicfidh lucht féachana ollmhór ar líne.
Spriocdháta: 4 Eanair @ 18.00 pm
Má tá suim agat iarratas a dhéanamh, seol d'iarratas le do thoil chuig Colm Duffin, Oifigeach an CCG: [email protected]
Paddy Jordan – Maoirseoir Tionscadail
Is i mBaile Átha Cliath atá an cineamatagrafaí Paddy Jordan lonnaithe. Oibríonn sé den chuid is mó ar thionscadail faisnéise, drámaí agus fógraí. Le déanaí tá obair déanta aige ar fhógraí do Tourism Ireland, an fadscannán Akron a rinneadh faoin tuath in Ohio agus scannán faisnéise faoi Robin Walker agus ailtireacht nua-aoiseach. I measc na dtionscadal aige a bhuaigh gradaim, tá an gearrscannán Pentecost, a fuair ainmniúchán le haghaidh Oscar, an fadscannán Stitches leis an aisteoir Ross Noble chomh maith le scannán faisnéise ar an bheochantóir Seapánach-Meiriceánach Jimmy Murakami. Ag Fleadh Scannán na Gaillimhe 2014, bhuaigh Paddy Gradam Donal Gilligan don Cineamatagrafaíocht is Fearr ar son a chuid oibre ar an scannán Volkswagen Joe.