Winter is coming…TBL International brings GAME OF THRONES: THE TOURING EXHIBITION to Belfast
---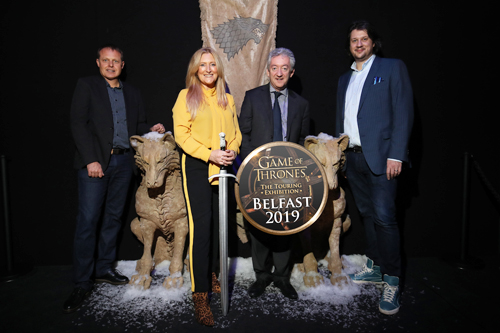 Date Posted: December 10, 2018
Call your bannermen … TBL International is bringing HBO® Licensing & Retail and GES Events' GAME OF THRONES: The Touring Exhibition to TEC Belfast, Northern Ireland for its debut visit to UK and Ireland for a limited run.
TBL International is the management company behind the award-winning Titanic Belfast, SS Nomadic and TEC Belfast led by Chief Executive Judith Owens, Operations Director Siobhan Lynch and Finance Director Michele Scott.
The local company is bringing the official and largest GAME OF THRONES® public display, designed specially by GES Events in collaboration with HBO Licensing & Retail, to the 5,000m2 venue. The exhibition combines costumes, authentic props and majestic settings from all seven seasons of the Emmy award-winning series to create an interactive and immersive GAME OF THRONES experience like no other.
The series based on books written by George RR Martin is broadcast in 200 territories and each episode is viewed by 15 million people and is a significant economic driver and tourism draw for Northern Ireland. GAME OF THRONES: The Touring Exhibition, located in the footprint of Titanic Studios, where much of the series was filmed over a 10-year period, aims to build on the show's incredible legacy in Northern Ireland, the home of Thrones.
Jeff Peters, HBO's Vice President, Licensing & Retail, said, "Given the unique and central role that Northern Ireland has played in the life and legacy of the show, and we are thrilled that we are bringing GAME OF THRONES: The Touring Exhibition to Belfast. We're so happy to invite our fans in Northern Ireland, the rest of the UK and the Republic of Ireland to join us in the Titanic Quarter in Belfast to immerse themselves in the world of GAME OF THRONES."
TBL International's Chief Executive Judith Owens said, "We are delighted and proud to be working with HBO and GES Events, a world leader in live events, exhibitions, conferences and entertainment experiences, to bring GAME OF THRONES: The Touring Exhibition to Belfast. There is no better place for the exhibition that celebrates the artistry and craftmanship behind the Emmy award-winning series than Northern Ireland, the principle filming location, both in natural settings and within Titanic Studios. Our combined experience will ensure that every experience is energised for fans and they can experience something truly unique."
Robin Stapley, Vice-President of Design and Creativity at GES Events, said, "People from Northern Ireland are already familiar with the world of Westeros but this exhibition takes fans to the next level and allows them to delve deeper as we bring the world of Westeros to life. Visitors will get to see the beautiful, hand-crafted work from the seven seasons made by the talented artisans, designers, and craftsmen, many of whom are from Northern Ireland. We are thrilled to bring this unique and immersive exhibition to Belfast in Spring 2019."
GAME OF THRONES: The Touring Exhibition, supported by Tourism NI, adds to Northern Ireland's GAME OF THRONES Territory, which is already home to more of the seven kingdoms locations than anywhere else in the world, boasting of 26 stunning filming locations and 20 visitor experiences.
Tourism NI's Chief Executive, John McGrillen commented, "The arrival of the exhibition in Northern Ireland will be the first official experience covering up to season seven for fans in the UK and Ireland and will be perfectly timed with the highly anticipated final season of Game of Thrones next spring. The exhibition will offer an authentic travel opportunity for fans to immerse themselves in the world of Westeros and fully experience the breath-taking landscapes and rugged charm of Northern Ireland. We are delighted to support the exhibition and look forward to welcoming many more visitors in association with this initiative."
To book tickets for this not-to-be-missed blockbuster at www.gameofthronesexhibition.co.uk.