Welcome to a multiplatform, immersive experience, a first for Irish broadcasting
---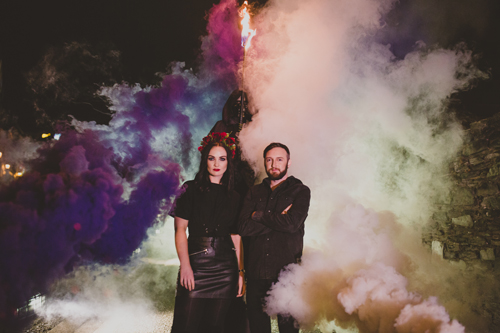 Date Posted: October 19, 2018
Did you know Derry City plays host to Europe's biggest Halloween Festival and this year for the first time you can share in the festivities – with a multi-platform experience like no other.  Samhain Live will be live on TG4, BBC Two Northern Ireland and BBC Radio Ulster on Oíche Shamhna, Wednesday 31st October 2018 at 9.30pm.
Double-IFTA Award winning Gifted Empire Productions (Awards for 'Best Live Event' for FleadhTV in 2015 and TG4XX Beo in 2018), had this idea for an extraordinary live music TV show that will merge all media. Samhain Live received funding support from Northern Ireland Screen's Irish Language Broadcast Fund.
Presented by comedian and Derry girl, Diona Doherty, and local musician J.J. Ó Dochartaigh, Samhain Live will transport you between worlds with live music, chat, behind the scenes, TV, Radio and social media all broadcasting content from this world …and the other world!  With the help of musical maestro Jerry Fish – what better person to mischievously break down the walls between worlds – Samhain Live is bringing you the very best of Irish music from our custom-built stages in Derry City with performances from Le Galaxie, Saint Sister, Declan O'Rourke, Wyvern Lingo, Gavin James, Roe, Wood Burning Savages and of course Jerry himself…
This is multi-channel and multi-platform broadcasting. Live on two television stations plus broadcasting live on radio and social media – Samhain Live is the ultimate immersive experience where the lines are blurred between the worlds of the living and the dead for just one night of the year and we are there to capture it all…like you've never seen before.
Watch and Listen:
TG4 – 9.30pm to 11.00pm
BBC Two Northern Ireland – 9.30pm to 10.30pm
BBC Radio Ulster – 9.00pm to 11pm with Stephen McCauley
---
Fáilte chuig eispearas tumthach, ilárdain, ilmheáin – dul chun cinn úrnua san meáin chraolta in Éirinn.
An raibh fhios agat go mbíonn an fhéile Oíche Shamhna is mó san Eoraip ag tarlú i nDoire Colmcille? I mbliana, don chéad uair riamh is féidir leat a bheith l lár an aonaigh, gan do tholg a fhágáil – Beidh Samhain Live beo ar TG4, BBC 2 NI agus BBC Raidió Uladh ar Oíche Shamhna, Dé Ceadaoin 31 Deireadh Fómhair ag 9.30 i.n.
Is ag Gifted Empires Productions, comhlacht léíriúcháin a ghnóthaigh dhá IFTA (Best Live Event – FleadhTV i 2015 & TG4XX Beo i 2018) a bhí an smaoineamh don chlár beo ceoil iontach seo a nascfaidh gnéithe éagsúla do na hilmheáin.  Tá Samhain Live maoinithe ag Ciste Craoltóireachta Gaeilge Scáileáin Thuaisceart Éireann.
Cuirfidh an fuirseoir agus aisteoir Diona Doherty agus an cheoltóir J.J. Ó Dochartaigh, as Doire beirt, Samhain Live i láthair. Tabharfaidh an seó ar thuras muid le ceol beo, cómhra, craic culstáitse, teilifís, raidió agus na meáin shóisialta – ábhar craolta beo ón saol seo……..agus an saol eile. Le cabhair ón maestro ceoil Jerry Fish – ba dheacair duine níos fearr a fháil chun na ballaí agus an deighilt idir an dá shaol a bhriseadh – beidh fáil ag an lucht féachana ar an chuid is fearr de cheol na hÉireann ina measc Le Galaxie, Saint Sister, Declan O'Rourke, Wyvern Lingo, Gavin James, Roe, Wood Burning Savages agus ar ndóigh Jerry é féin……
Seo craoltóireacht ilchainéal agus ilardán. Beo ar dhá stáisiúin teilifíse, beo ar an raidió agus na meáin shóisialta. Samhain Live – Seo na meáin mar a chóir dhóibh a bheith, eispearas tumthach, na teorainneacha idir saol na mbeo agus saol na marbh doiléir d'aon oíche amháin 's muid i lár an aonaigh……Ní fhaca sibh a leithéid cheana!
Bí ag breathnú agus ag éisteacht:
TG4 – 9.30 i.n go 11.00 i.n

BBC 2 NI – 9.30 i.n go 10.30 i.n
BBC Raidió Uladh – 9.00 i.n go 11 i.n le Stephen McCauley