Weekend of music to take place in Belfast ahead of Gradam Ceoil 2019
---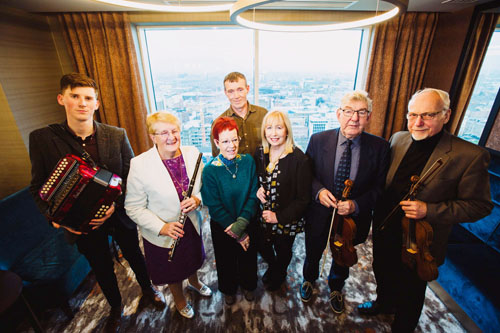 Date Posted: February 15, 2019
Belfast trad fans are in for a treat as TG4's traditional music awards, Gradam Ceoil 2019, is set to take place at the Waterfront Hall on Sunday 17th February.
Known as the 'Oscars of traditional music', Gradam Ceoil 2019 will shine a spotlight on the crème de la crème of traditional music and song, with six musicians being recognised with awards for their talent and contribution to traditional Irish music.
The live concert and awards ceremony, which is supported by Northern Ireland Screen's Irish Language Broadcast Fund and Belfast City Council, will also broadcast on TG4 at 9.30pm on Sunday 17th February.
A star-studded line-up has been announced for the event, with VIP guests taking to the stage to present the awards. Among the line-up of presenters are accordionist Joe Burke, presenting to Young Musician of the Year, Conor Connolly; Game of Thrones star Ian McElhinney presenting to Singer of the Year, Thomas McCarthy; RTE journalist Brídóg Ní Bhuachalla, presenting the Musical Collaboration award to Tríona Ní Dhomhnaill; Ciarán Cannon, Irish Minister of State at the Department of Foreign Affairs and Trade, presenting the Outstanding Contribution award to Brendan Mulkere; Donal Murphy of Four Men & A Dog, who will present the Lifetime Achievement award to Nicky & Anne McAuliffe; and TG4's Proinsias Ní Ghráinne, who will present the overall Musician of the Year award to Catherine McEvoy.
The highly anticipated live awards show, which will be hosted by TG4 presenter, Doireann Glackin and Belfast-based musician, Dónal O'Connor of well-known band Ulaid, will feature live performances from the six Gradam Ceoil 2019 recipients, each joined on stage by their own special musical guests, including Irish fiddler Paddy Glackin, Michael McCague and multi-instrumentalist Sinéad Egan, to name but a few.
Legendary traditional Irish band, Four Men & A Dog, who formed in Belfast in the nineties and rose to popularity across the globe with their eclectic and vivacious blend of trad, fused with a wide spectrum of other genres including, rap, rock, jazz, blues, bluegrass, polka, country swing, and even salsa, will headline the bill. All-Ireland céili band champions, The Thatch Céili Band, pivotal members of the Irish diaspora in London, will also perform on the night; with Coleraine traditional Irish band Tigh Tara performing ahead of the main show.
Tickets for TG4 Gradam Ceoil Awards 2019, priced from £22.50, are available from www.waterfront.co.uk or +44(0) 2890 334455. Full details of the Gradam Fringe programme can be found at www.tg4.ie/en/programmes/gradam-ceoil/the-concert/.
For more information, visit www.gradam.ie or connect with Gradam Ceoil on Facebook and Twitter @GradamCeoil, using the hashtag, #Gradam.
---
DEIREADH SEACHTAINE CEOIL LE BHEITH AR SIÚL i mBÉAL FEIRSTE ROIMH GHRADAM CEOIL 2019
Tá féirín i ndán do lucht leanta an cheoil thraidisiúnta i mBéal Feirste mar go bhfuil gradaim cheoil thraidisiúnta TG4, Gradam Ceoil 2019, le bheith ar siúl i Halla Cois Cuain Dé Domhnaigh an 17 Feabhra.
'Gradaim Oscar an cheoil thraidisiúnta' a thugtar go minic ar na gradaim agus tarraingeoidh an ceolchoirm agus an searmanas bronnta aird ar phlúr na gceoltóirí agus amhránaithe traidisiúnta.  Tabharfar aitheantas ar an oíche do sheisear ceoltóirí dá gcumas agus don mhéid atá déanta acu sa cheol traidisiúnta.
Beidh Gradam Ceoil 2019, a bhfuair tacaíocht ó Chiste Craoltóireachta Gaeilge Scáileán Thuaisceart Éireann agus Comhairle Cathrach Bhéal Feirste, le feiceáil ar TG4, Dé Domhnaigh 17 Feabhra ag 9.30i.n.
Tá plúr na gceoltóirí fógartha don oíche agus aíonna aitheanta ainmnithe leis na gradaim a bhronnadh. I measc an dream a bhronnfaidh na gradaim beidh an boscadóir Joe Burke, a bhronnfaidh an gradam Ceoltóir Óg na Bliana ar Conor Connolly; an t-aisteoir as Game of Thrones Ian McElhinney a bhronnfaidh gradam Amhránaí na Bliana ar Thomas McCarthy; Iriseoir RTÉ Brídóg Ní Bhuachalla, a bhronnfaidh an gradam Comharcheoil ar Thríona Ní Dhomhnaill; Ciarán Cannon, Aire Stáit sa Roinn Gnóthaí Eachtracha agus Trádála a bhronnfaidh an Gradam Comaoine ar Brendan Mulkere; Donal Murphy as Four Men & A Dog, a bhronnfaidh an Gradam Saoil ar Nicky & Anne McAuliffe; agus Proinsias Ní Ghráinne ó TG4 a bhronnfaidh gradam Ceoltóir na Bliana ar Catherine McEvoy.
Is iad Doireann Glackin, láithreoir de chuid TG4 agus Dónal O'Connor, ceoltóir atá ag cur faoi i mBéal Feirste agus duine den bhanna aitheanta, Ulaid, a chuirfidh an seó beo gradam i láthair agus ina mbeidh seisear a mbronnfar Gradam Ceoil 2019 orthu ar an oíche i mbun ceoil agus aíonna dá gcuid féin ina dteannta. Ina measc sin beidh an fidléir Paddy Glackin, Michael McCague an ceoltóir uirlise Sinéad Egan chomh maith le neart eile.
Is iad an banna clúiteach Four Men & A Dog, a tháinig le chéile i mBéal Feirste sna nóchaidí agus a thuill clú agus cáil ar fud an domhain de bharr an meascán ar leith ceoil a bhí acu – ceol traidisiúnta measctha le réimse leathan eile ceoil ina measc rap, rac, ceol jazz,  blues, bluegrass, polca, country swing, agus fiú amháin salsa – banna mór na hoíche.  Casfaidh The Thatch Céilí Band, seaimpíní bannaí céilí na hÉireann, atá gníomhach i measc dhiaspóra na hÉireann i Londain, ar an oíche freisin;  chomh maith le Tigh Tara, an banna traidisiúnta as Cúl Raithin a bheidh ag casadh i dtús na hoíche.
Beidh ticéid do Ghradam Ceoil TG4 2019 ar fáil ar £22.50 nó níos mó ó www.waterfront.co.uk nó +44(0)2890 334455. Tá sonraí ar fad Fhéile Fringe Ghradam Ceoil TG4 le fáil ag www.tg4.ie/en/programmes/gradam-ceoil/the-concert/.
Chun tuilleadh eolais a fháil, téigh chuig www.gradam.ie nó ceangail le Gradam Ceoil ar Facebook agus Twitter @GradamCeoil, ag úsáid na haischlibe , #Gradam.