Want to work in TV? Apply for Aim High now!
---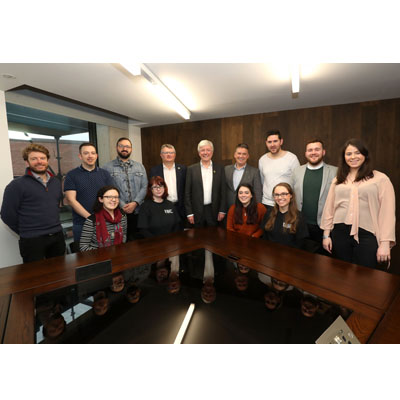 Date Posted: November 16, 2018
AIM HIGH is back! The new entrant training scheme for aspiring TV producers returns. Northern Ireland Screen and BBC Northern Ireland are looking for motivated, passionate storytellers to take part in this prestigious training scheme. No specific academic qualifications are needed but we do want creative people who can bring fresh ideas to programme-making. Applications open today, Friday 16th November, details of how to apply can be found on the Northern Ireland Screen website.
There are 10 places available and we expect a high level of competition. If you gain a place on AIM HIGH you will be given an 18 month contract (minimum wage) and have the opportunity to work on local, national and international television projects as well as short form digital projects for online platforms. We will train and develop you for a career in the media and you will be assigned a senior industry mentor. You will be expected to work unconventional hours and to tight deadlines and you must be able to work flexibly.
Applicants will initially be invited to complete an online assessment.  From there, those shortlisted will be invited to attend an assessment centre where they will be evaluated in both team and individual tasks.
The best 15 candidates from the assessment centre will then go on to complete an intensive two week 'boot camp' where they will be introduced to the craft of storytelling for local, national and international television production.  At the end of these two weeks, the 10 candidates showing the greatest potential will be placed on the Aim High scheme where they will undertake a series of placements in a variety of independent production companies and BBC Northern Ireland.
Tony Hall, BBC Director-General said: "Since its beginnings in 2011, Aim High has provided numerous life-changing opportunities for new talent in the creative industries. We are deeply passionate about training and development at the BBC and I am excited to see what new talent Aim High 5 delivers."
Richard Williams, CEO of Northern Ireland Screen, said: "Aim High has been an innovative approach to attracting and retaining new talent and we have been delighted with the results to date. Since it first launched seven years ago the scheme has grown and become well-established and well-respected and is a great example of how working in partnership can help grow our creative industries. As we launch Aim High 5 we look forward to seeing the creative vision, ambition and energy the new intake of trainees will bring with them."
Deadline for applications is 5pm on Monday 14th January 2019.
The BBC and Northern Ireland Screen have also revealed exciting plans for new Aim High trainees and past Alumni to work on youth-facing content for the BBC – helping to meet one of the biggest collective challenges; creating content that younger audiences love.
A new role for a young person to work in an Executive position at BBC Northern Ireland is being created, to find new ideas and talent in the Factual and Comedy genres. This 'Aim High' Executive will be part of a new online content initiative in Northern Ireland, which will be supported by a partnership of BBC NI, Northern Ireland Screen, BBC Writersroom and the BBC's Network Commissioning teams in Comedy and Factual.
Through this partnership, new Northern Irish comedy writers and documentary makers, will be funded and mentored, and their short form content will be carried by the BBC – and will have direct dialogue with the BBC's senior Network Commissioning teams, to map out coherent next steps, in their development journeys. More information on this opportunity will be announced shortly.
Speaking of his experience as an Aim High recruit in 2017, Conor Driscoll, said; "If you are serious about wanting to work in TV, you would be foolish not to apply for Aim High. There is nothing like it anywhere else in the UK and it is the best possible opportunity to gain experience in multiple genres and learn from the best minds in the industry."
During Aim High Conor completed a placement with Stellify Media where he had the opportunity to work on shows like Who Wants to be a Millionaire and Gino's Win Your Wish List.
Another Aim High 2017 trainee Caitlyn Finlay-McGovern said; "Aim High has given me an array of industry experience, built my confidence and given me the opportunity to work with a variety of production companies on some fantastic projects where I was able to learn, develop and explore different skills."
During Aim High Caitlyn worked with Nice One Productions on What Makes You Tic, with Below The Radar on Home Ground: Live at the Balmoral and with Waddell Media on Billionaire B&B.