Phil Cunningham journeys across the Narrow Sea in new USBF series
---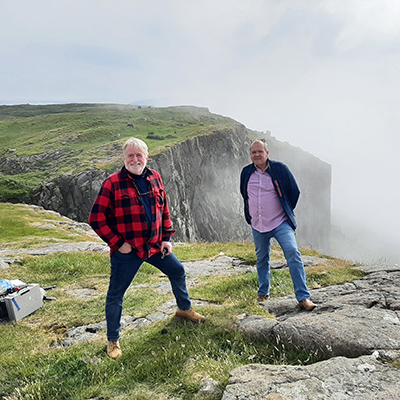 Date Posted: January 13, 2022
In a new Ulster-Scot Broadcast Fund series, The Narrow Sea, The Farther Shore With Phil Cunningham, the broadcaster returns to Northern Ireland on a coastal odyssey that will culminate in the creation of a new musical composition. Produced by Below the Radar for BBC Northern Ireland and BBC Scotland, the two-part series airs on Sunday 23rd January at 10:40pm on BBC Two Northern Ireland.
Phil will once again bring orchestral and traditional musicians together, just as he did with his acclaimed 'Highlands and Islands' and 'Iona' suites.
Inspired by age old ties between Ulster and Scotland, this new piece has been created by the sea road that both divides and connects us. The 'Narrow Sea' is the name traditionally given to the body of water that flows in the North Channel between the east coast of Ulster and Scotland's western shore.
For Phil this Narrow Sea has always been a highway rather than a barrier and he has long been fascinated by how centuries of human connection and interaction have impacted on life in both Scotland and Ulster.
Across a series of journeys, Phil finds a wealth of inspiration in a land and seascape steeped in story. Visiting ancient castles, clinging to Antrim's rocky coastline, he'll learn about the powerful families who once controlled a maritime empire. He'll follow in the footsteps of the lowlanders whose descendants became the Ulster-Scots, learning more about a language and heritage, which still celebrates their Scottish roots.
From coastal rowers and fishermen to historians, poets and musicians, the folk he meets along the way share their stories, helping Phil get a real sense of the complex human connections that have helped shape life of both sides of the North Channel since ancient times.
As well as being a gifted multi-instrumentalist and composer, Phil is also a self-confessed audio geek and a passionate lover of the natural world. For years now he has been capturing field recordings on his travels, bird song, the ambient sound of wind and waves, the noise of humanity, as working people go about their daily business – these trips will be no different. Phil's audio soundscape, recorded on both sides of the channel will both inspire and feature in his final composition. A range of musicians and musical traditions will feature across the series, including some of Ireland and Scotland's most respected performers.
Armagh's multi-talented Jarlath Henderson, the youngest ever winner of BBC Sound Folk Award, one of Scotland's most revered multi-instrumentalists, Anna Massie, the soaring flute of Sarah Allen, the award winning Anglo-Irish folk band Flook, and one of Scotland's most exciting young fiddle players, Sally Simpson. The series also features the wonderful voice of Capercaillie's Karen Matheson, and the oboe of composer and multi-instrumentalist Kate St John, who has in the past played with Van Morrison and the Waterboys, among many others.
Episode One charts Phil's journeys back and forth across the Narrow Sea, on a series of research trips. We will see him gathering stories, sounds, songs and hymns, exploring generations of comings and goings across this stretch of water and collecting the raw ingredients that will inspire his music.
Episode Two follows Phil back at home in Scotland, and offers the viewer unique insights into his creative process as he works to finish his composition. We will see the piece in rehearsal, as Phil and a talented ensemble breathe life into the notes on the page, before the world premiere of 'The Narrow Sea, The Farther Shore.'
Producer and Director Sean McGuire said: "I've known Phil as a hugely talented performer for many years now. This time out, it was my privilege to see him create a stunning new work, tying together so many strands and traditions – telling a complicated and fascinating story in the way he does best – through music."
Composer and Presenter Phil Cunningham said: "Between sea, sky and shore, finding my way through this work has brought me to places awash with history, swimming in stories – I found the music betwixt and between us – and it belongs to everyone."