New Ulster-Scots 360° video series explores the Ards Peninsula
---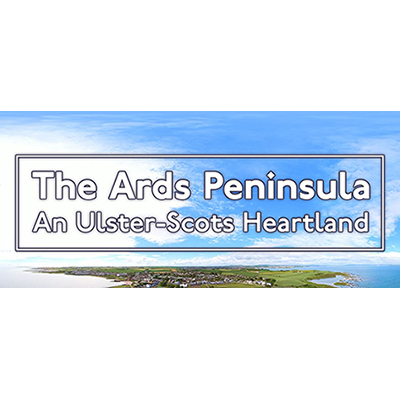 Date Posted: July 28, 2022
A new online series explores the Ulster-Scots Heartland of the Ards Peninsula, tracing the footprint and legacy of the first Ulster-Scots settlers as they arrived and moved through the area. Produced by Virtual Visit Tours in partnership with Hidden Ulster Tours and with funding from Northern Ireland Screen's Ulster-Scots Broadcast Fund, the series of ten short episodes provides an interactive VR (Virtual Reality) experience immersing viewers in a guided tour of the Ulster-Scots heritage, history, stories and culture of the Ards Peninsula.
The entire series is filmed in 360° video, meaning that you can turn and look around you in all directions, using your mouse or, for a truly immersive experience, a VR headset.
Presented by local historian and tour guide, Lolly Spence, the series is filmed in different towns, townlands and villages around North Down and the Ards Peninsula. In each episode, the viewer is transported to 2-3 locations around the destination. At each location, the guide tells the story of its relationship with Ulster-Scots while letting the viewer look all around them…as if they were there.
The series includes special guests such as William Montgomery, a descendant of Scottish Laird, Sir Hugh Montgomery who had been granted vast territories on the Ards Peninsula by King James I of England. Bill tells us more about his family's Ulster-Scots history and invites us into the family home, Grey Abbey House, on lands which have been in the possession of the Montgomery family since the early 1600's.
Presenter of the series and owner of Hidden Ulster Tours, Lolly Spence said: "As a professional tour guide, I've enjoyed this opportunity to showcase our stories and places through a new medium – allowing 'virtual tourists' from anywhere in the world, to look around and experience this place with me. The VR aspect feels more connected and engaging than traditional video; so I feel like I am really guiding people around my beloved home area of North Down and the Ards Peninsula as I share stories of our Ulster-Scots heritage."
Producer of the series and managing director of Virtual Visit, Thomas McVea said: "We are proud to have worked with Hidden Ulster Tours on this series and grateful to Northern Ireland Screen for lending their support.
"The entire series is filmed and broadcast in 360°. This innovative new medium is transportive, giving the viewer an experience akin to actually being there. Immersive in nature, 360° VR (Virtual Reality) video gives power to the viewer and makes them feel part of the story, placing them inside the experience while encouraging exploration outside the frame. In doing so, the experience can have a lasting impact and can command increased retention and more earned interactions."
Heidi McAlpin, Ulster-Scots Broadcast Fund Executive at Northern Ireland Screen, said: "Viewers will really enjoy exploring the Ards Peninsula and learning so much more about its Ulster-Scots roots through the expert eyes of Virtual Visit's Thomas McVea and presenter Lolly Spence. Thomas' deft eye and Lolly's in-depth knowledge and sheer passion for Ulster-Scots have combined to create a joyous digital series."
Click HERE to watch the series.