TV premiere of heart-warming kids' film about grief ends 2020 – Sol to lighten darkest night of a dark year
---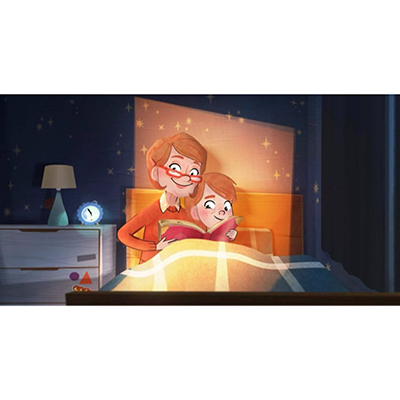 Date Posted: December 11, 2020
Sol – an inspiring film about a little boy's journey through grief – premieres in the UK and Republic of Ireland on the darkest night of the year, the Winter Solstice – Monday 21st December. Sol aims to bring light and comfort to families with young children as the darkest year in modern times draws to a close. Recognising the need nationwide for such a topical film, multiple TV broadcasters have come together to premiere Sol across seven platforms on the same day. Sol will air on TG4 (in Irish), S4C (in Welsh) and BBC ALBA (in Scottish Gaelic) at 6:30pm; then on CiTV (with English subtitles) at 7:30pm; and will also be available on iTV Hub, All 4 and My5 (with English subtitles) from 7:30pm.
The 28-minute animated film, created and produced by Holywood-based Paper Owl Films, received funding from Northern Ireland Screen's Irish Language Broadcast Fund and Screen Fund, and the British Film Institute's Young Audiences Content Fund. The film was commissioned by Celtic broadcasters TG4, S4C and BBC ALBA and is distributed by Aardman.
Featuring a boy called Sol whose world is plunged into darkness when his beloved grandmother dies, the film explores the different aspects of grief (shock, yearning, disorientation and resolution) through the eyes of a child. But Sol's message is uplifting. Sent on an urgent quest to find the light that has gone out in the world, Sol's adventurous journey enables him to realise his love for his grandmother is greater than the pain of his loss. The film has been created as a vital and relevant resource to help children and families cope with grief and is especially poignant after such a difficult year nationwide. It is hoped the storyline and characters will help spark conversations amongst teachers, parents and young children about how to manage your feelings after the death of a loved one.
Emmy award-winning Irish actor, Fionnuala Flanagan voices Sol's grandmother alongside Myra Zepf (author and winner of Ireland's Children's Book of the Year prize) voices Sol's mother. Sol himself is voiced by 12 year old Zana Akkoç. The film's song has been recorded by Moya Brennan, member of Celtic folk band, Clannad.
Grainne McGuinness, Creative Director of Paper Owl Films, commented: "Now, more than ever, children need strong visual stories to help them deal with unfamiliar emotions and to inspire a way forward full of optimism."
The BFI's Head of Young Audiences Fund, Jackie Edwards said: "'Sol is about remembering, with love, those we've lost, knowing we're not alone and encouraging families to talk about their loss.  Far too many children and young people are experiencing grief this year, and so we wanted to create a moment to pause and reflect, and for public service broadcasters to come together and co-transmit this special film to as many of this country's young people as possible to support them to find light in the darkness."
Richard Williams, Chief Executive of Northern Ireland Screen, said; "We are very proud to support this beautiful project from Paper Owl Films via our Irish Language Broadcast Fund and Screen Fund. This is the first time that we and the indigenous broadcasters have partnered to produce an original animation. 2020 has been a year filled with uncertainty and loss for so many, 'Sol' is just the type of content we need right now, especially for younger audiences who may be struggling to make sense of it all. We are certain 'Sol' will be a real hit with viewers when it airs across the UK and Ireland on the Winter Solstice."
 The Albert calculator and sustainable production certification was used to measure and reduce the production's carbon footprint.
---
Scannán croíúil teilifíse do pháistí faoin dobrón le feiceáil den chéad uair agus 2020 ag teacht chun críche 
Sol ag soilsiú ar TG4 ar an oíche is dorcha i mbliain a bhí dorcha
Beidh Sol, scannán spreagúil faoi bhuachaill beag atá dul i ngleic leis an dobrón, le feiceáil den chéad uair in Éirinn agus sa Ríocht Aontaithe ar an oíche is dorcha sa bhliain, Grianstad an Gheimhridh, an Luan 21 Nollag. Tá sé mar aidhm ag Sol só agus suaimhneas a thabhairt do theaghlaigh le páistí óga agus an bhliain is gruama i gcuimhne na ndaoine ag druidim chun críche. Is an gá de scannán mar seo aitheanta, tháining craoltóirí éagsúla le chéile le Sol a thaispeáint ar sheacht ardán éagsúla ar an lá ceanna.  Craolfar Sol i nGaeilge ar TG4, i mBreatnais ar S4C agus i nGaeilge na hAlban ar BBC ALBA ag 6:30in; ansin ar CiTV (le fotheidial Béarla) ag 19.30in agus béidh sé ar fáil ar iTV Hub, All 4 agus My5 (le fotheidil Béarla) ó 19.30in.
Rinne an Ciste Craoltóireachta Gaeilge agus Ciste Scáileáin Northern Ireland Screen maoiniú ar Sol, scannán beochana de chuid Paper Owl Films a mhaireann 28 nóiméad, in éineacht le The British Film Institute's Young Audiences Content Fund.  Rinne na craoltóirí Ceilteacha TG4, S4C agus BBC ALBA comhchoimisiniú ar Sol agus Aardman a rinne é a dháileadh.
Scannán é seo faoin suaitheadh a bhaintear as Sol nuair a fhaigheann a sheanmháthair, a raibh an-chion aige uirthi bás. Trí shúile an pháiste pléann an scannán le gnéithe éagsúla den dobrón (an geit, an tnúthán, an mearbhall agus an réiteach). Mar sin is ardú meanman a thugann Sol dúinn. Cuirtear an buachaill amach ar bhonn práinne ag tóraíocht an tsolais atá tar éis imeacht as an saol. De bharr aistear Sol agus gach a tharlaíonn dó lena linn, faigheann sé amach gur cumhachtaí an grá atá aige dá sheanmháthair ná an dobrón a chruthaigh a bás. Áis ábhartha, thábhachtach atá sa scannán a chuireann roimhe cúnamh a thabhairt do pháistí agus do theaghlaigh le déileáil leis an dobrón. Tá sé thar a bheith tráthúil san am i láthair agus bliain chorrach curtha dínn againn ar fad. Táthar ag súil go spreagfaidh an scéal agus na carachtair cumarsáid i measc múinteoirí, tuismitheoirí agus páistí óga i dtaobh an bealach le déileáil lenár mothúcháin nuair a fhaigheann daoine a bhfuil cion againn orthu bás.
Is í Fionnula Flanagan, aisteoir Éireannach a bhfuil duais Emmy bainte amach aici, a dhéanann guth na seanmháthar agus is í Myra Zepf (údar agus buaiteoir dhuais Leabhar na Bliana do Pháistí) guth na máthar. Déanann Zana Akkoç atá dhá bhliain déag, guth Sol. Thaifead Moya Brennan, ball den bhanna ceoil tíre Clannad, amhrán an scannáin.
Dúirt Gráinne McGuinness, Stiúrthóir Cruthaitheach Paper Owl Films, 'Anois, thar am ar bith eile, tá gá ag páistí le scéalta físiúla láidre chun cabhrú leo déileáil le mothúcháin atá nua dóibh agus iad a spreagadh chun a n-aghaidh a thabhairt ar an saol, lán dóchais.'
Dúirt Jackie Edwards, Ceannasaí an Young Audiences Fund, BFI: 'Baineann Sol le bheith ag cuimhneamh, le gean, ar an dream atá imithe uainn agus fios againn nach bhfuil muid linn féin, agus leis an teaghlaigh a spreagadh le labhairt faoina mbás. Tá i bhfad an iomarca páistí agus daoine óga faoi scamall bhróin i mbliana agus bhí muid ag iarraidh deis sosa agus machnaimh a chur ar fáil. Theastaigh uainn go n-oibreodh craoltóirí seirbhíse poiblí as lámh a chéile leis an scannán speisialta seo a chomhsheachadadh chuig an oiread agus is féidir de dhaoine óga na tíre seo chun cabhrú leo solas a aimsiú sa dorchadas.'
Dúirt Richard Williams, Príomhfheidhmeannach Northern Ireland Screen; 'Tá an-bhród orainn tacú leis an tionscadal álainn seo de chuid Paper Owl Films trínar Ciste Craoltóireachta Gaeilge agus ár gCiste Scáileáin. Is é seo an chéad uair againn ag oibriú i bpáirt leis na craoltóirí dúchasacha d'fhonn scannán beochan úrnua a léiriú. Bhí éiginnteacht agus caillteanas ag baint leis an mbliain 2020 do chuid mhaith daoine agus is ábhar díreach ar nós Sol a theastaíonn uainn faoi láthair, go háirithe ón dream óg atá ag iarraidh ciall a bhaint as an rud ar fad. Tá muid dearfa go mbeidh an-ráchairt ar Sol i measc lucht féachana nuair a chraolfar é ar fud na Ríocht Aontaithe agus ar fud na hÉireann ag Grianstad an Gheimhridh.'
Baineadh úsaid as an áireamhán Albert araon le teastas léiriúcháin inbhuanaithe le tomhais a dhéanamh ar lorg carbóin an léiriúchán agus lena laghdú.