'True North: Tit for Tatt' to air on BBC Northern Ireland
---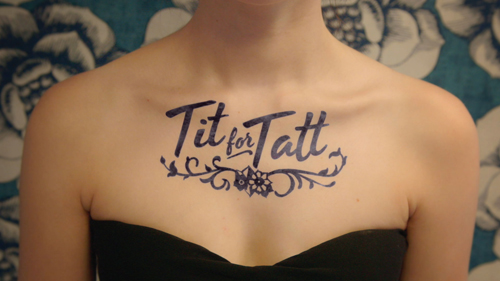 Date Posted: May 24, 2018
Breast cancer surgery saves lives, but it also leaves physical – and psychological – scars. Some women choose to live with their scars as they are, but an increasing number are adorning their chests with tattoos to celebrate surviving a painful journey… and to celebrate life.
True North: Tit for Tatt accompanies two women on their journey to transform their battle scars into something wonderful and unique. The short film broadcasts on BBC One Northern Ireland on Monday 28 May at 11pm.
True North: Tit for Tatt, a Below the Radar Production, received funding support from Northern Ireland Screen and the Arts Council of Northern Ireland.
Having lost her breast to cancer, Bangor woman, Nina sees her scars as battle wounds and is proud of them. As well as getting a tattoo, she also starts to curate a photography exhibition to give other cancer patients and survivors the opportunity to celebrate their scars.
While working on the exhibition, Nina meets Belfast woman Sabrina, who has just been through breast surgery to remove a cancerous tumour. Sabrina and Nina immediately bond over having raised their children alone, going through cancer as single mums and wanting to get back to normality after their treatments and surgeries.
After seeing photos of Nina's tattoo, Sabrina is inspired to get an inking of her own. Struggling to come to terms with the physical changes cancer has made to her body, Sabrina embarks on a mission to look and feel like herself again.
"This was a tough subject to undertake as my first documentary," says producer/director, Mairéad Ní Thréinir.
"Sabrina and Nina have been through so much, that to put a camera on them was daunting. But they made it very easy for me.
"They really wanted to talk about their journey as there is still a stigma surrounding cancer in Northern Ireland, particularly when it involves mastectomies.
"Both women agreed that if they were going to take part in the film they were going to go all out and show their surgery scars.
"I really respect their bravery in doing that.
"Everyone involved hopes that this documentary reaches and inspires women who have been through similar experiences and that it gets more people talking about breast cancer and breast cancer treatment and the effects that they can have."