Tocht na Máthar, Wednesdays at 9.30pm on TG4
---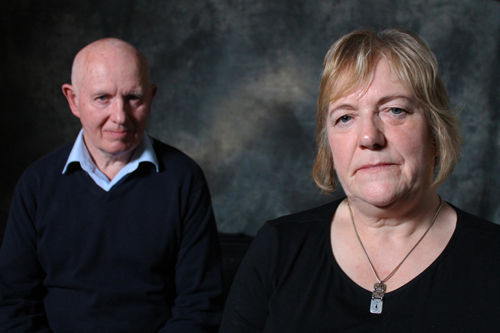 Date Posted: June 6, 2018
This insightful series examines how mothers cope when the worst happens to their children. The thought of her child getting hurt or injured is something that every mother dreads as the happiness of her child is at the core of her existence. The four-part series, which begins on TG4 tonight from 9.30pm, received funding support from Northern Ireland Screen's Irish Language Broadcast Fund.
Family occasions of all kinds resonate with loss – not just for the past, but for what the future might have held. Every story is unique but the common theme is the strength and resilience that Irish mothers display in the face of such adversity.
With moving first-hand accounts from mothers who have survived losing their children, this series shows that there can be life after loss and hope from tragedy.
Among the mothers featured in this series are:
Bridget McAnallen from Co. Tyrone, who tells the tragic story of her son, Cormac, one of Gaelic football's brightest young stars, who died suddenly in his bed on the morning of 2nd March 2004 due to Sudden Adult Death Syndrome
Patricia O'Byrne tells the inspiring story of her 6'7"ft athletic, bright young son Pádraig who was involved in a road accident which caused severe brain trauma.
Bríd Hynes from Leitir Mór in Co. Galway tells the tragic story of how her teenage daughter Siobhán was assaulted and murdered on 6th Dec 1998, just a week after her 17th birthday.
Mary Logue from Mount Errigal in Donegal, tells the heart-breaking story of losing her nine-year son Erin to a rare cancerous brain tumour.
---
TOCHT NA MÁTHAR, DÉ CÉADAOIN AG 9.30I.N. AR TG4
Scrúdaíonn an tsraith ghéarchúiseach seo an bealach a dtéann máithreacha i ngleic le drochthimpistí a bhaineann dá leanaí. Níl crá croí ná imní is géire amuigh ná an imní a bhíonn ar mháthair go mbainfeadh tinneas, gortú nó aicíd dá mac nó dá hiníon, gan trácht ar an bhás. Fuair an tsraith ceithre chlár seo, clár a chraolfar anocht ar TG4 ó 9.30i.n., maoiniú ó Chiste Craoltóireachta Gaeilge Scáileán Thuaisceart Éireann.
Tugann ócáidí teaghlaigh an bás chun cuimhne – ní amháin de bharr ar tharla ach de bharr a bhféadfadh a bheith rompu sa saol. Ní mar a chéile aon dá scéal ach tá an neart agus an teacht aniar atá i máithreacha na hÉireann nuair a luíonn an saol orthu i bpáirt ag gach scéal.
Léiríonn an tsraith seo, ina dtugann máithreacha cuntas coscrach ar bhás a leanaí gur féidir teacht tríd an bhás agus go bhfuil dóchas ann i ndiaidh na tubaiste.
Ina measc tá:
Bridget McAnallen as Tír Eoghain, ar bhásaigh a mac, Cormac, duine de laochra óga peile an chontae, go tobann ina leaba ar an 2 Márta 2004 de dheasca Siondróm Bás Tobann
Patricia O'Byrne a insíonn a scéal inspioráideach faoi Phádraig, a mac óg lúfar aclaí ar bhuail drochthimpiste bhóthair dó rud a d'fhág go raibh géarthráma inchinne air.
Bríd Hynes as Leitir Móir na Gaillimhe a chuireann síos ar conas a ionsaíodh agus a dúnmharaíodh a hiníon Siobhán, ar an 6 Nollaig 1998, seachtain i ndiaidh di a 17 mbliana a shlánú.
Mary Logue arb as an Eargail di agus a thugann cuntas ar a scéal coscrach faoi bhás a buachaillín naoi mbliana d'aois, Erin, ar meall ailseach san inchinn a thug a bhás.