Tír Eoghain: The Unbreakable Bond, Sunday 12 May, BBC Two NI, 10pm
---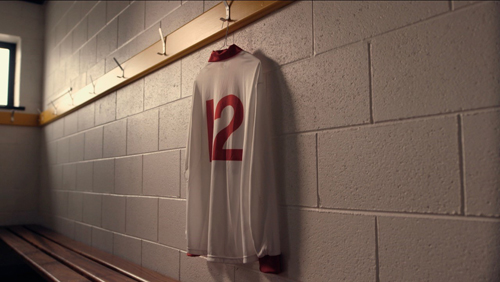 Date Posted: May 9, 2019
Tír Eoghain: The Unbreakable Bond is the untold narrative behind the most successful minor team in the history of the GAA – the Tyrone Class of 1997/1998.
Featuring Tyrone manager Mickey Harte and All Ireland winners Brian McGuigan, Enda McGinley, Mark Harte and Kevin Hughes, the documentary reveals how the seeds of Tyrone's GAA success were sown more than 20 years ago.
Despite despairing lows, a unique generation of young men transformed the history of Gaelic football and went on to drive their county to three All Ireland senior titles
The squad became a symbol of hope having faced the devastation of losing teammate Paul McGirr following an accident during an Ulster Minor Championship match in 1997.
A year later they endured trauma again with the 1998 Omagh bombing, but amazingly showed resilience to win the Minor All Ireland title just weeks later.
A skilful and driven group of players, these young men brought unbridled joy to the people of Tyrone. Thirteen of these players went on to feature on the Tyrone team as they claimed the Sam Maguire in 2003, 2005 and 2008.
The documentary was made for BBC Gaeilge and TG4, with support from Northern Ireland Screen's Irish Language Broadcast Fund, and features exclusive behind the scenes home video footage of the teams, as well as rarely seen archival footage from their minor matches.
The film also includes exclusive footage of a 20-year reunion featuring the minor team from 1998 and manager Mickey Harte.
"From the death of our friend and teammate Paul McGirr to the utter devastation of the Omagh bombing these players went through more than anything a group of young men should," said Brian McGuigan.
"We faced challenges on and off the pitch and came through them because of the incredible bond we had with each other and the guidance of our management team led by Mickey Harte.
"We would not be weighed down by the disappointments of the past or the pain we had endured."
"The 1998 minor title was very important for the people of Tyrone to perhaps close a dark chapter in which the county struggled," added Kevin Hughes.
"Following the death of Paul McGirr, my own brother Paul and the Omagh bombing, it brought a new spirit and it gave the people of Tyrone a lift.
"Looking back at everything that happened, a group of people came together at the right time.
"We were lucky as a county to have such a strong bond because our talent on the field of play and the terrible losses we suffered, created a unique spirit resulting in our being in a circle that will never be broken."
Directed by Declan McGrath and produced by Eamonn and Michael Mallie, Tír Eoghain: The Unbreakable Bond, was made by EMM Productions and will be shown on BBC Two Northern Ireland, Sunday 12 March at 10pm.
---
Tír Eoghain: The Unbreakable Bond Dé Domhnaigh 12 Bealtaine, 10 i.n. BBC Two Northern Ireland
Is é atá sa chlar Tír Eoghain: The Unbreakable Bond ná scéal neamhinste na foirne mionúr ba mhó rath i stair CLG – Foireann Thír Eoghain 1997/1998.
Sa chlár, beidh muid ag labhairt le Mickey Harte, bainisteoir Thír Eoghain, agus Brian McGuigan, Enda McGinley, Mark Harte agus Kevin Hughes, buaiteoirí Uile-Éireann, agus léireoidh an scannán faisnéise an dóigh ar cuireadh síolta rath Thír Eoghain sa CLG breis agus 20 bliain ó shin.
In ainneoin na dtréimhsí sin nuair a bhí siad gan dóchas agus in ísle brí, d'fhág glúin ar leith d'fhir óga a rian ar stair na peile Gaelaí agus chuaigh siad ar aghaidh lena gcontae a spreagadh le craobhchomórtas Uile-Éireann na sinsear a bhaint faoi thrí.
Rinneadh siombail dóchais den fhoireann i ndiaidh na tragóide a tharla nuair a chaill siad a gcomhimreoir Paul McGirr i ndiaidh taisme a tharla le linn chluiche mionúr Chúige Uladh sa bhliain 1997.
Bliain ina dhiaidh sin, d'fhulaing siad tráma eile le buamáil na hÓmaí sa bhliain 1998, ach is mór an díol iontais é gur éirigh leo teacht aniar le craobh Uile-Éireann na mionúr a bhaint roinnt seachtainí ina dhiaidh sin.
Dream imreoirí sciliúla, tiomanta iad na fir óga seo, a chuir áthas gan srian ar mhuintir Thír Eoghain. Chuaigh trí dhuine dhéag de na himreoirí seo ar aghaidh le páirt a ghlacadh i bhfoireann Thír Eoghain nuair a thóg siad Corn Shomhairle Mhig Uidhir in 2003, 2005 agus 2008.
Tá físeáin bhaile eisiacha sa scannán faisnéise seo de na foirne agus iad ar shiúl ón pháirc, chomh maith le scannáin chartlainne dá gcluichí Mionúr nach bhfeictear go minic.
Tá scannán eisiach ann fosta d'fhoireann na Mionúr ó 1998 agus an bainisteoir Mickey Harte ag teacht le chéile le cothrom fiche bliain ón tréimhse éachtach sin a chomóradh.
"Ó bhás ár gcara agus ár gcomhimreora Paul McGirr, go dtí léirscrios iomlán bhuamáil na hÓmaí, d'fhulaing na himreoirí seo níos mó ná ba chóir do ghrúpa fear óg a fhulaingt," arsa Brian McGuigan.
"Bhí dúshláin le sárú againn ar an pháirc imeartha agus ar shiúl uaithi, agus tháinig muid slán tríothu mar gheall ar an nasc dhochreidte a bhí againn lena chéile agus mar gheall ar threoir na foirne bainistíochta faoina ceannaire Mickey Harte.
"Cúiseanna díoma an ama a bhí thart ná an phian a d'fhulaing muid, ní ligfimis dóibh siúd luí go trom orainn."
" "Bhí craobh na Mionúr in 1998 thar a bheith tábhachtach do mhuintir Thír Eoghain, mar bhí muid ábalta deireadh a chur le tréimhse dhorcha ina raibh an contae ag streachailt," arsa Kevin Hughes.
"I ndiaidh bhás Paul McGirr, bhás mo dhearthár féin agus bhuamáil na hÓmaí, chuir sé misneach nua ionainn agus thug sé tógáil croí do mhuintir Thír Eoghain.
"Agus mé ag amharc siar ar gach rud a tharla, tháinig grúpa daoine le chéile ag an am cheart.
"Bhí an t-ádh linn mar chontae go raibh nasc chomh láidir againn, cionn is gur chruthaigh an tallann a bhí againn ar an pháirc imeartha agus na caillteanais uafásacha a d'fhulaing muid, chruthaigh siad spiorad ar leith agus mar gheall air sin, ba gheall le ciorcal nach mbrisfear choíche muid."
Ba é Declan McGrath a stiúir agus ba iad Eamonn Mallie agus Michael Mallie a léirigh Tír Eoghain: The Unbreakable Bond. Ba é EMM Productions a rinne an clár do BBC Gaeilge agus TG4, le maoiniú ó Chiste Craoltóireachta Gaeilge Scáileán Thuaisceart Éireann, agus taispeánfar é ar BBC Two NI, Dé Domhnaigh 12 Bealtaine ar 10 i.n..