Success for Northern Ireland talent at the 2022 Galway Film Fleadh
---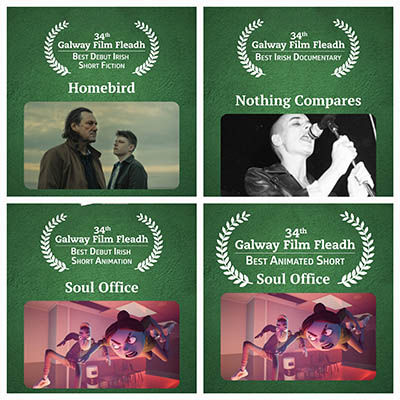 Date Posted: July 11, 2022
On Sunday 10th July the Galway Film Fleadh came to a close, we are delighted that a number of projects made in Northern Ireland and funded by Northern Ireland Screen were among the list of winners with Nothing Compares, Soul Office and Homebird  taking home awards.
Nothing Compares, the documentary feature debut from Belfast director Kathryn Ferguson won the Best Irish Documentary Award. The film charts Sinéad O'Connor's phenomenal rise to worldwide fame and examines how she used her voice at the height of her stardom before her iconoclastic personality led to her exile from the pop mainstream. Focusing on Sinéad's prophetic words and deeds from 1987 to 1993, the film presents an authored, richly cinematic portrait of this fearless trailblazer through a contemporary feminist lens.
The film is produced by Eleanor Emptage and Michael Mallie for Tara Films (UK) and Ard Mhacha Productions (Ireland), and presented by Field of Vision. Executive producers are Charlotte Cook, Lesley McKimm, Lucy Pullin, John Reynolds and Lisa Marie Russo. The film was supported by Screen Ireland, the BFI Doc Society Fund, IE:Entertainment and Northern Ireland Screen.
Soul Office picked up The James Horgan Award for Best Animated Short and the Best Debut Irish Short Animation Award. Directed by Ryan Loughran and produced by Taunt Studios Soul Office is a comedy following two enterprising criminals who bite the dust when an ATM robbery goes awry. Undeterred by their untimely demise, they come back as ghosts to finish the job.
Soul Office came through Northern Ireland Screen's Creative Animation scheme, a scheme designed to develop junior creators/animators through the production of animated short films. The scheme provides junior level creators/animators with the opportunity to develop their own ideas with support from established animation companies.
Caleb J. Roberts' Homebird won the Best Debut Irish Short Fiction Award. Set against the backdrop of the Northern Irish coast, Homebird explores the relationship between an emotionally-reclusive father struggling to re-connect with his estranged gay son during a night at the seafront amusements. Homebird was produced by Brian J. Falconer, Callum Harrison and Jonathan Beer.
Congratulations to all the winners!