Trainee Grip opportunity
---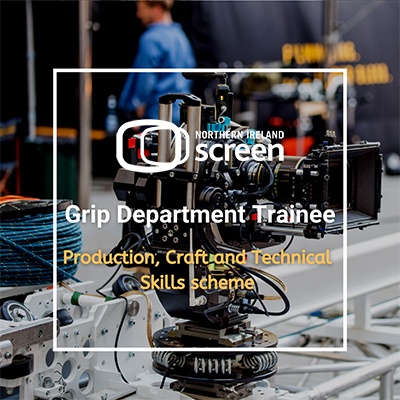 Date Posted: June 22, 2022
Northern Ireland Screen is running a skills development scheme called Production, Craft and Technical Skills. The scheme will provide training opportunities in varied roles in the film and television industry.
We are currently looking for a Grip Trainee. The main role of a Grip Trainee is to learn the trade. Grips' equipment, cranes, jibs, and dollies can be used in different ways. Trainee grips watch everything that's happening; learn how the gear is used and how to operate it.
A Grip Trainee will start the day by helping to unload the truck with the gear that supports the cameras. Under supervision from the qualified Grips, they have to move heavy equipment to the correct place on location.
Grip Trainees are on set throughout the day. At the end of each shot, they help put away equipment that's no longer needed and set up the kit for the next shot. They do this until the end of the filming day.
For further information, including application details, please click here.
The closing date for applications is 12 Noon on Wednesday 13th July.