Digital Cities Virtual January series
---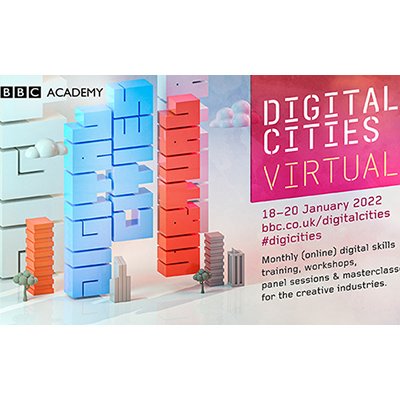 Date Posted: January 7, 2022
BBC Academy's Digital Cities Virtual has launched three days of masterclasses, panel discussions and practical training sessions from Tuesday 18th January to Thursday 20th January. All sessions are FREE and open to students, creatives and content makers to register and watch live.
Tuesday 18th January kicks off with BBC Academy smartphone training at 10am and the Ulster Screen Academy takes centre stage at 7pm from UU's new virtual production studio in Belfast with Dr Declan Keeney talking to a panel of global experts about real-time technology and how it is driving huge innovation in the worlds of gaming, animation, VFX film and television in Northern Ireland.
Wednesday 19th January is hosted by broadcaster Caoimhe NiChathail focusing on successful social media campaigns.
Thursday 20th January is all about jobs, schemes and opportunities in the creative industries with RTS Futures NI hosting a masterclass on Starting out in the Gaming Industry at 4pm.
For more information and to book your place, click HERE.