BFC / PGGB high level Covid Supervisor training
---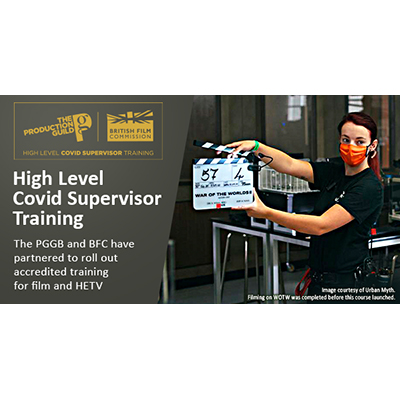 Date Posted: March 24, 2021
*New dates added – Saturday 17th April, Saturday 24th April and Wednesday 5th May*
The Production Guild of Great Britain (PGGB), in partnership with the British Film Commission (BFC), is accepting applications for its accredited High Level Covid Supervisor Training for film and HETV production professionals.
This training aims to address the need for greater synergy in standards, practices, knowledge, and strategies for COVID-19 supervision on domestic and international feature film and high-end TV drama productions. The course will be accredited by the CPD Standards Office.
It follows extensive consultation with leading industry experts across a number of areas in film and high-end TV drama production, including the Producers Guild of America (PGA), media law (Wiggin), sustainability (Albert), health and safety (First Option), infection control (Cavendish Health), mental health (Solas Mind), wellbeing (6ft from the Spotlight) and leadership (Leading Ideas).
The course provides a comprehensive programme for those seeking to navigate these new challenges. Participants will gain exclusive access to a Virtual Learning Environment (VLE) in order to keep your knowledge, skills and understanding up to date and supported as the situation continues to develop and change.
Who is the course aimed at?
The course is aimed at feature film &/or high-end TV production managers, line producers and location managers with experience in their current grade which is relevant to this high level strategic and managerial role, and who need to gain greater insights into the various direct and indirect consequences of COVID-19 safety protocols in order to perform the role of Covid Supervisor on film and high-end TV drama production.
What the course covers
A comprehensive guide to applying the BFC's 'Working Safely During Covid-19 in Film and High-end Television Drama Production Guidance'.
Core production management skills regarding the impact of COVID-19 on budgeting and scheduling for UK and US productions.
Best practice and knowledge of coordinating infection control and up to date insights into COVID-19 from leading medical experts.
Health and safety practices, legislation, risk assessments and due diligence.
Impacts and strategies for production insurance.
Effective strategies for leadership and supporting mental health.
Covid Supervisor toolbox.
Membership to the VLE for ongoing CPD support. Here participants become trailblazers to navigate productions through the next phase of the pandemic and beyond.
To apply, please click HERE.