Siar chuig an bhFleadh on TG4
---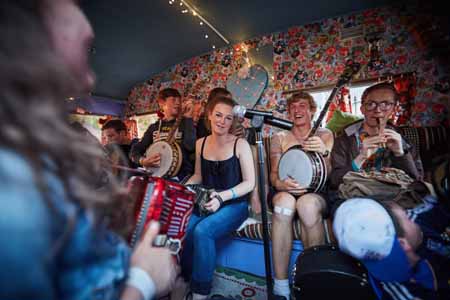 Date Posted: August 2, 2017
Siar chuig an bhFleadh is a new Irish Language Broadcast Fund series that explores the history of Fleadh Cheoil na hEireann whilst following a number of enthusiastic participants as they prepare for the Fleadh in Ennis in 2016. The series begins on Wednesday, 2nd August, at 8pm on TG4.
From its humble emergence in 1951, drawing but a few hundred music enthusiasts, Fleadh Cheoil na hÉireann has become an incredibly different animal, attracting a vast array of people from all over the world. Fleadh Cheoil na hÉireann is a subject that has caused great debate over the years, love it or hate it, it is now one of Ireland's biggest annual festivals attracting crowds of over 400,000 people
For one week every August all walks of life are drawn to one chosen host town in Ireland to celebrate Fleadh Cheoil na hÉireann. For this chosen town, the Fleadh signals the invasion of musicians, listeners, socialisers, competitors, street performers, traders and tourists.
Throughout the series we see the highs and lows of real people as they prepare for one of the biggest events in Ireland's social calendar. We journey with the musicians, the music lovers, competitors and the many people that have been at the heart of organising Fleadh Cheoil na hÉireann in the many towns across Ireland over the years.
The series also features performances and interviews with artists such the Kilfenora and Tulla Ceili band, Stocktons Wing and many more great traditional music artists.
Siar chuig an bhFleadh is made by Sonas Productions for TG4, with support from Northern Ireland Screen's Irish Language Broadcast Fund.
---
Siar Chuig an bhFleadh ar TG4
Is sraith nua de chuid an Chiste Craoltóireachta Gaeilge é Siar Chuig an bhFleadh a thabharfaidh spléachadh ar stair Fhleadh Cheoil na hÉireann agus a leanfaidh roinnt daoine a bhfuil a gcroí istigh sa Fhleadh agus iad á n-ullmhú féin do Fhleadh 2016 in Inis. Tosóidh an tsraith Dé Céadaoin 2 Lúnasa ar 8i.n. ar TG4.
Tá Fleadh Cheoil na hÉireann i ndiaidh fás ón bheagán in 1951 go dtí an mórán go meallann sí os cionn 400,000 duine ó gach cúinne den domhan sa lá atá inniu ann. Bíonn Fleadh Cheoil na hÉireann i gcónaí ina ábhar cainte ach bíodh dúil agat inti nó ná bíodh, tá sí ar na féilte is mó in Éirinn.
Ar feadh seachtain amháin gach Lúnasa tagann daoine ó gach cúlra le chéile chuig aon bhaile amháin chun ceiliúradh a dhéanamh ar Fhleadh Cheoil na hÉireann. Glacann ceoltóirí, éisteoirí, iomaitheoirí, ealaíontóirí sráide, trádálaithe, turasóirí agus neart eile seilbh iomlán ar an bhaile a roghnaítear.
Is turas a bheidh sa tsraith faisnéise breathnóireachta seo, le scéalta pearsanta dearfacha spreagúla a léireoidh na buaicphointí agus na deacrachtaí a bhíonn ag gnáthdhaoine agus iad ag ullmhú do cheann de na hócáidí is mó i bhféilire sóisialta na hÉireann. Is iad na ceoltóirí, na handúiligh cheoil agus iad siúd a bhí i mbun an eagrúcháin don fhéile seo ar feadh na bliana a cuirfidh scéal na Fleidhe os ár gcomhair.
Beidh ceol agus agallaimh ann chomh maith ó cheoltóirí ar nós na mBannaí Céilí Kilfenora agus Tulla, Stocktons Wing agus go leor eile.
Léiriúchán de chuid Sonas Productions é Siar Chuig an bhFleadh do TG4, clár a fuair tacaíocht ó Chiste Craoltóireachta Gaeilge Scáileán Thuaisceart Éireann.