An Shandon on TG4 on Thursday 18th October at 8pm
---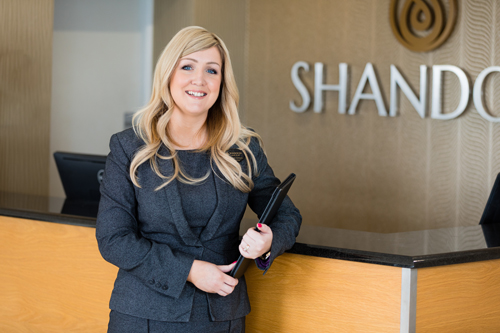 Date Posted: October 11, 2018
An Shandon, a fly on the wall documentary series, provides a behind the scenes look at the Shandon hotel in Donegal, where the staff have as much craic as the guests. Across four episodes viewers will be immersed into what really goes on in the back corridors of a successful hotel.
An Shandon was produced by Paper Owl Films for TG4 with support from Northern Ireland Screen's Irish Language Broadcast Fund.
A 4-star Hotel, 'An Shandon' takes great pride in its reputation. However, a reputation must be constantly guarded and protected, as General manager, Carolynne, is acutely aware of. The latest Fáilte Ireland inspection takes place in episode 2, with no stone left uncovered. Renovations are still underway to upgrade the hotel, a key part of their ambitious plan – but will the hotel retain its 4-star status?
In episode 1 we meet Claudine, the sister of the hotel's new owner Warren. With great secrecy, brother and sister conspire to arrange a 70th surprise birthday party for their mother Breda, who is originally from the area. The new owners' mother is unaware of the work that has gone into preparing her birthday present, but will the family and hotel staff manage to keep the big secret under wraps?
Carolynne reflects on her decision to grant full access to the film crew:
'We were very keen on the idea of letting the TV cameras in until they actually were in, then it became a little scary, particularly when we had only recently opened and we had major works going on throughout the resort in addition to a brand new team, new equipment and a time of significant pressure, because we were all learning as we went along!  Nothing was staged, it's just day to day life in the Shandon hotel from behind the scenes and I think it makes for great TV because it's all real!  Throughout the team we have some fantastic characters and I am confident that the viewer will grow very fond of those involved in the show. 
Two of these colourful characters that play a central part in the series are kitchen staff Maureen and Josie.
Breakfast chef Maureen is very keen to see how she come across on camera:
'.. at first we were all very nervous when the cameras were in, but Carolynne encouraged us to just ignore them and work away like we always do! I've been told that the first show features the birthday party of Mrs McCarthy, I'm so excited to see that because my youngest Charlie danced for her, so hopefully that will be in it.'
In the kitchen with Maureen we find Gortahork native Josie, one of the newest members of the team. Needless to say Josie was slightly anxious when the cameras were following him:
To be honest, I can't even remember half of the things that were caught on camera and I haven't seen it so goodness knows what is coming our way!  It was a tough time for me because it had been a while since I managed such a large team, my head was spinning trying to keep up with how busy the Shandon kitchens were, so I had no time to worry about a TV camera watching me!  Regardless, I'm sure that it will be great for the area and for the Shandon, the more mishaps and crazy things captured, the better – at least it will be funny to watch!
Filmed over the course of a year, the programme makers had a challenge deciding which storylines to feature, such was the quality and authenticity of the footage. In episode 3 we remind ourselves of Storm Ophelia, the great storm that had the country talking. How did it affect the staff and guests of 'An Shandon'? The bar certainly looked inviting as the wind and rain bashed the North West coast. Also in episode 3, as the Harvest Rally comes to town, we see spa worker Paula leave essential oils behind as she oils her engine in preparation to compete in her first ever rally.
The series concludes as we meet Liam and Mark, who in light of the recent Marriage Equality referendum, are celebrating their love for each other in their favourite hotel. Working in a hotel is much more than pulling pints and cooking goujons however, as the staff let their hair down on a fun away day.
Throughout the series we watch on as a business pushes itself to grow and transform through every obstacle thrown in its way. Can they keep both their staff and customers happy through such turbulent times? And in the end will their big vision for the hotel become a reality?
Summing up her team's experience on the show, Hotel Manager Carolynne said:
I'm super proud of my entire team for being such good sports for the year that we were being filmed, it's not easy coming to work with the knowledge that you have a busy day ahead, never mind that on top of that, you'll have a TV crew following you around!  I have to commend them all for their enthusiasm and support of the show!'
---
An Shandon ar TG4, Déardaoin 18 Deireadh Fómhair ag 8i.n.
Sraith faisnéise ar an láthair í 'An Shandon', a léireoidh an méid a bhíonn ar bun sa chúlra in óstán an Shandon, áit a mbíonn an méid céanna spraoi ag an fhoireann agus a bhíonn ag na haíonna! Thar cheithre chlár, beidh an lucht féachana sáite sa mhéid a bhíonn ar siúl i gcúlphasáistí an óstáin mór le rá seo.
Paper Owl Films a léirigh 'An Shandon' do TG4 le tacaíocht ó Chiste Craoltóireachta Gaeilge Scáileán Thuaisceart Éireann
Is óstán ceithre réalta é an Shandon agus tá úinéirí agus foireann an óstáin fíorbhródúil as an dea-cháil atá air. Caithfear an clú sin a choimeád agus a chosaint i dtólamh, áfach, agus tuigeann an bainisteoir ginearálta Carolynne é sin go rímhaith. Tugann Fáilte Ireland faoina chigireacht is deireanaí i gclár a dó, agus déantar scrúdú grinn ar an áit. Tá obair athchóirithe fós ar bun chun an t-óstán a uasghrádú, ar cuid lárnach é dá bplean uaillmhianach, ach a gcoinneoidh an t-óstán an stádas ceithre réalta atá aige?
I gclár a haon, cuirfimid aithne ar Claudine, deirfiúr an úinéara nua Warren. Le tréan rúndachta, féachann an deartháir agus deirfiúr seo le cóisir faoi rún a eagrú dá máthair Breda, a bheidh 70 bliain d'aois, agus arb as an cheantar í ó dhúchas. Ní fios do mháthair an úinéara nua an obair a rinneadh lena bronntanas breithlá a ullmhú, ach an éireoidh leis an teaghlach agus le foireann an óstáin an rún mór a choinneáil faoi cheilt?
Meabhraíonn Carolynne faoina cinneadh, rochtain iomlán a thabhairt don chriú scannán:
'Bhí muid iontach tugtha do ligean do na ceamaraí teilifíse teacht isteach go dtí go raibh siad istigh, ansin, d'éirigh sé rud beag scanrúil, go háirithe nuair nach raibh muid ach i ndiaidh oscailt ar na mallaibh agus bhí móroibreacha ag dul ar aghaidh ar fud an ionaid saoire mar aon le foireann úrnua, trealamh úr agus brú suntasach, mar go raibh muid uilig ag foghlaim achan lá!  Níor stáitsíodh rud ar bith, níl ann ach an saol ó lá go lá in óstán an Shandon ar chúl an chuirtín agus sílim gur ábhar maith teilifíse é mar go bhfuil sé uilig réalach!  Tríd an fhoireann tá roinnt carachtar iontach againn agus tá mé cinnte go n-éireoidh an lucht féachana iontach mór leo siúd atá páirteach sa seó. 
Is iad beirt de na carachtair spéisiúla seo a bhfuil páirt lárnach acu sa tsraith ná foireann na cistine Maureen agus Josie.
Ba bhreá leis an chef bricfeasta Maureen a fháil amach cad é an chuma a bhí uirthi ar an cheamara:
'.. bhí muid uilig iontach neirbhíseach ar dtús nuair a bhí na ceamaraí istigh, ach mhol Carolynne dúinn neamhaird a dheanamh díobh go díreach agus bheith ag obair linn mar is gnách linn! Insíodh dom go bhfuil cóisir bhreithlá Bhean Mhic Cárthaigh le feiceáil sa chéad chlár. Tá mé ag dúil go mór leis sin a fheiceáil nó bhí mo mhac is óige Charlie ag damhsa di ann. Le cuidiú Dé beidh sin le feiceáil ann.'
Sa chistin le Maureen feicimid Josie as Gort an Choirce, duine de na baill is úire den fhoireann. Ar ndóigh bhí Josie rud beag neirbhíseach agus na ceamaraí sa tóir air:
Leis an fhírinne a dhéanamh, níl cuimhneamh agam ar leath de na rudaí a chonaic an ceamara agus chan fhaca mé é, mar sin de, ag Dia féin atá a fhios cad é atá ag teacht ár mbealach!  Am doiligh a bhí ann domsa mar gur fada ó bhí foireann chomh mór sin á stiúradh agam. Bhí mearbhall i mo cheann agus mé ag iarraidh a láimhseáil cé chomh gnóthach agus a bhí cistineacha an Shandon, mar sin de ní raibh an t-am agam bheith buartha fá cheamara teilifíse bheith ag coimhéad orm!  Dá ainneoin sin, tá mé cinnte go mbeidh sé iontach don cheantar agus don Shandon, dá mhéad na meancóga agus na rudaí craiceáilte a fheictear, is amhlaidh is fearr – beidh sé greannmhar amharc air ar scor ar bith!
Agus an scannánaíocht déanta le linn bliana, bhí dúshlán faoi lucht déanta an chláir cinneadh a dhéanamh faoi cén scéalta ba chóir a chur isteach, nó bhí caighdeán na bpíosaí scannánaíochta chomh hard agus chomh húdarach sin. I gclár a trí cuimhnímid ar an Stoirm Ophelia, an stoirm mhór a raibh an saol Fódlach ag caint uirthi. Cén tionchar a bhí aici ar fhoireann agus ar aíonna 'An Shandon'? Bhí cuma mhealltach ar an bheár gan amhras agus cósta an iarthuaiscirt á ghreadadh ag an ghaoth mhór agus an bháisteach. I gclár a trí fosta, tagann an Harvest Rally chuig an bhaile. Feicfimid Paula, an t-oibrí spá, ag fágáil a cuid blátholaí ina diaidh agus í ag ullmhú le dul san iomaíocht ina céad railí riamh.
Ag deireadh na sraithe, cuirfimid aithne ar Liam agus ar Mark, a bhfuil a ngrá dá chéile á cheiliúradh acu san óstán is fearr leo i ndiaidh an reifrinn um Chomhionannas Pósta le déanaí. Tá i bhfad níos mó i gceist le bheith ag obair in óstán seachas a bheith ag tarraingt piontaí agus ag cócaráil goujons áfach, agus bíonn spórt agus spraoi ag an fhoireann agus iad amuigh ar lá pléisiúir ar shiúl.
Le linn na sraithe ar fad, beimid ag amharc ar an ghnó seo agus é ag fás agus forbairt trí gach bac a bhíonn le sárú aige.  An dtig leo an fhoireann agus na custaiméirí a choinneáil sásta le linn na ndeacrachtaí sin, áfach? Agus an dtabharfar an fhís mhór atá acu don óstán i gcrích sa deireadh?
Ag coimriú di na taithí a bhí ag a foireann ar an seó, dúirt Carolynne, bainisteoir an Óstáin:
Tá mé iontach bródúil as an fhoireann uilig s'agam as acmhainn iontach grinn  a bheith acu i rith na bliana agus scannánaíocht á déanamh orainn. Ní furasta teacht chuig do chuid oibre agus fios agat go bhfuil lá gnóthach amach romhat, agus ar a bharr sin, go mbeidh criú teilifíse do do leanúint thart!  Molaim iad as bheith chomh díograiseach sin agus iad ag tacú leis an seó!'