Registration for Belfast Media Festival now open
---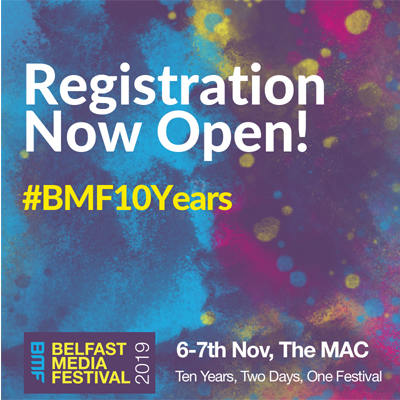 Date Posted: October 21, 2019
The Belfast Media Festival 2019 is returning for its 10th year celebration and registration for sessions are now open. The festival will once again take place at the MAC in Belfast's Cathedral Quarter from Wednesday 6th to Thursday 7th November.
The Festival is a hub for engagement, education and empowerment and welcomes hundreds of people through its doors from students, freelancers, Indies, broadcasters and commissioners, as well as a couple of famous faces! Global media icon and local hero Paul Smith of Who Wants to be a Millionaire fame, BBC 3 Controller, Fiona Campbell, the Commissioner and Cast of the hit show Derry Girls, the team behind 24 Hours in A&E and the Music Supervisor from Killing Eve are just a few of the stars making an appearance at the festival.
Sessions take place across the 2 days and range from Ted Talks and Keynote speakers to BAFTA masterclasses. For more information on the Festival click here.
Registration closes at 3pm on Tuesday 5th November. You can register on site at any point during the two days but access to sessions cannot be guaranteed.